So you're in the market for the best wet and dry vacuum cleaner Australia has to offer? Well you've clicked through to the right article.
Over the past few weeks we've been testing out the very best wet/dry vacuum's you can buy, from commercial grade to home use to portable.
If you'd like to learn how they work, this article by Sciencing is a great start.
You definitely don't need to spend a fortune when buying a wet dry vacuum, nor do you need to take out finance for a commercial one either. We've found five of the very best that suit every budget.
Many years ago people considered renting them, but the cost in doing so now, outweighs buying one for yourself. If it's solely for business purposes then you can claim on your tax too.
Best Wet and Dry Vacuum Cleaner
There aren't many places you can buy these cleaners however Amazon.com.au stocks the largest collection of them with fast nationwide shipping. You can even get some shipped free of charge.
You can also head to Bunnings, Kogan and Mitre 10.
Most come with a 12 or 24 month manufacturers warranty and the returns process is straightforward with Amazon.
When you're about to have friends over and need to quickly give the house a good clean, then the trusty Bosch Wet and Dry Vacuum Cleaner has got you covered.
As the name suggests, this vacuum cleaner can work on both dry and wet surfaces inside your house without needing to change any filters.
The built-in cartilage filters enable you to clean wet and dry surfaces and gives you optimal results. This vacuum has a 15-litre capacity for either wet or dry surfaces.
The ergonomic handle and lightweight body of the vacuum makes it super easy to manoeuvre the vacuum. You can use the various attachable nozzles depending on the type of mess you need to clean, and you can store all the attachments to the vacuum itself.
Not only can you use the vacuuming function, but you can also blast air to use the cleaner as a leaf blower. This versatile cleaner cleans not only the inside but also the outside of your house with ease.
An added feature is the universal adaptor of the Bosch vacuum that can be connected to all current Bosch Green DIY power tools, whether it be a sander, jigsaw or planer so there is no need to purchase multiple adaptors.
[wp-review id="1041″]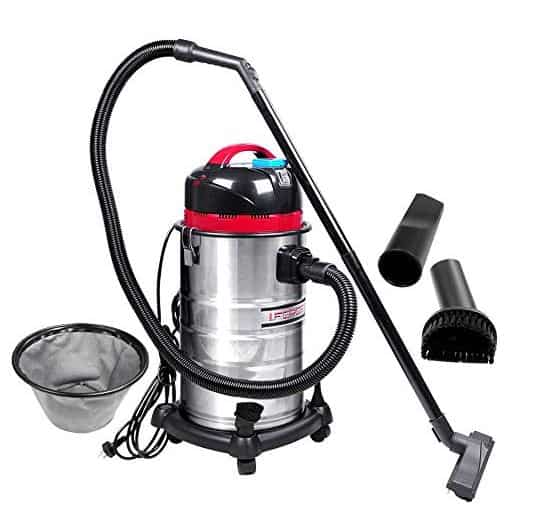 The hardest part about living in a house is cleaning it up. But cleaning just got a whole lot easier with the Giantz 30L Industrial Grade Vacuum Cleaner & Blower.
This versatile vacuum cleaner has a 30-litre capacity and can be used on wet or dry surfaces. This enables you to not only remove dust and dirt, but also liquids inside and outside your home for an overall professional clean.
Because of the large power capacity, you can use the vacuum cleaner at an industrial level to pick up dirt and clean up liquids out in your garden.
As you are sucking up liquid and solids, the Giantz Vacuum Cleaner and Blower comes with an easy to clean filter bag and a handy tilt design that allows you to get rid of the waste in a convenient manner.
The flexible wheels and carrying handles help you to easily manoeuvre the vacuum around without hitting and damaging any walls.
The base of the vacuum is versatile and can conveniently store the additional nozzles for the vacuum so that you are less likely to lose them.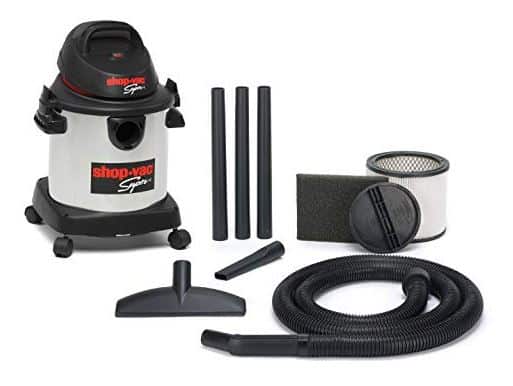 If your current vacuum can't get rid of the toughest dirt, then the Shopvac Super Wet & Dry Commercial Vacuum is guaranteed to be your lifesaver to give you a professional clean all around the household.
Whether it be in the house, garage or the outdoor garden that needs cleaning, the Shopvac Super vacuum has you covered.
With a powerful 1400-watt motor, this vacuum cleaner has a strong deep cleaning capability comparable to an industrial-grade vacuum.
As the ShopVac can work on both dry and wet surfaces, you can tackle any mess that comes your way, whether it be any debris or spill, leaving your flooring looking sparkling clean.
Not only can you use the suction feature of this vacuum, but the vacuum also can convert into a blower so you can gather leaves and debris and get rid of tough dirt.
The Shopvac Super Wet & Dry Commercial Vacuum is super lightweight and compact, making it easy to manoeuvre in and outside the house without being a hassle.
The 4 robust caster wheels make the vacuum mobile, helping you clean every inch inside and outside your home.
The vacuum comes with additional nozzles that can be stored on the handy tool so that the nozzles are easily accessible while cleaning.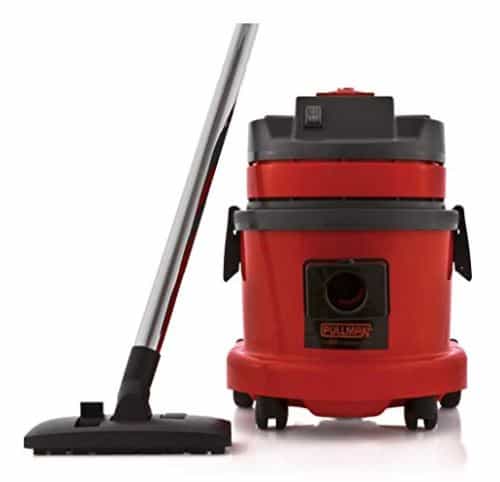 Start your upcoming spring cleaning the right way with the Pullman A-031B Wet & Dry Commercial Vacuum Cleaner.
This vacuum has the capability to clean up dry and wet surfaces without damaging the vacuum, so it will last you for a long time without rusting.
Whether it be dust, debris or liquid spillage, the Pullman A-031B has got you covered. You can choose to use this vacuum with or without a bag, it's totally up to you to decide as the functionality of the Pullman A-031B is not impaired based on your decision.
The 15-litre capacity and 1000-watt power of the Pullman A-031B Wet & Dry Commercial Vacuum Cleaner make it powerful at cleaning up mess without having to worry about the vacuum filling up fast.
A unique feature of this vacuum is the Bypass motor which regulates air flow around the motor, unlike traditional motors which allow air to flow through the motor.
The Pullman A-031B is super compact and lightweight, making it easy to move around inside or outside your house.
Combined with the 10-meter cord, you can move this vacuum to every inch of your house without missing anything.
Cleaning the house can be the last thing you want to do on your weekends, especially if you have a vacuum that requires constantly doesn't do the job right.
That's why you should get the Shop Vac MCS-SQ11 Micro Portable Wet/Dry Vacuum to get amazing results every time you vacuum your house, without having to hire professional cleaners or waste a lot of your precious time.
This vacuum has the amazing capability to not only work on dry, but also wet surfaces in or outside your home, office, outdoor areas and inside your vehicles as well.
With the 4-litre capacity and 1100-watt power, there won't be any mess that you can't clean up within a matter of minutes.
Shop Vac's MCS-SQ11 is super lightweight and compact, and combined with the built-in top carry handle, you can easily manoeuvre and transport your vacuum without bumping it on walls and causing dents.
To store your vacuum, all you need to do is use the wall bracket for compact storage. The friction fit hose allows for fast and easy attachments so you're not wasting your time fiddling with how to attach the accessories.
Now checkout our other guides and product reviews at BestFive.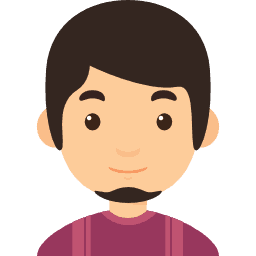 Duncan is a world traveller who loves to explore new cultures. Currently he's a freelance writer for Best Five who has studied at a prestigious university in the USA.