Latest posts by Duncan Liu
(see all)
A pressure cooker is one of the best ways to get dinner made without much effort. If you're like me, you work hard for 9 hours per day (maybe longer?) and the thought of cooking when you get home is depressing. Maybe you've had Uber eats once already this week too.
Introducing the pressure cooker and the simple load, lock, heat and eat method.
Most new pressure cookers offer slow cook, steam, saute and more, commonly referred to as multi-cookers and buying one will allow you to create many different meals.
What are the benefits of a pressure cooker?
Contrary to what our childhood memories might tell us, using modern pressure cookers is a healthy and safe way to cook food.
The nutrients are preserved and the ingredients retain their richness of flavor and colour because they are cooked with less liquid and in a shorter time.
Boiling food in a saucepan on a stovetop, or baking it in the oven, takes longer and leads to evaporation and steaming away of the goodness in the food.
Because pressure cooking lends itself to single pot recipes such as stews, casseroles, curries, soups and so on, you're also going to save time and energy both in meal preparation and in cooking time itself (up to 70% less cooking time).
That's ideal for the busy household with a budget to keep an eye on.
And cleanup afterward is a breeze – the pressure cooker leaves no baked on or greasy residue on the stovetop and is just a single pot to wash.
So those are just a few of the benefits of using a pressure cooker. There are others, like preserving, canning and others.
A good investment all around.
Best Pressure Cooker Australia
In this overcrowded marketplace, it can be hard to find the very best pressure cooker Australia has to offer. Our team has picked five of the very best.
You can buy all these cookers online with fast delivery nationwide. The returns and warranty process is very straight forward too.
If you want to buy a cheap pressure cooker then you could go to places such as BigW or Target. You generally get what you pay for, so buying an established brand will save you money in the long term.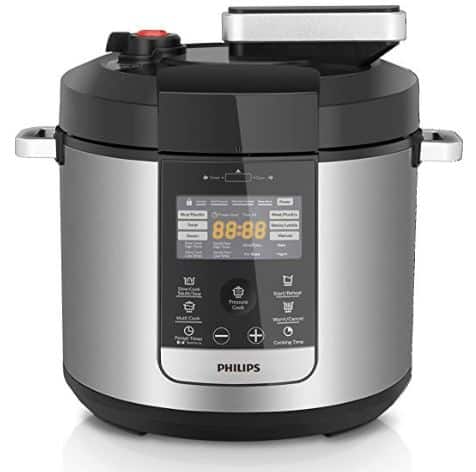 The Premium All In One Cooker by Philips gives you all the single pot cooking methods you want in the one appliance: pressure, slow and multi cooking.
With the sensitive sensor one-touch button control panel to change functions, it couldn't be easier.
You can saute and sear for perfect textures and flavours. Slow cook on high or low for up to 12 hours. Reheat or keep warm for up to 12 hours.
There's a dual sensor for better temperature control and more even cooking.
And with a pre-set 24-hour timer you can prepare your meal the night before and set it to start (and stop) when you're at work the next day. The timer also lets you keep track of the progress of the cooking. Perfect!
The premium All In One features easy-to-clean parts including a detachable inner lid, a high-grade stainless steel pot and a non-stick aluminium alloy inner pot which is both durable and highly heat conductive.
A key safety feature is the auto pressure release, a pressure regulator valve which kicks in when the pressure inside the cooker is abnormally high.
The Philips All-In-One Cooker is in the medium range of the price market for all-in-one cookers and there are mixed reviews but certainly many 5-star ratings to be reassured by. And the product does come with a 2-year warranty.
[wp-review id="973″]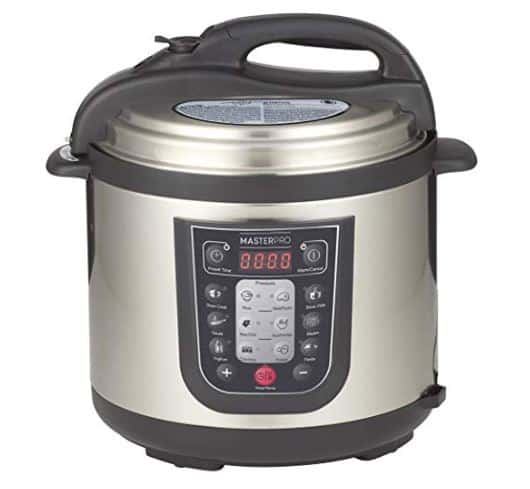 The MasterPro MPMULTICOOK 12-in-1 is an all-in-one professional grade kitchen appliance with a host of functions that will meet many of your weekly meal planning needs.
It boasts six pressure and six cooking functions, with a countdown timer and a keep warm function that kicks in automatically as soon as the cooking time is up.
Now that's handy! Once you've done the preparation and set the machine temperature, function and cooking time, you can leave it and not worry whether you're going to be late.
Your dinner will be cooked and warm and waiting for you whatever time you get home – unless you're early!
The cooking functions are slow cook, sous vide, saute, steam, yoghurt and pasta. The pressure functions are rice, meat/poultry, beans, soup, potato and canning. So it's one versatile machine.
The temperature is variable between 40C and 200C degrees.
Standard extras are steam rack, soup ladle, rice paddle and measuring cup. There is also a recipe book to help you learn all the functions and to give you ideas about how to make best use of the cooker. The cooker comes with a 12-month warranty.
The MasterPro is at an extremely affordable price point and has earned excellent reviews.
The Crockpot brand is the one we probably all associate with the beginnings of the slow cooking movement back in the '70s. With the exception of millennials perhaps.
The Express Crock Multi-Cooker from CrockPot is a five-in-one multi-function cooker with a keep warm function.
It features a pressure cook, a slow cook, a saute/brown function, rice and steamer. In addition, it has seven fast cook button press options for those who wish to make quick and easy meals without needing to think about any time or temperatures settings.
This is an unusual and interesting feature in a pressure/slow cooker.
The Express Crock comes in a stylish steel and black finish. The cooking bowl is dishwasher safe and the product comes with a handy recipe book and 4-week meal planner for inspiration.
A 12-month warranty is standard.
The Crock Multi is well priced and its reviews are very positive, and they highlight what we all should know: that it's really important to read instruction manuals when you take delivery of a new appliance or any product. And to keep expectations realistic.
All in all a good quality appliance which seems to deliver what it promises.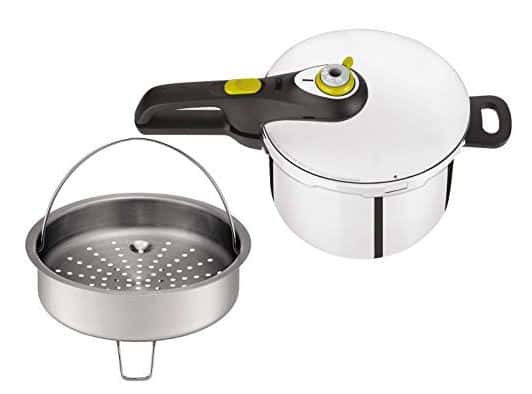 Secure Neo 5 Pressure Cooker by Tefal is a single-function heavy-duty pressure cooker designed specifically for safe, worry-free cooking of quick, healthy family meals.
Cook your favourite stews, soups, vegetables, meats, fish, and more. The cooker arrives with its own steam basket for better flavor and nutrient retention.
Its 6L capacity will suit any size family meal.
It has been designed with safety first and foremost in mind. There is a five-point safety system which includes auto-lock open and close, pressure control valve, safety valve, and gasket. And a steam release function allows safe control of any excessive pressure.
This is a cooktop appliance which can be used on any surface including gas, electric, halogen, ceramic, and induction.
The handles are large and sturdy for safe movement and pouring. The inner cooking pot and the steam basket are dishwasher safe. And the product has a 10-year warranty.
Despite the fact that the Neo 5 is not a multi-function cooker it has excellent reviews.
It is a very low-cost alternative to the other brands, particularly if you're simply wanting a quick meal cooker. It certainly will satisfy many of your needs because it is still quite versatile.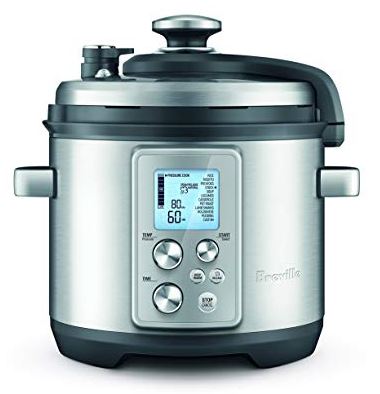 The Fast Slow Pro Multi Cooker by Breville claims to beat the rest for automated cooking.
It's stated to be able to switch between different functions on its own because it knows the time, the temperature and the pressure that different foods need and that it can automatically adjust between fast and slow cooking to best suit what is inside it.
These are impressive claims. How does this cooker do it, scientifically speaking? Well, it's all about the sensors within the machine.
There are sensors at the top and bottom of the cooking bowl which monitor the contents for temperature and pressure, while the steam control system varies the pressure around the food as well to adjust the rate of cooking for flavor and texture.
If you tell the cooker what ingredients you're cooking it can then know the ideal temperature and pressure it needs for perfect texture and flavor. And that includes searing, sauteeing and so on.
Ingenious! Does it work? A resounding yes is the answer to that. The reviews that this product has had visa vis the food quality alone have been remarkable
So, as well as that feature the Breville Pro Multi also has a 3-way safety system with the auto steam release, interactive and colour-coded LCD screen, easy clean features, steel rack and steamer basket, and recipe book.
The Pro Multi is on the expensive side but the reviews really are, on the whole, very good, particularly around the quality of the food it produces.
Is it dangerous to use a pressure cooker?
Pressure cookers have come a long way in recent years. They used to be quite dangerous appliances: hissing, screeching and rattling with billowing steam and the ever-present possibility that the lid would blow.
There were also issues around the materials they were made from (aluminium) and its potential toxicity.
Nowadays all these dangers have been removed with various safety features.  These include steam release/control valves (of different types) which keep the pressure at a safe level thereby preventing implosion or lid-blowing.
And lid locking handles which will only open when the pressure is at a safe level.  Safety handles made from heat resistant materials allow you to lift and carry the pressure cooker safely even when it is at its highest temperature and steam levels.
The integrity of the food cooked in a pressure cooker is also ensured now by making them from stainless steel rather than solely from aluminium.
Aluminium is still used for its rapid heating properties but it is sandwiched between two layers of stainless steel so that it can't affect the food inside the cooker. This method also prevents any chance of food burning or sticking.
So you can see that these (and some other) safety features have contributed to making pressure cookers quite safe to use now.
Is cooking in a pressure cooker healthy?
Of the many benefits of using a pressure cooker healthy eating is a major one to consider. It has been shown pretty conclusively, and scientifically, that food prepared in a pressure cooker retains more of its nutrients than food cooked by any other method.
Why is that?
Well, the scientific explanation is not so easy to wrap your head around if you're not wired that way but here goes: cooking is a question of raising the temperature of the water content of the food itself.
So, it is the boiling point of water which is the determining factor in how long it takes to cook food.
This, in turn, depends on the air pressure of the location you are in at the time. Lower air pressure equates to a lower boiling point which equates to a longer cook time.
What all that translates to (whether you understand it or not) is one simple fact: that cooking at high pressure cooks food faster because the boiling point of the water is higher. And cooking food faster means less loss of nutrients.
If all the other benefits of using a pressure cooker at home don't convince you, this one might. A healthy diet is the one really significant thing we can do to increase our longevity so incorporating a pressure cooked meal into your dietary plan might be a really good plan!
When should you use a pressure cooker?
A pressure cooker can be used any time you're cooking but it's particularly handy when you're time poor but still want a healthy home cooked meal and you have ingredients which suit the use of a pressure cooker.
These are foods like meats and vegetables which need cooking into meals like casseroles, stews, curries and so on.
A few examples might help to give you some ideas:
Dried beans usually need soaking overnight and then stovetop cooking for a few hours. A pressure cooker can cook them from scratch in an hour.
A stew from a fairly tough meat which needs several hours on the stovetop or in the oven can be made from scratch (literally prepping the meat and the vegetables you want to add and adding them with some water to the pressure cooker) in around 45 minutes tops!
You can even do a Sunday roast (pot roast at least) in your pressure cooker, complete with gravy. Admittedly if you want a fancy roast there are recipes online which do require some time and effort to do the prep. But there are shortcut methods as well for a simpler but just as tasty dish, even from frozen.
So, those are a few ideas of when you might use a pressure cooker. It won't do every night's meal but it will play a big role in your life if you learn how versatile it can be.
Now you know the best pressure cooker Australia has to offer, why not checkout BestFive's other guides, product reviews, ratings and consumer information.
Last Updated: November 6, 2019 by Rhys