Latest posts by Duncan Liu
(see all)
So you're in the market for a line trimmer but not sure which one is the best or where to spend your money? We don't blame you.
In this crowded market, you've got major players such as Bosch or Black+Decker, along with cheap Chinese imports and American brands slowly entering the Aussie market.
With that, comes a wide range of prices and it can be hard to find the Best Line Trimmer Australia has to offer to suit your budget.
Today we're looking at a range of cordless and corded electric trimmers. All these can be purchased online with fast delivery nationwide.
We will review the best petrol line trimmers in a future article.
This article looks at line trimmer product reviews, ratings and a buyers guide to help you decide which one to buy.
What is a line trimmer used for?
The term 'line trimmer' is interchangeable with many others depending on where you're from.
They include: string-trimmer, whipper-snipper, weed-whacker, weed-whip, weed eater and strimmer. Australians generally refer to them as whipper-snippers or line trimmers.
A line trimmer is a gardening tool which uses rapidly spinning nylon filaments (fishing line) to cut through otherwise difficult to manage weeds or long grass, especially on areas difficult to reach with a traditional mower.
The line trimmer operates on the principle that the speed of the rotation of the nylon line, if fast enough, will force it to become horizontally airborne and very stiff, with the strength to cut through the grasses and even small branches of shrubs, etc.
Many households will own a line trimmer as an accessory to their garden maintenance toolkit. They are indispensable for tidying up lawn edges, tackling undergrowth and manicuring unruly bushes.
Best Line Trimmer Australia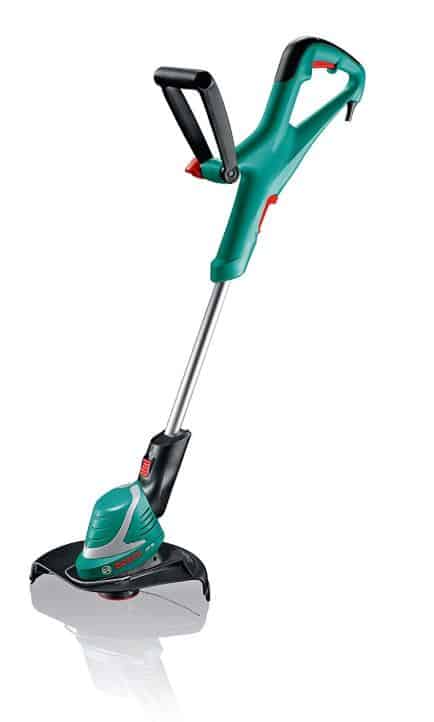 The Bosch ART 30 is a lightweight electric line trimmer designed for the larger domestic garden. Its 500W motor is powerful enough to cut through the toughest of weeds and grasses.
It boasts an easy button controlled 90-degree rotating cutter head which makes it easy to get to both edging and trimming jobs in the blink of an eye.
The line diameter is 30 cm and the Art30 has an easy to manage dual spool line cutting system to reduce the hassle of that particular task.
The Bosch ART30 has ergonomics in mind with this model. It has an extendable/retractable handle (between 80 – 115cms) to suit individual heights and also different jobs in the garden.
It has an auxiliary handle to reduce hand and arm strain. The trimmer is very light as well – only 2.8kgs so it's not going to put undue pressure on your back, arms and shoulders.
The ART30 comes with a confident 2-year warranty.
There are some negatives about this line trimmer – it's said to be pretty noisy for an electric tool.
And it has a substandard plastic line reel holder which can cause time-consuming issues at times. And it is also a corded electric trimmer, which is being steadily replaced by the more popular battery pack option.
But it comes with good reviews from customers and others, and it is on the market at a very affordable price.
[wp-review id="926″]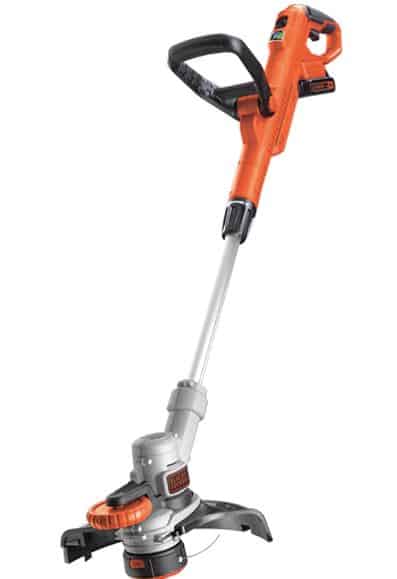 Part of the Power Command Range, the BLACK+DECKER STC1840EPC-XE 18V String Trimmer has the power and versatility to tackle any garden task.
Increase the power for tough overgrown areas or reduce the power for lighter tasks to extend battery run time with the power select runtime extender and perfectly trim lawn edges with the flip to edge mechanism.
This line trimmer by Black and Decker is a cordless domestic use product designed with optimal user comfort in mind. And it has some really innovative features.
The handle is telescopically adjustable for posture comfort, and there is a second handle to ease the pressure on your arms and shoulders.
The unit only weighs 2.5kgs anyway so it's not going to place a particularly large stress on your body if your posture is not otherwise compromised.
There is an easy line feed system allowing you to control the cutting line at the push of a button. You can also quickly and easily convert from trimming bushes and so on to a controlled edging mode with a guiding wheel to help keep your edges neat.
The level of power output can be adjusted to suit the requirements of the job you're doing. That not only helps to make each job easier but it conserves the battery power.
The cutting diameter is 30cm so you cover a larger area faster.
There is an anti-clogging high-torque gear system. The trimmer is powered by a rechargeable lithium battery which recharges in as little as 2 hours.
So all in all this line trimmer from Black and Decker seems to tick all the boxes. It is priced at the high end of the market but it is a from a highly reputable manufacturer of power tools.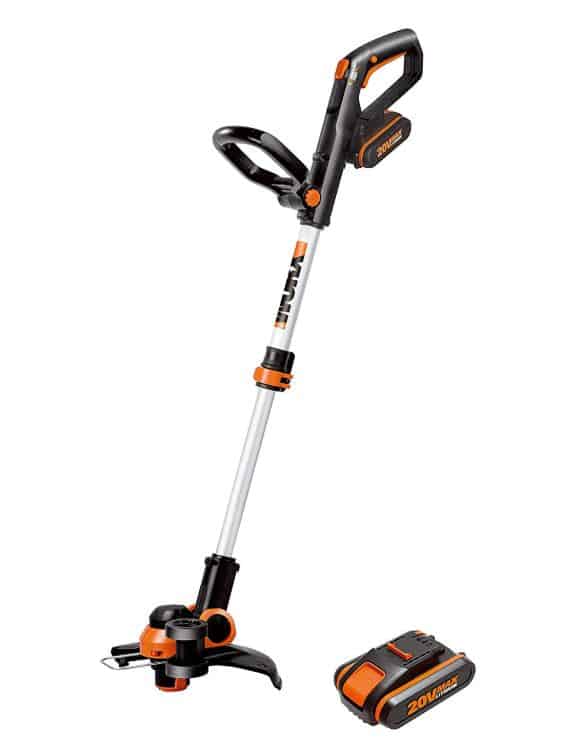 This 2-in-1 trimmer/edger from Worx is a cordless electric tool powered by a 20 Volt Lithium battery pack. (The unit comes with a spare battery pack which is always a nice surprise!)
This strength of power does give the trimmer more grunt and you would expect it to run for longer than other less powerful units under the same operating conditions.
The WG163E claims, at 12", to have a wider and therefore more efficient cutting diameter than other trimmers but this is just untrue. Other line trimmers looked at have 30cm cutting diameters, which is very close to 12".
As with many other trimmers, this one also boasts a push button line feed control, adjustable/retractable handle and a column for comfort, pivoting head for ease of transference to different terrains, and a wheeled edging attachment for precise work.
So the Worx trimmer is very similar in its features to many others on the market. The question is: is it any better?
Well, the reviews discovered for the Worx WG163E (all American) are almost without exception very positive.
It is at the high end of the market with its price (not the highest though) but if the reviews are accurate it seems to be a sound investment.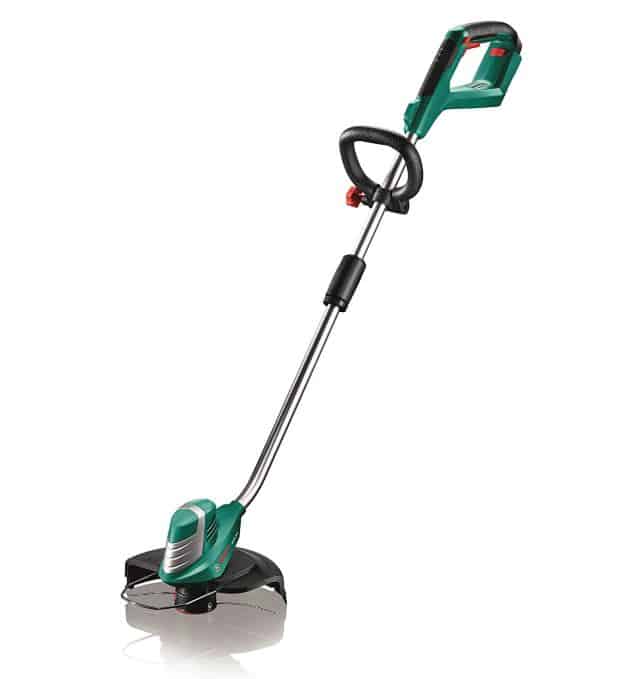 The ART 30 line trimmer by Bosch is a cordless gardening tool which says it is a heavy duty trimmer which gardeners can use to mow their lawns, not just trim the edges and keep their undergrowth and bushes under control.
The ART 30-36 LI runs on a powerful 36 Volt Lithium-Ion battery for up to 35 minutes operating time and with a quick 90-minute recharge.
The battery charge level can be checked as you work so you know how long you have left. It's cutting performance is both powerful and flexible.
The 30-36 has a 30cm cutting diameter and a semi-auto dual line feed, which does make it more efficient.
Ergonomically speaking it is 2.8kg due to the size of the battery and this weight is reported to take its toll on the user after a while.
But it does have soft comfortable grip handles as well as an adjustable auxiliary handle for individualised comfort while you work.
It has two speeds – giving it versatility for light and heavy-duty work – and a plant guard to protect valuable plants from damage while you work around them.
It is reported to be suitable for the more rugged of terrains due to its size, weight, and power.
The Bosch ART 30-36 is one of the most expensive on the market but it certainly seems to have good reason to be.
The Black Eagle line trimmer is an electric cabled unit with a powerful 600W motor and a speed of 100rpm.
It is an obscure brand and information about it is almost impossible to find, let alone reviews. But they do produce other items of machinery such as chainsaws and reviews of these are generally favourable.
So having said that let's look at this line trimmer in a bit more detail.
The trimmer is has a telescopic aluminium handle (850 – 1140mm) for ergonomic comfort.
It has a dual line feed and, unusually, a triple angle adjustable edge-cutting angle: +90, -90 and 180 degrees.
These angles give a great deal of control and precision over the trimming and indeed may make it possible to finely manicure your lawn.
The trimmer also comes with a protective guard for detailed work.
At 2.9kg it is not particularly light and it's likely that some discomfort will be felt by the user after a while.
But this trimmer by Black Eagle is available at a ridiculously low price, and from what customers have said about this company's other products it may be worth a try.
What is the difference between a line trimmer and a brush cutter?
Line trimmers come in different sizes and some are heavy enough to need two hands to hold and operate, as well as a harness to help bear the weight.
These are used to clear much larger areas of bush and thick roadside vegetation and are better known as brush cutters.
Although brush cutters operate on the same principle as a line trimmer they have a rapidly spinning metal blade instead of a nylon line.
The use of a blade gives the user the ability to tackle much denser grasses and branches, even small trees. A brushcutter can have various different heads attached for different specific uses.
Both line trimmers and brush cutters use either electric power or petrol engines and have a central shaft between the cutting head and the handle at the top.
Apart from that though the two are quite different, with the brush cutter having many more safety and other features required due to its sheer weight, physical size, and power.
Is it safe to use a line trimmer?
Line trimmers are pretty safe to use as long as you follow a few basic safety rules. Firstly it's extremely important to always wear safety goggles to protect your eyes from fast-flying debris which the trimmer will throw up.
Secondly, you should wear clothing which protects your limbs and feet as well for the same reason. And ear-muffs are a good idea too – line trimmers can be pretty loud!
Because of the way it's designed to spin the nylon line in a counter-clockwise direction, the trimmer will throw up debris to the left of the cutting edge.
So it's always sensible to keep your body to the right side of the cutting edge of the trimmer.
Other safety tips to remember are: always use the right size line that is specified for the trimmer you have. Never add a blade to a line trimmer.
Avoid using the trimmer when it's raining – it increases the risks and it also wears out the engine faster. Always wait for the trimmer to be cool before refueling to avoid an explosion.
Make sure your device is electrically safe too by following guidelines from Worksafe.
Should I buy an electric or petrol line trimmer?
There's no doubt that the idea of simply plugging a line trimmer into the power outlet and starting the job sounds so much easier than checking the level of the fuel tank and filling it up before use.
Electric trimmers are certainly much more convenient, and quieter, than their petrol counterparts but their lifespan can be significantly shorter.
Electric trimmers just don't have the grunt to tackle thicker branches (think hedges) and their engines tend to burn out a lot more easily.
And petrol powered trimmers are by definition cordless, thereby increasing portability and reducing the risk of accidentally cutting through a power cord.
Petrol trimmers are not weather affected. Electric models can't be used in rain and this is obviously a big disadvantage if you live in a wet climate.
On the other hand, cordless electric trimmers have now arrived on the market which may reduce the impact of this particular point of difference.
Petrol trimmers do tend to have a longer lifespan.
But the choice is dependent also on what you want to use the line trimmer for and what your budget is. Petrol trimmers are significantly more expensive than the electric variety.
Petrol trimmers are significantly heavier as well which could well be a real disadvantage to you if you're older, have back issues, etc.
And petrol-powered machinery is messy to prepare, to use and to store safely and cleanly.
The answer to the question is that there is no outright answer: it depends on your individual circumstances, having regard to all the factors mentioned.
Now you know the best line trimmer Australia has to offer, checkout our other guides.
Last Updated: November 6, 2019 by Rhys