Best Inflatable Spa Pool Australia (Buyers Guide)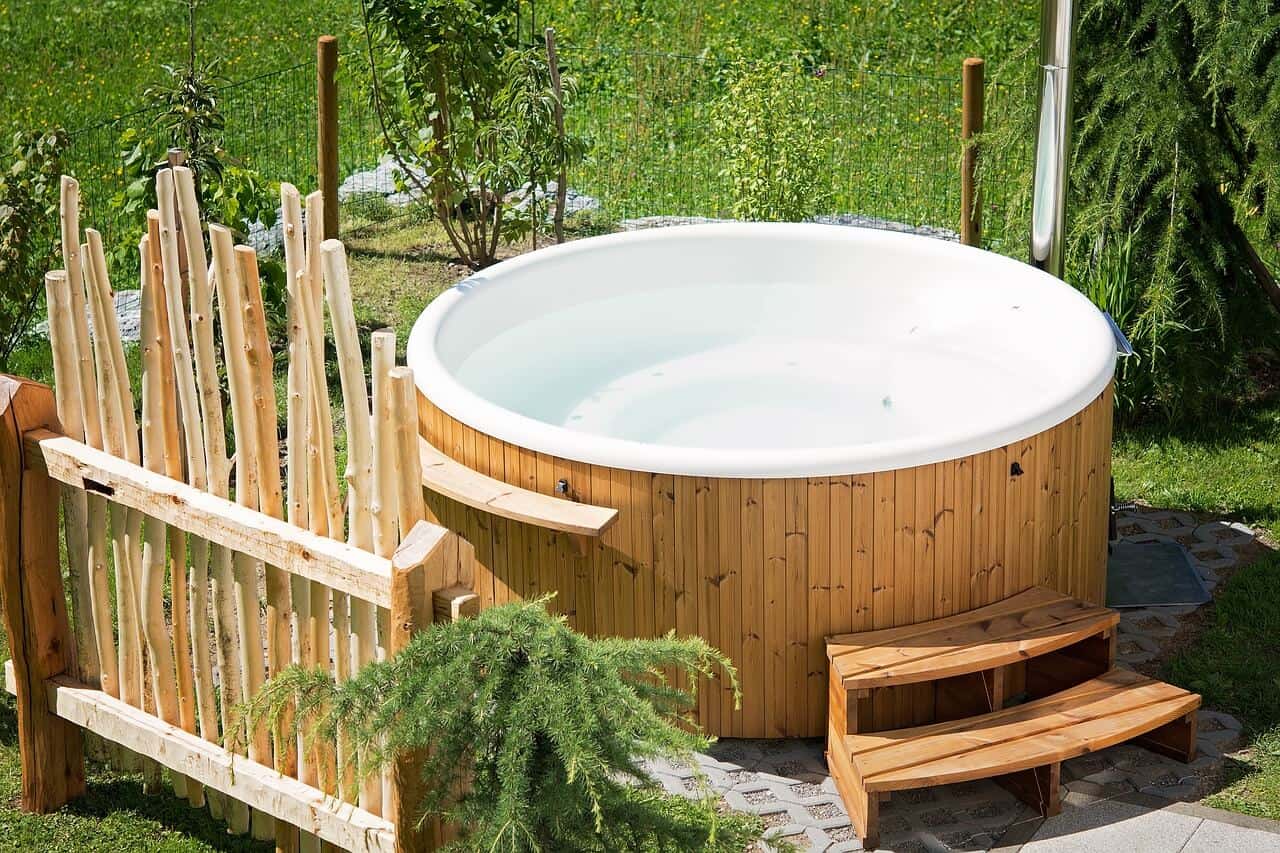 So you're thinking of buying a spa pool but don't want to spend thousands of dollars buying a traditional one that is permanently fixated all year round.
The best option for you is to purchase an inflatable spa pool and today we're going to show you 5 of the very best to suit every budget.
Most inflatable spa pools are fully inflated within minutes and seat 4-6 people depending on the size. They also have much lower operational costs as they require less cleaning and maintenance.
They are also super portable allowing you to take them away on a camping trip too. Or simply take them down when you're not using them.
Why you need to buy an inflatable spa?
Inflatable spas are such a great idea compared to permanent built-in hot tubs.
A permanent hot tub takes up space which you may not really want to give up on a long-term basis. And if you move house you've lost your spa and have to purchase again or go without. Portable inflatable spas clearly don't have those drawbacks.
Inflatable spas come in a range of sizes and shapes so you're probably going to find one to suit your preferences. They all have air jets. They seat from two up to six people.
Some have water softening treatment systems. Some offer individual massage air jets. Most have water filtration. Most have digital control panels, including an auto On/Off switch for water heating so you can preset when the spa turns on to match when you get home from work. A nice touch.
Permanent hot tubs may have many of these features but they cannot compete with the price of the inflatable tubs, or the portability and in some cases, even the shape.
These days if you are in the market for a spa you would be wise to look at inflatable options very seriously both for their features but also as space savers and money savers.
Best Inflatable Spa Australia
1. Bestway Lay-Z-Spa Palm Springs
The superior design, construction and materials of the Bestway Lay-Z-Spa Palm Springs ensures that you and your family and friends will enjoy the fun and relaxation of a hot spa many many times over with only a ten-minute inflation period.

Measuring 196 x 71 cms when fully inflated the Palm Springs Spa comfortably fits 4-6 adults so it's a great entertaining idea for close friends.

The material is a TriTech reinforced combination of polyester core encased in two layers of laminated PVC.

The I-Beam walls stand up to sideways or even downwards pressure without bending or buckling. And the material will not stretch or puncture. The padded floor makes for very comfortable seating.

Once inflated and filled with water, the Rapid Heating System will heat the water to 40C quickly and safely, and 120 jets start to activate the water for a real hydro-massage.

You have a digital control panel for easy operation and a timer for auto on/off so you can set the spa to fill with water and heat ready for when you get home from work needing that hydro-massage! What a lovely thought!

The Lay-Z-Spa Palm Springs is ideal for family fun, summer entertaining or for helping with that bad back or sore muscles. Great after a long day at work.
2. Bestway Lay-Z-Spa Miami
The Bestway Miami Lay-Z-Spa (81 jets) is an inflatable spa designed to sit up to 4 people. The spa is designed with total relaxation in mind.

The material is sturdy and durable – it is a tri-layer of polyester surrounded by laminated PVC which will not stretch or tear or puncture.

The walls are constructed so as not to bend or otherwise warp out of shape when sat on top of or leaned against. The floor is padded for extra comfortable seating.

The Lay-Z-Spa Miami spa as a whole retains its shape no matter how many times it's inflated or deflated. The spa has an external pump which doubles as an inflator during set up.

When you are ready it takes a super-fast ten minutes to inflate the Miami spa. And then, once filled with water, the Rapid Heating System will heat the water to 40C quickly and safely.

You have a digital display control panel for easy operation, including turning on the 81 jets for agitating the water and making the spa a hydro-massage.

There is also an auto on/off timer switch for the heating function to allow you to set it to be ready for when you get home.

The Lay-Z-Spa Miami is all about luxury and relaxation with family, friends or just on your own. So quick and easy to set up why wouldn't you treat yourself every night?
3. Jetstream Portable Inflatable Spa
The Jetstream portable inflatable spa is designed to seat up to 4 adults.
It holds 800 litres of water when full and has 130 air jets to agitate the water for hydro-massage function.

The recommended bubble duration is 20 minutes. The spa measures, when inflated, 1.7m outer diameter, 1.3m inner diameter and 66cm height.

The unit comes with a long 5m power cord for easy placement outdoors. It has an inflation hose, filter, durable cover, repair kit, and a digital control panel.

Those are the facts, now to the selling points.

The Jetstream inflatable spa is all about the experience of a luxury hydro-massage in the comfort of your own home whenever you want.

Or, thinking outside the square, it's portable enough to take on a camping trip - as long as there's going to be mains power and water where you're going. The uninflated unit only weighs 18.7kgs.

The beauty of a spa under the stars in the middle of nowhere cannot be described. And when you add the 130 jets of bubbling air it sounds like heaven!

The Jetstream is easy enough for someone to set up alone. And if you are leaving it up then the cover is handy to prevent debris from falling in.

If you do have health issues and need hydrotherapy treatment this is ideal for having that at home. It comes in at an excellent price and is the right size for that purpose.
4. ALICE'S GARDEN Alpine Spa
The Alice's Garden Alpine Spa is an inflatable portable spa which can be installed either inside or outdoors whichever you prefer.
It is designed to sit up to four people and measures 118 x 118 x 68cm (internal dimensions). It holds approximately 650litres of water.

The Alpine Spa is made from a durable puncture-proof 6-layer laminated PVC which is called Rhino-Tech.

The pump is built into the wall for aesthetic reasons, but the filtration system is removable for maintenance and storage. The filters are made from polypropylene for longevity, rather than the usual paper.

The Alpine Spa's heating system is ceramic lined with aluminium and then insulated with a layer of polyamide. These features make the spa very safe to use.

The Spa has a control panel with buttons to manage all of its functions such as temperature, jets, auto on/off switch etc.

Set up and inflation is an easy 10-minute process, with instructions on a DVD for that first time. Inflation occurs through the filtration system with the hose provided.

Once inflated and filled with water the heating is quite fast and the spa is soon ready for use. There are 108 jets streams of air to enjoy as a Jacuzzi, hydrotherapy or relaxation before bed.
5. Costway Inflatable Spa
The Costway Goplus spa is truly a stand back and watch affair as it self-inflates, fills with water, and heats the water, all in the space of a few minutes.

The construction is a unique Fiber-Tech, a puncture-resistant 3-ply-laminated material for the ultimate in comfort, support and durability.

There is a built-in filter pump to inflate the spa with no need for tools. The spa can seat up to four people. It holds 800L of water and measures 1.8M diameter.

The spa also softens the water with a hard water treatment system to enhance the massage experience.

And the 130 high powered air jets provide the luxury and the relaxation a spa is supposed to provide. Change the filters to maintain the hygiene of the spa.

The control panel allows complete control over the spa's functions, including the jet strength, water temperature (up to 104F), auto on/off switch and so on.

The Costway spa is perfect for sore muscles after a day in the garden or on the sports field. Or for a romantic evening at home. Or just to relax before bed if you have trouble getting to sleep.

There are all sorts of things that spas are helpful for, and this is so easy to quickly set up. Or you can even just leave it up with the insulated secure lid on between uses.
Who buys inflatable spas and where from?
There are a number of different reasons why people buy spas.
Some like to be able to get into a body of water at home but don't have the room or the funds for a swimming pool. A spa can be run both hot and cold and many people do use them both ways all year round.
Spas are also social places and a way to relax.
If you have problems with your back or other health issues which hydrotherapy is good for then having a spa at home is ideal for keeping on top of it and maintaining good health.
Post-operative therapy is also often helped by water-based workouts. And if you have sinus issues – permanently or just when you have a cold - the steam helps clear them out.
Headaches are also relieved by hot water relaxation. And insomnia can be relieved by regular spa sessions just before bed.
People who like to work out a lot but also enjoy the relaxation of a muscle relaxing spa later will often buy a spa.
Spas can be purchased from specialist stores like alicesgarden.com.au, Inflatable Spas, Clark Rubber (various locations), Spa City Spas, inflatablehottubhq.com.au and inflatable-spas.com.au.
Amazon also stocks inflatable spas.
How much are inflatable spa's?
Prices for inflatable spas vary enormously between brands and outlets.
You can spend as little as $400 for a 2 seater or as much as $1100. And for a 6 seater, you could spend $860 or $1680.
Always look for sales, do some haggling and do your research. If there is a reason for the higher price and you appreciate that there is value there then it may be worth the extra money.
How do I look after my inflatable spa?
It's very important to look after your spa and who uses it – hot water and bodies tend to create a breeding ground for germs. Your portable spa will come with instructions specific to itself as to how to look after it and keep it clean.
But essentially it needs to be emptied every three to four weeks and wiped over with a mild soap mixture and then hosed out till all the soap suds are gone.
While the tub is full the water needs to be tested to make sure the pH and alkalinity levels are ok. You also need to sanitise the water with sanitising solution either before each use or weekly, whichever is sooner.
The filter needs to be removed weekly and cleaned as described by the instructions.
Verdict
If you've got a large family or are looking to space out then you should consider a 6-seater spa pool. With that said, of all the products we tested, the Bestway Palm Springs is definitely the best option.
Latest posts by Yves Matthews
(see all)
Last Updated: October 11, 2020 by Rhys