Latest posts by Natasha Lewis
(see all)
If you want to get a good score on the IELTS test, you must prepare properly. In this article, I've signed up and gone through 6 of the very best courses that will help with your IELTS preparations. After taking these courses, you'll be well on your way to sitting and hopefully passing the course here in Australia.
IELTS is the preferred test for immigration to Australia accepted by nearly all professional entities and is integrated into the point-based immigration system. To obtain a visa for Australian permanent residency, you can take either the IELTS Academic or IELTS General Training, so this is a good place to start.
Best IELTS Courses To Prepare For The Test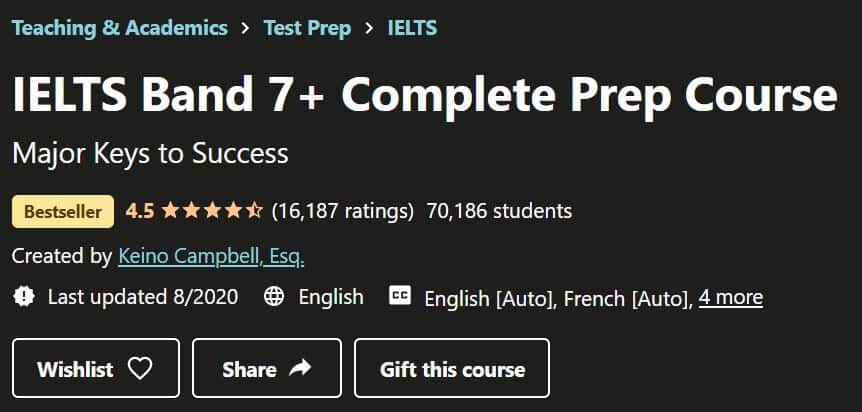 1. IELTS Band 7+ Complete Prep Course
The IELTS Band 7+ Complete Prep Course in run by Keino Campbell who has 15 years of experience in curating guides for English tests such as IELTS and TOEFL.
Nearly 70,000 students have enrolled in this guide and it has a rating of 4.5 stars out of 5. It is essential that students have intermediate speaking, reading and writing English skills before undertaking this course.
The content consists of 73 hours of video lectures and more than 100 pieces of study material. It provides a comprehensive overview for the listening, reading, writing and writing sections on the exams.
Besides this, there are tips on how to improve time management skills and how to spot out red herrings. Every month, there is a live session to answer questions. Students get to apply their knowledge through the 20 assessments available.
The content in this course is taught in English but there are French, Indonesian, Italian, Portuguese and Spanish captions. This guide can be used for paper-based or computer-based testing.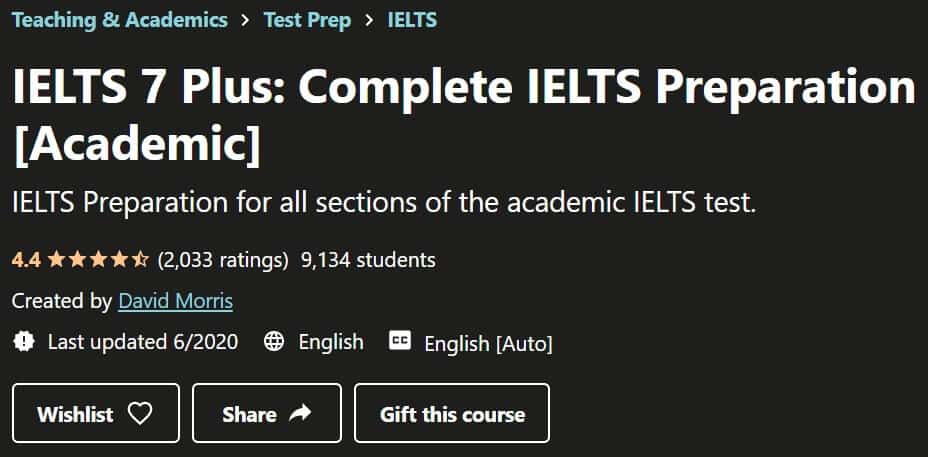 2. IELTS 7 Plus: Complete IELTS Preparation
The IELTS 7 Plus: Complete IELTS Preparation has nearly 10,000 students and has been rated 4.4 stars out of 5. The instructor of this course is David Morris who specialises in IELTS training and other international examinations concerning English.
It is not recommended for those who want to start learning English. This course is designed for students who already have a firm grasp on the English language and want to achieve a band score of 6 to 6.5.
This guide covers all segments of IELTS including both writing tasks, listening, speaking and reading. Morris explains what is to be expected on writing assessments and provides tips on improving conversational English skills.
There is also additional content on IELTS vocabulary that can help students obtain higher scores for the speaking section.
The video lectures available span a total of 19 hours. Besides information on the actual exam, Morris also reveals how markers decide on test scores. Various practice questions are available throughout to consolidate learning.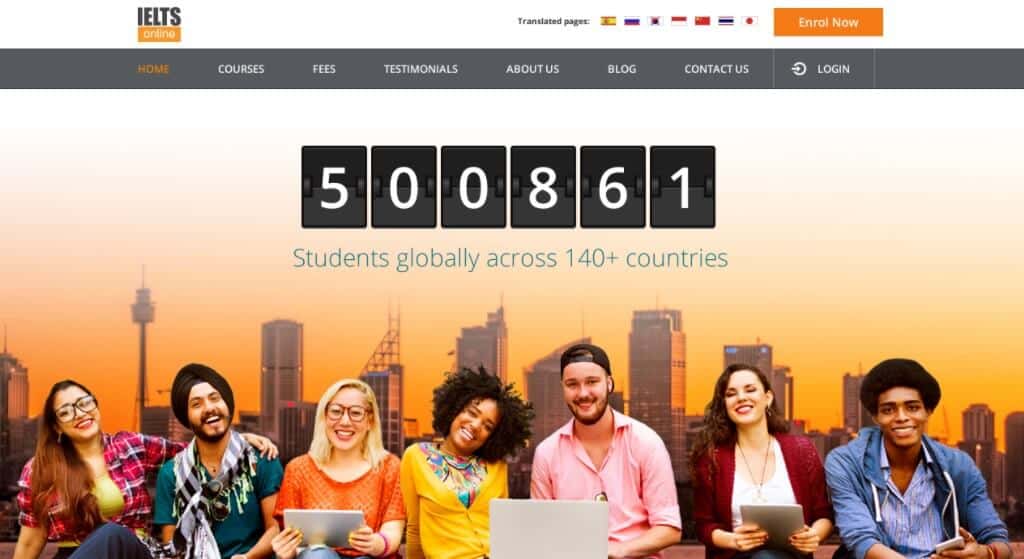 3. IELTS Online (Master $99)
Include program developed by Macquarie University
Macquarie University has 3 plans for students planning to sit the official IELTS test. All modules take around 20-25 hours to finish for every plan. The IELTS Express costs $49 AUD and is catered towards learners who have a short preparation time.
This plan grants 45 days of access to 190 study sheets and over 100 interactive lessons. There are detailed explanations and clarifications given for questions and lessons. The IELTS Master Plan is priced at $99 AUD and grants 90 days of access.
There are practice tests included for reading, writing, listening and speaking sections. 500 pieces of study material are included, as well as 260 exercises. This plan also includes 5 hours of audio recordings.
The IELTS Master Plus is priced at $299 AUD and contains the most comprehensive overview of the official exam. In addition to the same features included in the IELTS Master plan, students are provided feedback from instructors for 2 writing assignments and 3 speaking assessments.
4. IELTS 7 Band
Over 8,000 students have enrolled in IELTS 7 Band guides and it has been reported that around 96% of students obtained the band score they were aiming for. There are online courses available for both general and academic IELTS examinations.
Students have access to video lectures and full-length practice tests depending on the plan purchase. Additionally, expert IELTS instructors can be contacted for one-on-one guidance. The IELTS Starter Plan can be purchased for $40 and permits 15 days of unrestricted usage.
There are 10 full-length practice tests and technical assistance available. However, there is no access to video content and guidance from instructors. IELTS Master is priced at $60 and allows 90 days of unrestricted access.
Video content and instructor support is not offered but there are 50 practice tests available, as well as on-hand technical assistance. The last plan is IELTS Expert which costs $75. Students receive tutor support, video content, 50 practice tests and 90 days of unrestricted access.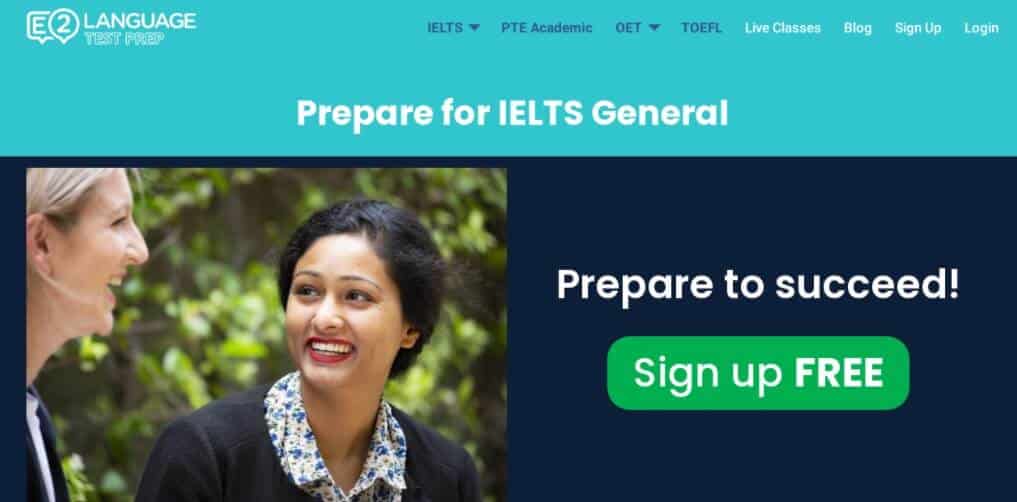 5. E 2 Language Test Prep
The E2 Language Test Prep is catered towards students who want to excel in their general IELTS exam. There are a variety of plans available, suitable for a range of prep times. The 12-month plans are Bronze, Silver and Gold.
Bronze is priced at $129 USD and comes along with unlimited live classes, practice questions and lecture recordings. There is a 1-on-1 tutorial available, 1 mock test, 4 writing assessments and 1 writing assessment.
The Silver plan costs 209 USD and has the same features as Bronze but comes with 2 tutorials, 8 writing assessments, 2 writing assessments and pre-test advice.
The Gold plan costs $299 USD and is an upgrade with 3 tutorials, 12 writing assignments, 3 speaking assessments and a post-exam consultation. The Express plan grants 6 months of access and includes 25 live sessions.
Express plans range from $44 USD to $64 USD for 6 months of access. There are also 6-month plans for writing and speaking modules for $74 USD.
6. Magoosh IELTS
Magoosh IELTS offers online training courses for both general and academic IELTS examinations. There are 3 plans available which cater to different preparation times.
The 3-month plan is priced at $69 USD and comes with more than 125 video tutorials, 600 practice questions and 4 full-length practice tests. Additionally, there is video content that breaks down the answers to every question.
The 6-month plan can be purchased for $79 USD. This plan comes with more than 125 recorded videos, 600 practice questions and 4 whole practice tests. Like the 3-month plan, there are videos that go through every practice question.
This package is recommended for those who need a longer prep time and are not looking for a crash course. The final plan available is priced at $99 USD and runs for 6 months.
In addition to access to more than 125 video lessons, 600 practice questions and 4 complete practice tests, an essay will also be professional marked. This is catered towards those who want to achieve higher band scores.
What to do before your IELTS test?
In addition to your personal identification, you must also bring a passport sized photo, which a lot of students forget. You should prepare this photo in advance of the test date. Moreover, you must have the right vocabulary to answer questions. Practice speaking and improving your vocabulary before the test. This is an excellent way to boost your score, and taking the courses mentioned in this article, can definitely help you.
How to improve my IELTS score?
It is possible to boost your IELTS score to pass the course if you have a plan and dedication. One strategy you can try is the 20-minute strategy. Instead of studying for three hours continuously, take short breaks every 20 minutes. Do this 10 times a day, which is about three hours and twenty minutes. This strategy will prevent you from getting burned out. If you are motivated enough to follow through, you should be able to see results very quickly.
How to practice speaking for IELTS test?
If you are preparing for the Speaking test in the IELTS exam, you must know the format of the test. The speaking test is made up of three sections: Reading, Writing and Speaking. In the paper-based version, the Speaking test is given face-to-face with an IELTS Examiner. The computer-delivered version is similar to the paper-based version except that you have to type your answers instead of answering them face-to-face. This version of the exam has some benefits, however.
How to improve my vocabulary for IELTS test?
One of the best ways to boost your IELTS score is to develop a broad vocabulary. Vocabulary makes up approximately 25% of the overall score in both the Reading and Speaking sections. It is therefore crucial to have a diverse vocabulary to answer questions. This article will provide you with several tips on how to improve your vocabulary for the IELTS. However, you should remember that this process will require concentration and dedication.
What does the IELTS test consist of in Australia?
The IELTS test has various sections. The duration of each section is indicated on the test booklet. Hence, you have to study carefully. Also, it is important to remember that there is a suggested time limit for some questions. During the test day, you should try to stay calm and relaxed. During this stressful time, a simple plan will help you perform better. Here are some helpful tips for a successful test day:
How to finish on time in the IELTS test?
If you're thinking of taking the IELTS test, there are several tips you can follow. For starters, you should plan your time well. While the exam itself is only two and a half hours long, you'll have around 20 minutes to write about 150 words. If you're pressed for time, you should make notes. It's not necessary to write in great detail. Just write down key phrases and keywords. This will help you recall information and improve your IELTS score.
Should I get an IELTS tutor to help me?
Getting a qualified teacher to assess your IELTS skills is essential if you are planning to take the test. It is important to understand the requirements of the test, as well as what it entails. The first test will last around 2 hours and 45 minutes. There are four main sections of the test: reading, writing, listening, and speaking. For speaking, the test will require you to answer questions in English. You will need to introduce yourself, answer some questions about your family, your background, and your hobbies.
What is the minimum IELTS score to study or live in Australia?
To study in Australia, you need to score a minimum 6.5 overall in IELTS, with no band less than 6.0 for your postgraduate degree. And when you apply for your undergraduate options, you need to score a atleast 6.0 overall in IELTS.
Last Updated: October 8, 2022 by Sraya