Latest posts by Duncan Liu
(see all)
So you're looking for the best blender Australia has to offer? We've done the hard work and tested five of the very best across a wide range of brands and models.
Gone are the days of spending hundreds of dollars for a new blender for your home kitchen. With advances in technology and competition in this over crowded marketplace, firms are offering blenders of various sizes for affordable prices.
We've reviewed some of the very best below, and these all ship via Amazon.com.au which offers fast delivery (free for prime members) and will have you blending in minutes.
Best Blender Australia
You can buy cheap blenders from places such as Big W, Target and premium brands from sites such as JB HiFi, Bing Lee, The Good Guys and Kogan.
We've found the best place to buy from is Amazon.com.au as they offer fast shipping and their returns process is very straightforward.
For a blender that is guaranteed to always give you the best results, use the Nutri Ninja.
The powerful Nutrient & Vitamin Extraction function of the Nutri Ninja has the power to unlock the natural benefits in fruits and vegetables to encourage a healthy lifestyle.
This blender is professionally powered with 900 watts to break down fruits and vegetable for healthy juices on the go. Just put on the sip and seal lids and you're ready to take your drinks to work, gym or school.
The Nutri Ninja is able to blend dry and frozen fruits and vegetables through the use of the Ninja Pro Extractor Blades which can crush through ice, seeds, skins, frozen fruit consistently with ease.
In the package for the Nutri Ninja you will receive 2 cups to take on the go; 500ml and 650ml cups, sip and seal lids and a 30-recipe guidebook.
So, you can start making fast and easy smoothies before work and take it on the go. All parts of the Nutri Ninja are dishwasher safe so you can save yourself the hassle of hand washing.
Additionally, the stainless-steel finish of the blender will fit the look of any home kitchen.
[wp-review id="692″]
Get blending with the Kenwood kMix blender to make the perfect smoothie or juice that will quench your thirst, whether you are after something hot or cold.
With a 1.6-liter goblet capacity, vented filler cap and Thermo-Resistant Glass Goblet, you will be able to blend hot and frozen beverages and food without worrying about thermal crack or buildup of steam in the blender, giving you consistent results anytime and every time.
The kMix blender comes with removable stainless steel MultiZone blades that effortlessly crush ice or also chop your vegetables evenly.
The removable blades make clean up easier as you can pop the parts into the dishwasher for a thorough clean as the kMix is dishwasher safe.
The kMix has ribbed blades that improve chopping performance.
With an 800-watt motor power combined with a variable speed and pulse, you can blend and mix your ingredients to the exact texture you want so there are no lumps in your juices and giving you the perfect puree for your soups.
With a sleek stainless-steel finish, the Kenwood kMix will perfectly fit into your kitchen to give it a professional look.
Whether you are travelling, camping or just going to work, the HuaFly portable blender will become your best friend. You can make being healthy fun and easy with the HuaFly Portable Juice Blender.
This unique portable blender lets you blend on the go thanks to the built-in lithium battery. So, there is no need to plug in the HuaFly to the power outlet in the wall but instead simply just recharge the HuaFly with your USB charger and you're good to go.
For a compact mini device, this blender is powerful as it blends not only fresh fruits and vegetables but also frozen food and ice in 22,000RPM.
All you need to do is press the button and you will get a smooth consistency in seconds. Once you've made your juice, you can drink it straight out of the cup so there are fewer parts to deal with and easy to clean up.
So all you need to do it blend, drink, clean and repeat.
Kick start your healthy lifestyle with the NutriBullet 1000-watt blender. This easy to use blender breaks down your food into its most absorbable form so you can get every bit of nutrition out of it.
Unlike traditional blenders, the NutriBullet does not have any buttons. All you need to do is fill the cup with our favourite fruits and vegetables, seal the cup with the lid attached to the blade and press down against the motor to blend.
You can create cyclonic action in a mere few seconds that is tough enough to break through the tough stems and skins and also ice as well.
If you've made too much of your beverage, you can save some for later with the resealable lid that keeps your leftovers fresh.
The 9-piece set includes 1 high powered motor base, 1 colossal cup with flip top lid, 1 short cup with a handled lip ring, 1 extractor blade, 1 resealable lid, 1 pocket nutritionist and 1 user guide and recipe book to make endless summer recipes.
Once you're done using your NutriBullet, just pop the parts into the dishwasher and you're good to go, so simple and easy!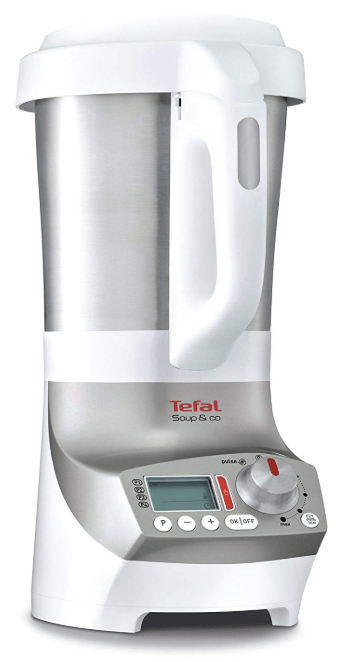 For chef-like results, use the Tefal Soup & Co Hot and Cold Blender.
This powerful smart blender is guaranteed to give you consistent and amazing beverages during summer and soups during winter- it's an all rounded blender good for any time of the year!
Not everyone loves cooking so you can now save time in the kitchen as the Soup & Co cooks and mixes your food with the automatic programs built into the blender.
You can make a smooth or chunky soup in just 30-40 minutes.
If you don't fancy the pre-programmed settings than there's no need to frit, the Soup & Co lets you use the manual mode to customize your own programs based on length of blending and temperature and mixes afterwards with the speed variate, giving you the perfect texture and results that you are after.
The Tefal blender has 4 blades including 2 that are serrated, combined with speed control and pulse functionality. So, you can crush ice too if you want to make a frappe.
The goblet holds a capacity of up to 2 litres so you can make 2 to 8 bowls of soup or glasses of juice.
We all know that cleaning up after cooking is the most tedious job but with the Tefal Soup & CO, cleaning up has become easier with the built-in auto clean program and stainless-steel blades.
Now you know the best blender Australia, checkout our other guides.
Last Updated: November 6, 2019 by Rhys