Latest posts by Duncan Liu
(see all)
Are you looking for the best bench drill press Australia has to offer? Well if you're also looking for an affordable one that costs less than $500, we've got 5 seriously good deals you should consider.
Gone are the days of paying thousands for this technology, you can get one delivered through the mail within a few days and into your garage or workshop easily.
Rather than going to the local hardware store, you can now buy online with fast delivery straight to your door (often free or low cost).
What is a bench drill press?
We are probably all familiar with what a drill is and associate it with carpentry, metalworking, construction etc.
A drill these days is a power tool, either cordless or plugged in to the socket, and is used to make holes in wood or metals, or as an easy way to drive screws or other fasteners into place.
Drills are also more frequently being adapted for use as instruments to power other applications such as rotary discs of various kinds.
As a handheld tool, a drill can be difficult to manage and control, particularly when it is of a larger size and weight, and is being used at high speeds.
So where the drill doesn't need to be portable it can be mounted onto a benchtop to allow for far greater control over the drill.
Of course, the drill's functions are then going to be limited to drilling (cutting) holes but the accuracy and size are greatly enhanced by the drill being fixed.
That gives the user the ability to focus solely on the job at hand. A bench drill press is a common feature of most workshops.
Best Bench Drill Press Australia
You can buy a bench drill press from many different retailers but the biggest discounts to be had are purchasing online through a platform such as Amazon.com.au which offers fast delivery nationwide. They also have a simple returns process if required.
Other places to buy a drill press include Bunnings, Homehardware, Mitre10.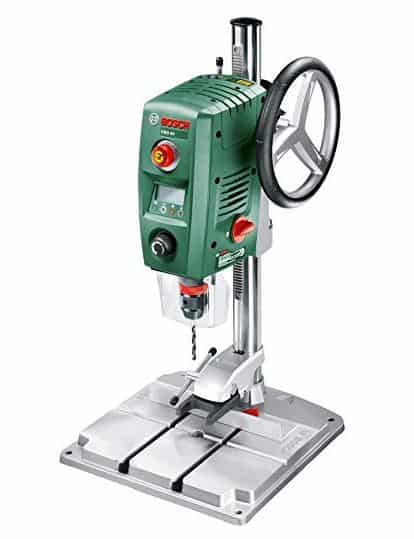 There is so much to say about the Bosch Bench Drill PBD 40. It is the bench drill press for the serious home workshop, whether you're into furniture or model making, restoration, or other handicrafts this will suit all your needs.
The PBD 40 is a light (13.2kg) and portable tool so you can move it around to suit your particular setup at home. It's highly accurate and very fast, with an easily adjustable and powerful 710W universal motor (no troublesome belts to worry about).
It has an electronic control system to prevent the speed from dropping even when drilling into hard or thicker materials.
The PBD 40 also has an integrated laser to increase its drilling power. And for greater control, there is an LED light to illuminate the work area.
The Bosch Bench Drill has a maximum depth capacity of 40mm in wood and 13mm in steel. There are two gears in the motor: one for power and the other for speed.
It has a keyless chuck for ease of changing drill-bits. The entire motor block moves with the repositioning of the drill so the working height remains constant and comfortable.
You have continual control by way of a continually variable speed adjustment control. And the easily read digital display shows the drilling depth at any given time, again providing you with optimum control.
The drill works vertically at all times without any setting required, so you can be confident that the holes are always going to be straight. The tool even comes with its own clamp, which is handy.
This bench drill press is not the cheapest on the market, by quite a long way, but its small size and delicate appearance belie the power and effortless performance it actually gives.
It is a tool designed and marketed for the home handyman/DIY-er and that needs to be remembered when reading reviews and considering purchasing one.
But it has some truly great features which will really attract that market, for example, the easy speed regulation and drill-bit changing.
The manufacture is high-quality and the unit comes with a 3-year warranty. A very good product.
[wp-review id="1015″]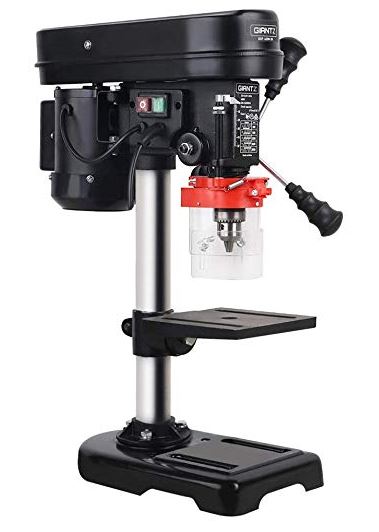 The 5 Speed Power Bench Drill Press from Giantz is another significant power tool for the home workshop of the DIY-er. Suitable to drill through wood, metal, plastic and even stone this is an extremely affordable item to add to your collection.
If you want to do precision-demanding woodwork or metalwork then you can't really go past a bench drill press.
It's almost impossible to use a hand-held power drill for detailed and exact drilling of holes. And that's what you need to be able to do if you want to make your own furniture for example or even quality models.
A bench drill press gives you so much control over what the drill is doing. It fixes the drill into position, gives it a whole lot more power than is possible with a hand-held drill, and enables the design to include settings which determine the depth, width and spacing of the holes.
So, looking at a few of the Giantz bench drill's features:
With a powerful 400W motor, it has 5 variable speed settings (580, 850, 1220, 650 and 2650 rpm), a 13mm maximum diameter solid stainless steel chuck, and a 50mm depth adjustable spindle (drill-bit)  travel.
The base is cast iron. And it has safety features which include a length adjustable chuck guard and dust and water protected NVR switches.
The Giantz PBD even comes with its own work table – height and angle adjustable (to 45degrees).
At the price this Power Bench Drill Press currently is, it's a really good option to consider for the home DIY-er who wants to try a bench drill press for himself but doesn't want to spend a lot of money, yet.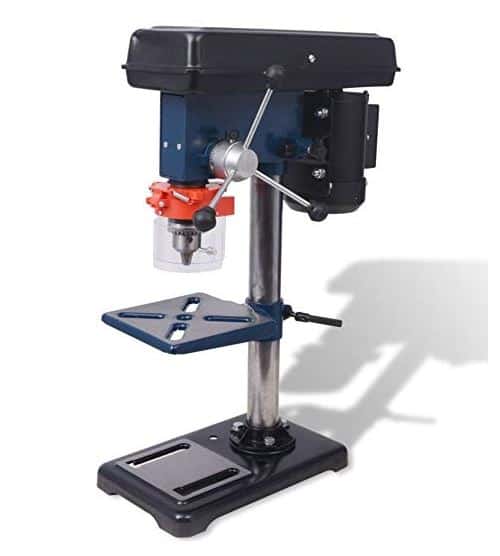 The Festnight Bench Drill Press comes in two models: Type 1 is a 350W motor and Type 2 has a 500W motor. The specifications for each are of course different although the operational principles are the same, and their respective prices reflect the differences in their capacities and features.
Both are intended for general purpose drilling in a home-based workshop or garage. They have a cast iron base and a table, which is adjustable both as to angle (up to 45 degrees left and right) and direction (360 degrees). The drilling depth can be adjusted with a gauge on the spindle.
The motors in each are belt driven.  Type 1 has a 5-speed capacity and Type 2 has 9-speeds. The powerful motor, with ball bearings, can drill through wood, plastic, and steel.
The other significant differences between the two types are their chuck sizes (Type 2 is slightly wider in diameter), and the sizes of the work they will accommodate, eg the distances between the plates and the drill-bits differ up to a cm or thereabouts.
Both machines have safety features such as auto shut down switches and safety guards.
But in the main, they are essentially very similar.
If you're new to bench press power drills you may not appreciate just how much difference they make to the quality of the work you produce as a home carpenter or other DIY-er.
These tools give you so much control over drilling holes – depth, placement, width, consistency, speed – and therefore over the way pieces fit together in the end.
If you're unsure, try Type 1 – at the price, it's a very affordable experiment! If you know what you're doing and don't need the sales pitch, type 2 is for you!
The Genesis GDP1005A 10" Drill Press is a bench drill for those larger projects that you want to tackle at home but struggle to fit into the smaller bench drill you may have already, or perhaps the drill press you have simply doesn't have the grunt to do the job.
But the Genesis 1005A is not as big as a floor drill press so you don't need a large workshop or garage to fit it into.
It does have a table (58.4 x 26.7 x 43.2 cms) but that won't take up too much space, and it is easily moved around.
And the table rotates 360 degrees and tilts up to 45 degrees for difficult to access jobs. It's also height adjustable by rack-and-pinion for your comfort. No more lower back problems.
The Genesis drill press has a powerful 4.1amp induction motor – it's quiet and smooth to run. The gearbox has 5 speeds (quickly adjustable by pulley housing) for versatility with a larger variety of materials.
The 5/8" chuck handles larger drill-bits, and the work area has an integrated light to help you see what you're doing. The press has an adjustable depth rotary stop for control, and will drill down to 2 1/2".
As with any tools and other machinery, maintenance and cleaning are important to keep the drill press operating well.
The Genesis GDP1005A represents value for money and comes with a 2-year manufacturer's warranty for your peace of mind.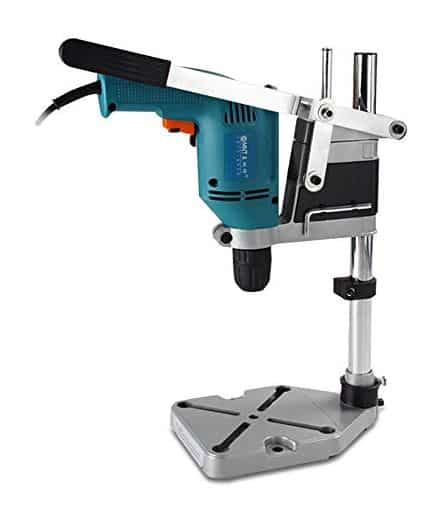 From NUZAMUS we have their upgraded adjustable drill press designed to save you money by converting what you probably already have into something you want at so much less expense!
Yes, NUZAMUS have worked out a way to turn your handheld power drill or other rotary power hand tool into a drill press while retaining the ability to use it as a handheld drill when you need it for that. What a super idea!
How does it work?
Well obviously it comes with complete assembly instructions but basically, after assembly, it's an all-in-one stand for the power drill to be fitted into so that it's held securely for use without needing to be hand held or directed.
To assemble, the 25mm shaft is mounted onto the 150mm base. The spindle is then screwed on to the shaft. There is a mounting bracket to hold the drill which you will need to fix the height of with a holder which is then also screwed into place.
There is a crank which is used to manoeuvre the drill which needs to also be screwed in two places. And at that point, you're pretty much done. The drill can be placed into the stand you've just assembled and secured by simply tightening the last screw you put in the middle of the crank.
It will all make a lot more sense when you look at the pictures and follow the assembly instructions.
The stand has a depth gauge to help you to change the drill position. It also has a fixing cover to regulate the height of the drill above the base. The heavy-duty cast-metal base (with slots and mounting holes) makes it extremely stable.
The detailed specifications are: chuck diameter 38-42mm; drill depth to 60mm; total height with a drill in place 495mm; base 150mm square.
How do drill presses work?
A drill press is a stabilised power tool used to simply 'drill' (cut) holes into materials such as wood or metal. The press consists of a body which holds a motor which turns a drill-bit at rapid speeds to cut through the material underneath it.
The drill-bit is a small metal piece with sharp cutting edges at one end. The bit is held in place within the drill itself by a 'chuck' which is loosened and tightened to secure the bit in place securely. The drill is attached to a bench or other stable and immovable base.
The drill press is designed so that the user can precisely set the placement and also the width and depth of the hole being drilled.
Drill presses are also called bench drills, pedestal drills, or floor drills.
Some drill presses have accessories which attach to the chuck to allow for other uses such as sanding or polishing.
What are the safety rules for a drill press?
Drill presses are power tools and operate at extremely high speeds. Therefore there are risks involved, and safety is something to be considered and precautions observed.
The first and greatest danger is the risk of small pieces of flying metal or wooden debris from the drilling site itself.
When using the drill press your face will be pretty close to where the drilling is happening so it's imperative that you wear safety goggles or a face shield. And do not wear loose clothing or have long hair unsecured.
Ensure that you stick to a regular preliminary procedure before using the drill press: turn it OFF or unplug it at the power first, ensure the chuck key is removed from the chuck after you've fitted the drill-bit you want to use, secure the piece you're working on with a vice if possible, make sure the starting switch is OFF before you turn the power point ON.
Ensure that you are not overloading the drill press. Do not allow it to overheat or run at too high a speed. Use the correct speed and drill-bit for the work you're doing. Clean it frequently
Most importantly, read the manufacturer's instructions, know your drill press, keep the switches and power source off at all times when you're making adjustments, changing drill-bits or not actually using it, and use it carefully and as advised.
Is a drill press really necessary?
Hand-held drills are fine if you just need to jobs around the house but a drill press is a very useful (perhaps even necessary) addition to any serious workshop where woodwork or metalwork is being done.
A drill press gives you so much more power and accuracy. The control it allows you to have over the work you're doing will soon become a real asset if you're doing large jobs like making furniture and drilling lots and lots of holes.
Work like that doesn't tolerate mistakes or allow for margins of error. We've all had the experience of trying to assemble flatpacks from you know where!
That's precisely what you have to copy (in principle only of course) if you're making your own furniture at home.
If nothing else, a bench drill press will give you accuracy. Accuracy and control over depth, angle and width of each and every hole. And speed. Bench drill presses have much more power than a handheld drill so you can drill a lot faster, especially when you have the accuracy taken care of as well.
You don't need to invest in a floor drill press, although for large pieces of work a floor drill press does have advantages. But they are pretty expensive and do take up quite a bit of space.
A benchtop drill press is fine for the home workshop and can be picked up at a pretty reasonable cost. A bench model can even be put away when not in use.
Be sure to checkout bestfive.com.au for more great consumer guides.
Last Updated: November 6, 2019 by Rhys