Latest posts by Vicky Lane
(see all)
Are you looking for the best sandwich maker money can buy in Australia? If so you've come to the right place as this buyers guide will show you five of the very best.
Many people think of a sandwich maker as a toastie machine however there is also the grill press which is becoming more and more common in Australia.
Difference between sandwich toaster or grill press?
A grill press is also often called a panini press and is used to toast sandwiches from breads other than the traditional sliced bread we know. So a panino (plural being panini) is a toasted sandwich made from focaccia, ciabatta, baguette, etc. The panini press is a heavier implement which places more pressure on the baguette or other bread that is used.
Obviously, a panini press is a very different appliance from a sandwich maker. So the choice might be determined by which food type you are going to want to make more often at home. But a point that needs to be made is that you can use a panini press to make a grilled cheese or other sandwich if you take a bit of care with the temperature and the amount of filling you put in the sandwich.
So perhaps buying a panini press rather than a sandwich maker is a great idea for those who want to introduce some variety into their snack regime!
So which one should you buy? We've done the hard work and tested, reviewed and identified five sandwich makers you can checkout.
Best Sandwich Maker Australia
If you want a cheap sandwich maker then you can go down to your local Big W, Target or The Good Guys and pick one up for under $20.
There is a saying, you get what you pay for and it's no different here. If you want to buy a premium brand such as Tefal then you'll need to fork out a little bit extra, but it will show with a more robust maker.
We tried and tested all these sandwich makers from Amazon.com.au which offers fast shipping nationwide (sometimes free for prime members) and offers a very straight forward returns process.
Wherever you decide to buy your maker from, you'll enjoy your new toasted sandwiches and wonder why you didn't buy one a long time ago!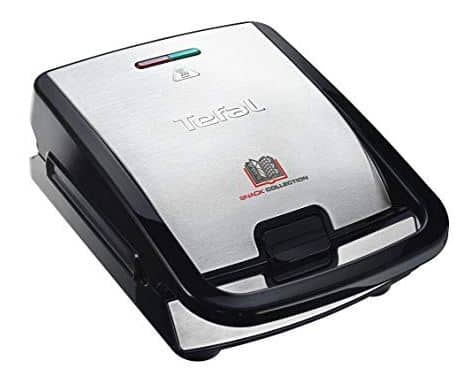 The Snack Collection SW852 sandwich maker by Tefal is a multi-function snack creation kitchen appliance that comes standard with grill plates for toasted sandwiches and waffles but also allows you to collect up to 16 box sets.
These sets include grilled panini, bricelets, turnovers, empanandas, French toast, pancakes, donuts, small treats like bites and bars, biscuits, and mini bagels and Madelines.
So whatever snack mood you're in, savoury or sweet, this will meet your desire.
Each box comes with complete instructions and a recipe book and in its own storage box.
All the grill plates are easy to change and, being non-stick coated and dishwasher safe, they are very easy to clean.
The Snack Collection is also very easy to use. There is a preheat function with a green 'go ahead' light to let you know when it's time to add your food.
And a secure locking latch to ensure that the heat is always even throughout the cooking process.
Customer reviews of this appliance are generally very positive. As with the majority of sandwich makers and panini grills however, clean-up is an issue.
It rates highly for versatility, however, and the variety of snacking possibilities is certainly a bonus with the Tefal Snack Collection.
[wp-review id="952″]
The Cafe Grill GR8450B from Sunbeam is a commercial café quality sandwich maker for open cheese melts and toasted sandwiches at home.
It has a four slice capacity which is always great – you can have your snacks ready for you and your partner, or the two kids, at the same time.
Unlike other sandwich makers this one is made from a triple layered non-stick coating for durability, scratch resistance, and easy cleanup.
It has a die-cast metal arm with 'RotoDial' which can lock either resting on the food as a press or above as a grill.
And because it is a grill as well as a press it can make toasted sandwiches as well as open grilled sandwiches and also cater for larger breads like focaccia and baguettes, similar to a panini press.
It is also capable of cooking pikelets, French toast, hash browns, even pizza so it's a surprisingly versatile appliance that is not advertised extensively.
If you decide to purchase this product experimentation is advised – you may be delighted to discover the possibilities! And it comes at a very reasonable price.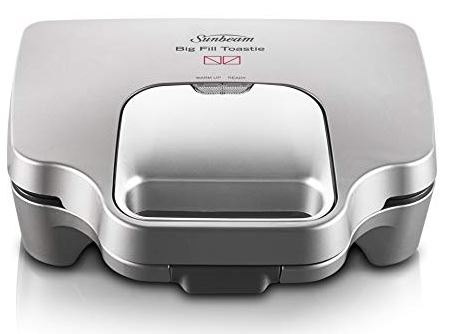 Sunbeam's Big Fill Toastie 2 Up (GR6250) caters to those who like the dinner sized snack. It boasts an extra 25% filling capacity due to its large and extra deep trays. And the plates are also wider to fit the bigger slices of bread we have these days.
The Big Fill takes 2 sandwiches at once and cuts and seals each into two triangles for easy and mess-free one hand eating. So, all in all, you end up with a super-size toastie snack for one or one that's ideal for sharing.
There is a warming up light and a ready light, as well as a secure locking mechanism to ensure no heat escapes during the cooking process.
The product also has 'EasyClean', a non-stick coating designed to make cleaning of the appliance an easy job.
But the better cleaning aspect of this sandwich maker may well be the deeper, larger and wider trays, which if not overfilled could well lead to a reduction of mess, especially melted cheese which is such a pain to clean up afterwards when it has baked on to the machine.
The Sunbeam Big Fill comes with a 1-year warranty.
Reviews are positive, the price is very good for what it is. A good buy.
'The Big One' from Breville (BTS100) is another extra-large toastie maker for today's hungry market. It claims to be 'the original' toasted sandwich maker since 1974, and therefore, of course, the best! Well, the market will, of course, be the judge of that in the end!
This model, The Big One, has deeper pockets and a seal only around the outside of each of the two sandwiches which means that the inside of the food pockets can hold a lot more filling.
That makes a lot of sense. And it gives you a lot more filling options. For example, you can actually crack an egg into this sandwich maker! It's really better described as a jaffle-maker.
Another nice idea is using pastry and making sweet treats like apple turnovers. Lovely on a cold winter's afternoon!
It has a powerful 1000W motor and can toast two sandwiches at once in just a few minutes.
The plates are non-stick and easy to clean, and the unit stores in an upright position and so takes up less space in your kitchen.
This is one of the few toastie makers which has almost 100% positive reviews and at the price it retails for it certainly seems to be a great buy!
The Breville Adjusta Grill & Press is certainly an example of true versatility in a kitchen appliance. This is so much more than a toastie maker or even a panini press.
It is ideal for both those purposes but it is also a compact cooker/grill for all kinds of meat, seafood, veggies, and breads.
With an extra powerful 2200W heating element and variable temperature control, you can sear and cook/grill as quickly as you need or want.
It is designed with your changing appetite and your health in mind. The 7-setting height-adjustable ribbed floating top plate allows you to press or to grill all different kinds and sizes of foods.
The versatile interchangeable ribbed and flat bottom plates can be angled (by cleverly adjusting the feet) to allow drainage of fat while you cook.
And they are perfect for cooking whatever you want – from pancakes and eggs to steaks or toasties.
The dishwasher-safe removable drip tray and cooking plates make it easy to clean, with a damp paper towel doing the rest as quick as a wink.
And it locks securely into an upright position for ease of storage.
This appliance is a must for the busy family simply because of its versatility. Once you learn all that it can do you will save time and create family favourites in minutes without the mess and dishes to clean up afterwards.
Well worth the investment – and a really reasonable price anyway!
Can you put frozen bread in a sandwich maker?
Freezing bread to keep it fresh longer is an extremely common practice and one which resolves that problem of buying a loaf of sliced bread only to throw half of it away because you just don't eat that much bread.
Frozen bread can be thawed either naturally (preferably in plastic wrapping or similar) or in the microwave.
It can be toasted. But it's very difficult to use frozen bread in a sandwich maker.
This is because the temperature of a sandwich maker is much lower than a toaster to ensure that the filling of the sandwich is adequately heated through and the bread toasted but not burnt.
In particular, the sandwich maker needs to melt its favourite ingredient: cheese!
However, you can use a sandwich maker to toast frozen bread if you wish, if you have unusually shaped or thick slices of bread which won't fit into your toaster.
It's important to note however that you will need to butter the bread if you are going to use your sandwich maker to toast your bread so it's not strictly speaking a replacement for a traditional toaster. You're better off using the griller tray in your oven.\
How do you stop bread from sticking to a sandwich toaster?
Although the plates of sandwich makers are made with a non-stick coating they can still stick because they get so hot.
So, and similar to the way we maintain a wok, seasoning a sandwich maker will ensure that your bread will not stick to the plates.
The best way is to spray or wipe the plates with vegetable oil and then heat for 5 minutes and allow to cool.
Re-seasoning the plates on a regular basis will maintain a non-stick surface. If you also butter your bread on both sides (or brush it with oil for a lower fat result) that should result in a non-stick toasted sandwich.
Avoiding low-fat spreads on the cooking sides of your sandwiches is also a good way to prevent sticking during the cooking process.
What's the best way to clean a sandwich maker?
First and foremost, always follow the manufacturer's directions around cleaning the appliance. And try to follow some basic guidelines around avoiding sticking the sandwich in the cooking process, usually making cleaning your sandwich maker pretty straightforward. Better to do that than to have a really difficult mess to clean up later.
If the plates are non-stick and removable then cleaning them is a fairly easy job. Some may be dishwasher safe.
If so, the job is an easy one. If not, simply wash in warm soapy water – soak first if necessary – and allow to completely dry before replacing them.
However, if they do have stuck on pieces of food the best way to remove them is by picking them off with your fingernail – never use an implement that might scratch the protective surfaces.
The soaking process will often solve that problem anyway.
However, if the plates are not removable the task of cleaning them may be a little more difficult, especially if they have stuck on food pieces like cheese.
Always turn the appliance off at the power point first. Pick the stuck on food away with a silicone utensil or your fingernail.
Have a sink full of warm soapy water and gently rub at the plates with a sponge, avoiding using too much water because you really don't want water to get into the electric parts of the appliance.
Again, dry the plates and edges thoroughly before its next use.
You now know what we think is the Best Sandwich Maker Australia but how about you checkout our other guides, product reviews and more.
Last Updated: November 6, 2019 by Rhys