Latest posts by Vicky Lane
(see all)
We tested the best pressure washers Australia has to offer to compare and give you an overview on which one you should buy.
We'll help you to find your new power washer today, even if you've never owned one before or are looking to upgrade your existing model.
While there are many petrol powered washers, this guide will only be looking at the best electric pressure washers for every budget.
There are many brands available in Australia including Bosch, Karcher, Generac, Sun Joe, Greenworks, Simpson, DeWalt, Craftsman, Jet-USA, X-Bull and Colee so this is just a few of the best you can buy online.
Best Pressure Washers
You can buy pressure washers from many retailers such as Harvey Norman, Bunnings, Bing Lee, Homebase and from local hardware stores.
The best place to save money buying a pressure washer is using Amazon.com.au that offers fast delivery and a simple returns process.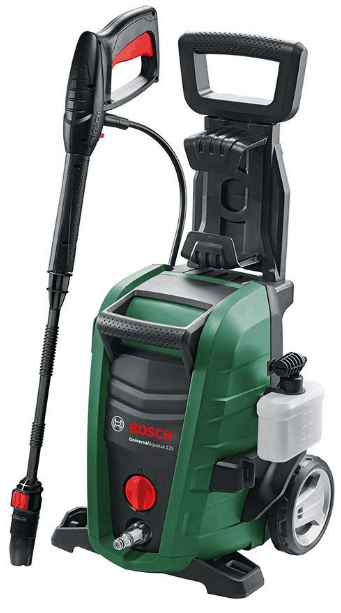 The Bosch Universal Aquatak 125 pressure washer is fairly new to the market and is a small and lightweight but extremely effective power washer.
At only 7kg this machine is easy to move and to store in most garages. Its 5m cable and hose lengths will suit most household requirements. It has larger wheels and an extendable handle for comfortable use.
The Aquatak 125 boasts a 3-in-1 nozzle with a fine stream jet spray which delivers a 10% improvement in cleaning performance.
There is an advanced detergent delivery accessory as well which enhances the cleaning result.
The PSI of the Aquatak 125 is measured in bars, which is simply a different way of measuring water pressure. A bar is equivalent to 14.5 PSI, so the Aquatak 125 has a PSI of 1812.
This is quite a low PSI but in fact this little pressure washer delivers quite a punch and has more than enough power for most domestic uses.
And the Aquatak requires no customer assembly – it's ready to go straight out of the box.
[wp-review id="832″]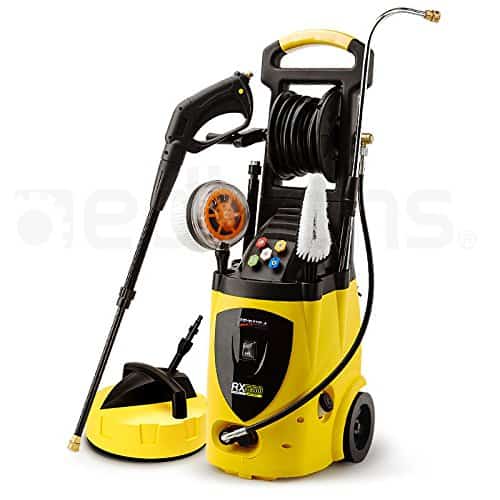 At 3800PSI and with plenty of horsepower the Jet-USA RX550 power washer is a serious competitor in the field of power washers at a seriously competitive price!
The 3800 PSI jet stream of water is strong enough on its own to blast dirt away from any surface you want to clean – driveways, windows, cars, walls, roofs, etc.
But if that isn't enough the unit comes with a ton of bonus accessories to make any job so much easier and quicker, big or small.
It has a 1 litre detergent tank with inbuilt injection system. There's a Turbo Wand, a roof lance for those hard to reach jobs, a floor cleaner, 5 pro-tip nozzles for specialist jobs, and premium rotary washer driven brushes. The accessories make the unit so versatile.
The Jet-USA RX550 will allow you to reach all corners of the job you're doing with its hose length up to 30m. At 27kg it is a large unit but it has a clever wheel trolley design for easy manoeuvreing.
It is an electrically powered unit with a 5m power cable so there's no mucking around with petrol tanks or oil – simply plug it in and you're on your way.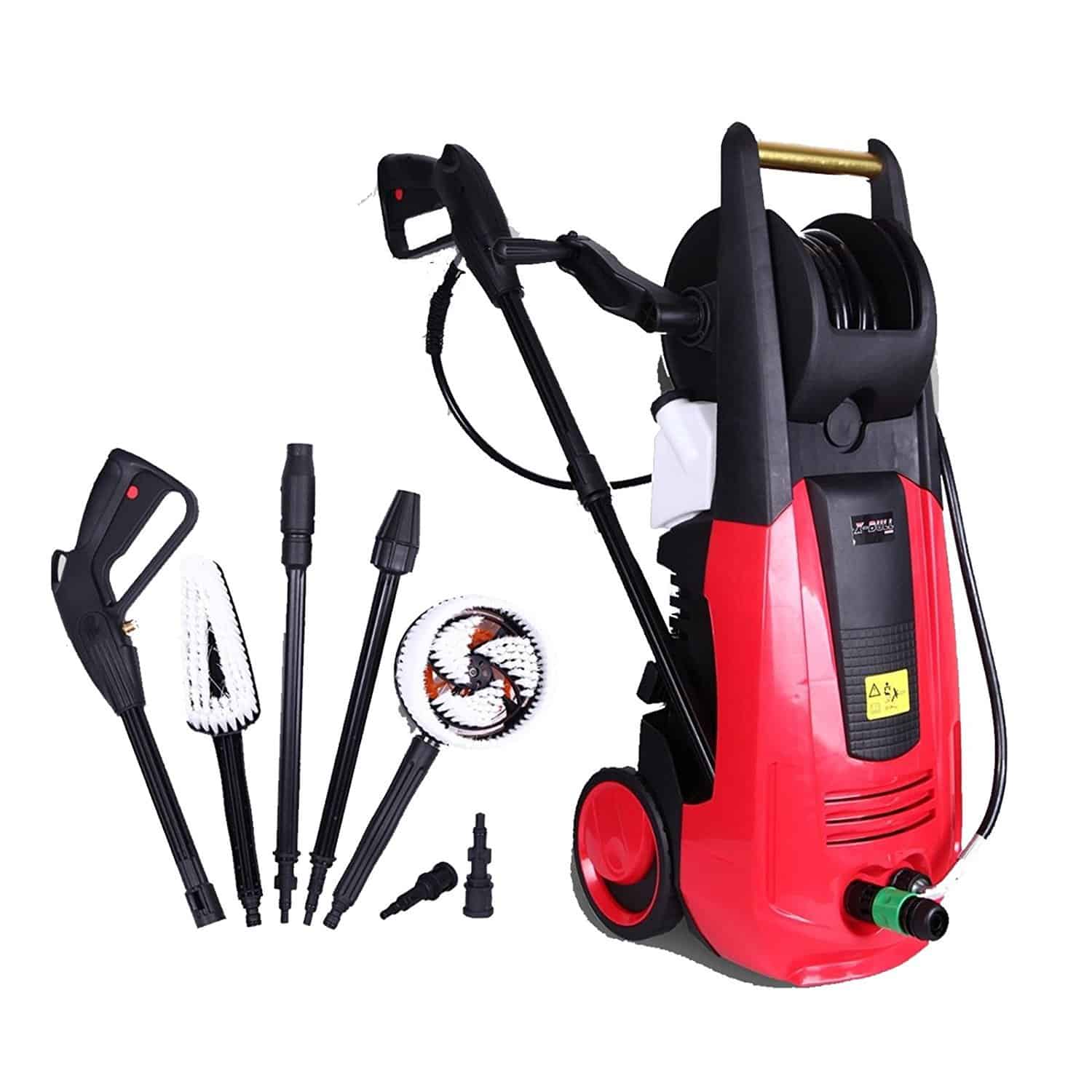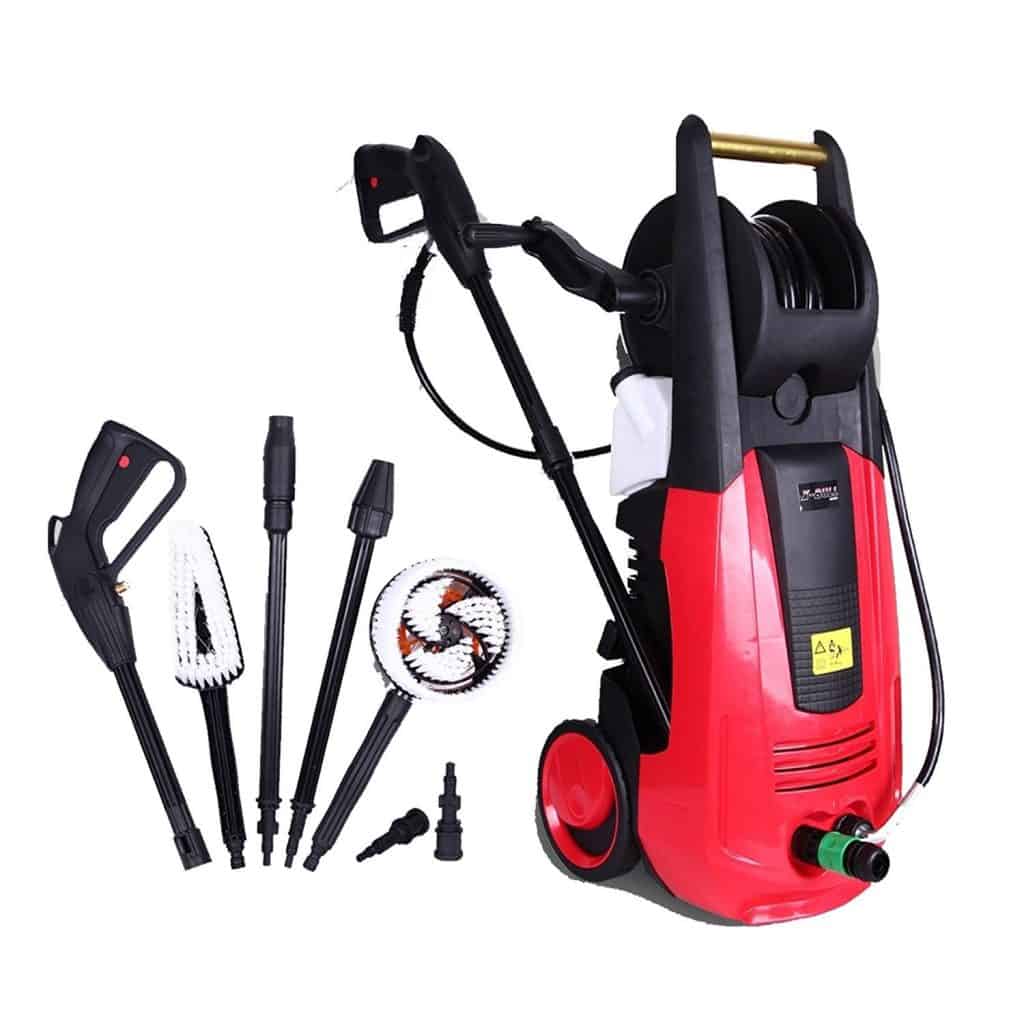 With a PSI of 3800 and a 2400 Watt electric motor the X-BULL High Pressure Water Cleaner is one powerful pressure washer at an incredibly low price point!
This unit is not fancy, it doesn't boast many accessories or bonus extras like other more expensive brands do, but it does the job and it does it really well and really fast. It's ideal for a workshop, a farm, a car dealership or fleet where you're needing a quick tough clean over and over again.
It's built to blast away really tough dirt and grease but it's also very compact, fairly light (11.5kg) and easy to store away.
The machine's trigger is ergonomically designed for repetitive use to reduce user discomfort or fatigue. It has a good 8.15m hose for long reach and a wheel trolley for ease of transportation.
At this price you really can't beat it for what it is: a solid unpretentious pressure washer for everyday commercial use.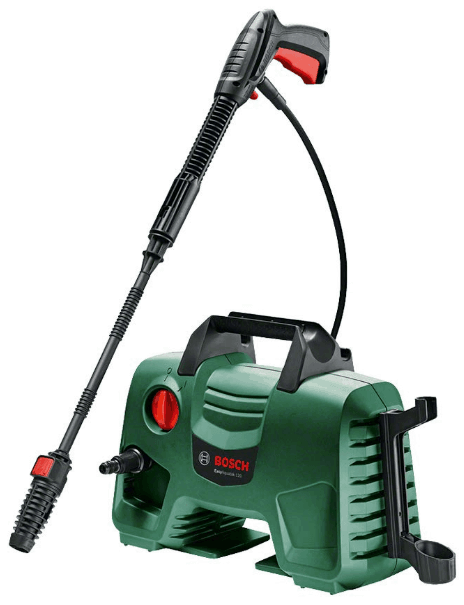 The Bosch EasyAquatak 120 electric high pressure washer is another compact, lightweight pressure washer from Bosch which comes without any assembly required and a surprisingly high-efficiency pump but relatively small motor (1500W) to get the job done.
Bosch uses 'bars' to measures the water pressure: a bar is equivalent to 14.5 PSI, so the Aquatak 120 has a PSI of 1740 which is a small PSI in the world of pressure washers.
And weighing in at just 5kg it's hard to believe that it has the grit to do any serious cleaning job. But it does, and customer reviews attest to that fact.
The unit comes with a range of accessories which make it not only easy to use but also extremely versatile and suitable for any job you may want to tackle.
All the accessories are designed with 'push-fit' connections so they're super easy to attach, and the accessories are stored within the unit itself.
Some of the accessories are a fixed fan jet nozzle, rotary nozzle, and a high pressure detergent nozzle. It has a low centre of gravity and broad base, making it very stable.
The Aquatak 120 is designed for domestic use and is priced to be affordable for pretty well everybody. It's compact and practical and versatile. So much so that its design is an award winner more than once!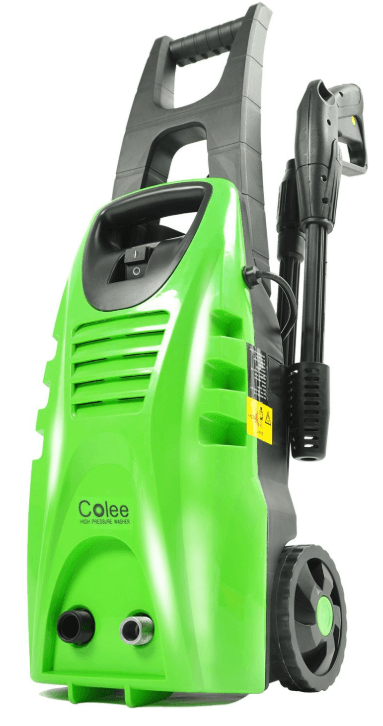 Colee is a reliable respected brand name and a popular consumer choice.
The Colee XG-01G 3200PSI electric pressure washer is a compact, lightweight and affordable pressure washer for car, home and garden.
This unit has an 1800W electric motor and a powerful aluminium pump which produces an impressive 3200PSI stream of water for a range of cleaning jobs. And it comes at a terrific price, affordable for pretty well any household.
This pressure washer is easy to assemble and has an ergonomically friendly design.
It's has a safety stop system, optional self-suction, a detergent dispenser, and is weather resistant for storage outdoors if need be.
It comes fitted with a 5m power cable, a lance with a variable spray nozzle, an 8m high pressure hose, and a firm spray gun. It also features hose connector, gun bracket, a plug seat, water filter, trolley rod and universal hose tap pipe.
All these accessories can be stored on board the unit. It's extendable handle and large wheels make it easy and comfortable to use.
Customer reviews of this particular Colee pressure washer have been a little mixed. It does have a 2 year warranty which is helpful if you do have any issues with it, as some people have. At the price it seems to be a good little unit.
How does a pressure washer work?
You may have noticed that water tends to stick to things. You have to wait for it to dry off naturally or you need to wipe it off.
So we use water to wash our dishes and our floors and our bodies, together with substances like detergents which help to break down grease and dirt for a more effective and efficient cleaning result. But significantly clean water dries without leaving any remnant of itself behind so it's wonderful to use as a cleaning agent!
But there are some situations where the dirt just won't budge even with water and detergents, or where the area is just too large to use conventional methods. This is where a pressure washer is really great.
It uses a super high-powered stream of water alone, concentrated on a smallish area of the dirty area, to literally blast the dirt or grease away.
The water can be cold – it is not the temperature but the energy in the force of the water that does the cleaning.
There are more technical terms and descriptions for the process (such as kinetic energy and electrical molecular polarity), but this explanation is probably all you need to know to understand it.
How to use a pressure washer?
Firstly and very importantly: you MUST wear appropriate non-slip footwear, safety goggles, long sleeves and long-legged pants because pressure washers use a lot of water and create a lot of flying debris.
Pressure washers are either electrically or petrol powered so you'll need to either plug it into your electricity outlet or fill the petrol well with oil and petrol.
Then attach it securely to a garden hose.
Turn on the water supply at the outlet before you start and then fill the washer's reservoir, or a bucket, with detergent if you're wanting to use that in addition to the water pressure. (You'll need to follow the manufacturer's instructions around using the detergent).
If you are using a petrol machine pull the start grip to turn it on. An electric machine will start when you pull the trigger.
Use the nozzle between 12" and 24" and at a 45-degree angle from the surface to clean. The force of the spray may damage the surface if positioned any closer than 12". Pull the trigger to start cleaning, and keep moving the spray as you clean to avoid staying in any one spot for too long. Again, follow the instructions for applying the detergent if you are using it.
Do not leave the washer running for longer than a few minutes without the water running through the nozzle as the heat may build up and damage the mechanism.
Should I buy or rent a power washer?
The decision whether to buy or rent a power washer is influenced by a number of factors for any given individual.
The main ones are: how often will you need/want to use it and therefore how quickly will your initial outlay be offset?
Do you have the physical space to store a large piece of machinery?
Do you have the funds to purchase what can be a significant outlay if you want to buy a machine of good to premium quality?
Do you know how to maintain a power washer?
Bearing all those questions in mind we've set out below the current estimated costs of buying a power washer versus hiring one on the possibly rare occasions you need one.
A third alternative is hiring a tradie to do the job for you as well but we haven't looked at the price of this choice as the cost of that varies enormously. But if you have no idea what you're doing it's a great alternative!
The cost of a new power washer depends on its horsepower and its PSI (pressure per square inch), and whether its petrol or electric.
The least powerful machines (approximately 2000PSI) cost around $99 – $135. The mid-range unit, at around an average 3200PSI will set you back $135 – $350.
And the higher end models with a PSI of 4800 or more $399 – $500. Comparing the two largest stockists, Bunnings and Amazon, the prices at Amazon are more competitive across the board and they offer free delivery on all purchases.
Bunnings on the other hand only cater to in-store purchases and their prices are a little higher than Amazon's on all units we compared.
The rental cost of power washers is a little more straightforward than the purchase costs, which do vary a lot between brands, PSI, power type and size.
We went to Kennards Hire, which is a universally located Australian hire company. The rental costs of equipment from their stores is either 4 hourly or 24 hours. Power washer rental costs overnight are: $139 (2000PSI), $233 (3000PSI), or $270 (4000PSI).
Can concrete be damaged by power washing?
You do need to be a little mindful when using a power washer to clean concrete, especially when the concrete is fairly new (eg less than a year or two old).
Power washers vary in their pressure (pressure per square inch or PSI) and it is advisable not to exceed 3000PSI when using one on a concrete or brick surface.
You can use a nozzle which widens the spray of the water and therefore the intensity of the force on the concrete in any given spot.
Or simply avoid using a power washer on the concrete surface for the first 12 to 18 months of its life to be sure. Once the concrete is damaged you won't be able to repair it.
Now you know the best pressure washer Australia has to offer, checkout our other guides.
Last Updated: November 6, 2019 by Rhys