Latest posts by Vicky Lane
(see all)
Everyone loves a good party and while most might involve the usual things such as good food and drink, other people have found new gadgets that can turn a normal party into an awesome party.
Today we're looking at the best party appliances Australia has to offer. You don't need to spend up large either, all these appliances are reasonably priced and offer lots of fun for everyone.
We searched high and low for the best party gadgets and after weeks of deliberating, we decided on our best five.
All these products can be purchased and delivered within a couple of days via Amazon.com.au who also offer some of the best after sales service in the country.
Best Party Appliances Australia
We could bore you with an introduction, but let's cut right to the chase.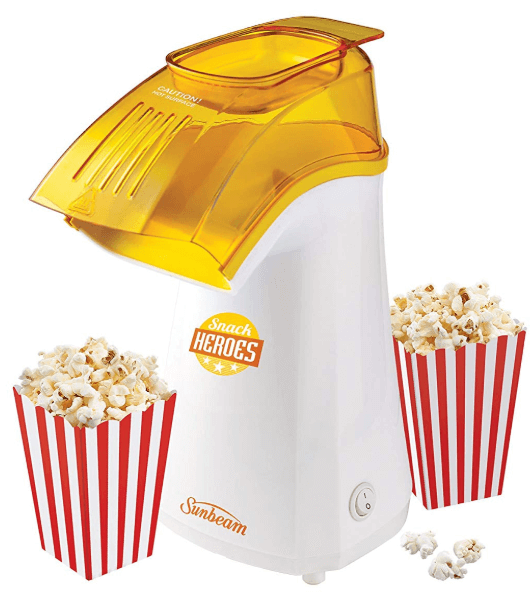 Enjoy a healthier, fast, fresh alternative at home with the Sunbream Popcorn Maker. It is one of the most efficient, easy to use Popcorn makers in the market.
By relying solely on circulating hot air, no oil is required.
With one use, you can get up to 12 cups of hot, fresh popcorn in minutes.
If you love heavenly buttered popcorn, then you're going to love the added feature of a butter melting tray- it melts butter as you wait.
For a quick, tasty and light fluffy treat, simply pour kernels directly into the machine and get the party started with a press of a button.
It's safe to use for kids.
Unlike most popcorn makers, it rarely leaves unpopped kernels behind, so there's barely any wastage.
Don't wait with its quick popping time, whether its movie night or a bowl to entertain the guests.
Sometimes microwave popcorn can be unreliable as it tends to burn quickly or its pre seasoned.
This popcorn maker will make a great addition to the kitchen with its large cup capacity for huge parties, its safe, quick and easy snack to make and most of all you can have the snack tailored to how your guests enjoy their popcorn whether its salted, buttered or both!
Voted #1 Best Party Appliance
[amazon box="B076JHZG9W"]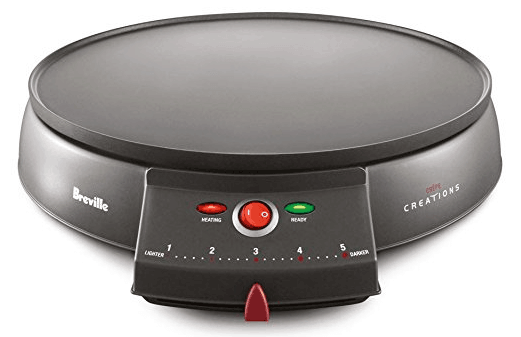 Impress your guests with a savoury breakfast or sweet dessert menu with Breville's Crepe Creations Maker.
You'll get authentic delicious French homemade crepes that's light and delicate within seconds.
The convenient batter tool helps you spread batter thin and evenly onto the cooking plate, while the quick heated aluminium non- stick 35 x 10 x 38.5 cm pan assists in flipping and makes cleaning easy.
Making crepes may seems tricky and working fast is expected otherwise the crepe will burn but with its 5 heating settings, you can take the time to learn the skill as you get better while the short raised edge walls help prevent batter spoilage.
You'll find that cooking crepes will be easy! It has an adjustable temperature which allows you to control the heat settings over how you cook your perfect crepes.
Get more usage out of the wide plate and add pikelets and pancakes to the menu too. Get creative with crepes as can paired with almost anything, the options are endless.
[amazon box="B075RZ6PL5″]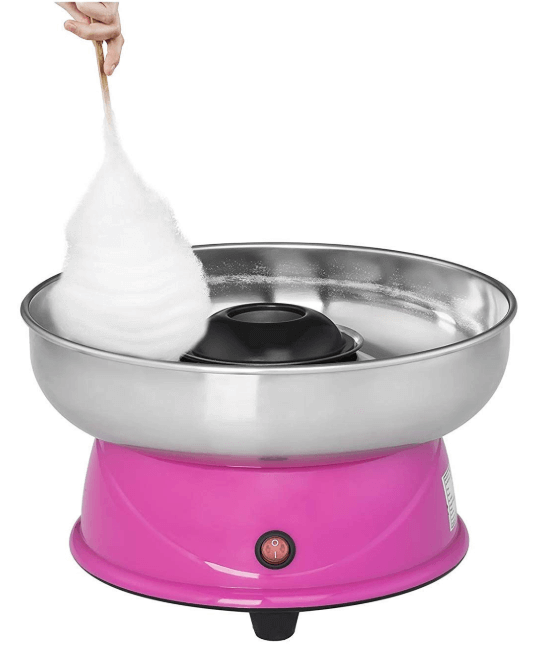 Experience carnival fun treats at home with the fun and bright Mini Fairy Floss Maker by Hisen.
Treat the little ones or bring back childhood memories with a sweet carnival treat of puffy, cloudy fairy floss.
It's easy to use with the one switch operation and yields a serving in just 60-90 seconds.
It makes the process smooth as possible with its 28.5cm diameter stainless steel pan.
Spend less time cleaning with Teflon coated surface that reduces the sticky feel.
Includes serving spoon to add sugar.
Perfect for parties, festivals, holidays and birthdays all year round.
Fairy floss machines tend to vibrate on the surface, but this model is designed with suction cup foots to prevent sliding.
It's easy to add the fun to the party while it's compact and requires minimal space.
Guaranteed to satisfy a crowd of sweet teeth.
[amazon box="B07L9RPTMD"]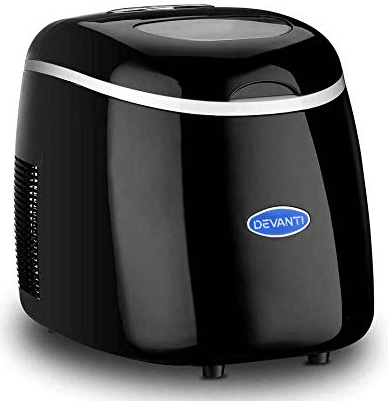 Drinks are life of the party so it's important you keep those drinks cool.
You can surely save time and money on your next event without doing an ice-run to the local supermarket.
Portable ice makers are the quickest and easiest way to produce ice.
Simply put water in, press the button and wait.
When shopping for an ice-maker, it's important to take into consideration the features and Devanti's modern stylish black Ice maker offers a lot.
This ice maker is extremely useful given it gives you approximately 15kg of ice in just 24 hours. (12 bullet shaped cubes every 9 minutes.)
You'll also be amazed at how quiet built this machine is considering how fast it works. It's compact, portable, handy and won't take up much counter space.
Its useful LED notifications indicates whether the ice tray is full and whether you have a low water levels. There is also a window display for monitoring the process.
It also includes a convenient water drain plug when you need to empty it once you're done using. It makes bullet shaped ice in 3 sizes.
If you're after a high performance Ice maker that makes batches of ice the fastest, this is it.
[amazon box="B0776TZYFZ"]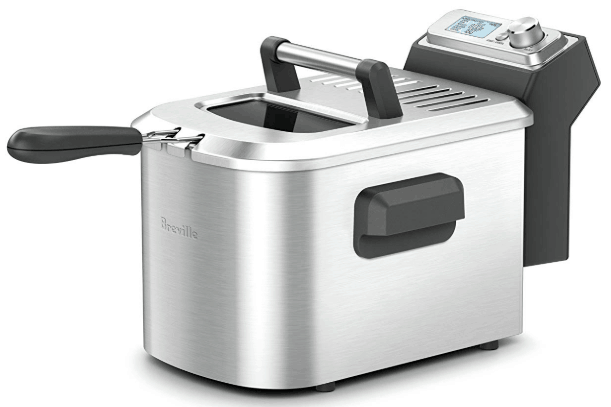 A simple task like frying can be tricky if the temperature and time that you manually set isn't correct for the food you're cooking.
It is easy to overcook and burn your food if you're not constantly keeping an eye out on the stove. If you're encountering that problem, Breville came out with one of the first smart deep fryers available.
Imagine the convenience of cooking party foods such as fries, fish, chicken wings, calamari, donuts and other dishes except this smart technology deep fryer comes with these 7 pre-set food functions including custom function.
It is built to adjust time and temperature to suit what you're cooking.
Certain foods like fries are fried at a higher temperature for a longer period, whereas calamari require a lower temperature for a shorter time.
Take the stress off cooking when you select what you want to fry and the appliance will deliver the right temperature at just the right time.
If you're looking to replicate restaurant quality chips, then you're in for a treat in the comfort of your own home.
It features a twice fried chip function that will give you crispy fries.
It features a powerful 2200W electronic thermostat to recover temperature quickly.
With 4L oil capacity at 1.2kg food capacity, it'll give you enough food to fill up the plates.
[amazon box="B075RZ2GXG"]
Now you know the best party appliances Australia has to offer, checkout our other guides.
Last Updated: November 6, 2019 by Rhys