If you've considered a laptop and noticed just how expensive they really are compared to an ultra lightweight and quick to start up (every time) device such as Chromebook then you've come to the right place.
Today we're going to be looking at five of the best Chromebooks for University with a focus on Australian products available with fast free delivery nationwide.
There are dozens of Chromebooks in this crowded marketplace so it was difficult picking out five of the best. We'll try and give you the best bang for your buck.
Why Should I Buy A Chromebook?
A Chromebook is a small laptop computer that is lightweight and is mainly used for Internet usage and office suite processing. You can use it to stream videos but due to a small hard drive, downloading content is not an option.
They have their own operating system. Similar to Windows, but it's much easier to use and doesn't include all those unwanted software applications that ultimately slow your device down.
You also don't need to buy Antivirus or Firewall software either. The downside to this is you can't install Windows applications on to a Chromebook.
Chromebooks usually have smaller storage drives, the idea is you'll store your files in the Google cloud. Thanks to this your device will start up within seconds.
Lastly Chromebooks have great battery lives, rarely slow down and you can still install applications such as Microsoft Office which is free.
If you want to play games such as Fortnite you're going to need to buy a Windows laptop.
Best Chromebook For University
If you've been doing your research online, you'll probably have found many American blogs linking to Amazon.com which will definitely not include a local warranty and import taxes and potential voltage issues.
All the Chromebooks we've included in this guide are Australian stock and include warranty and super fast delivery.
If you're like me, you might have left things to the last minute before University starts and need to get something quick. Amazon.com.au offers 2 day free shipping and a generous returns policy.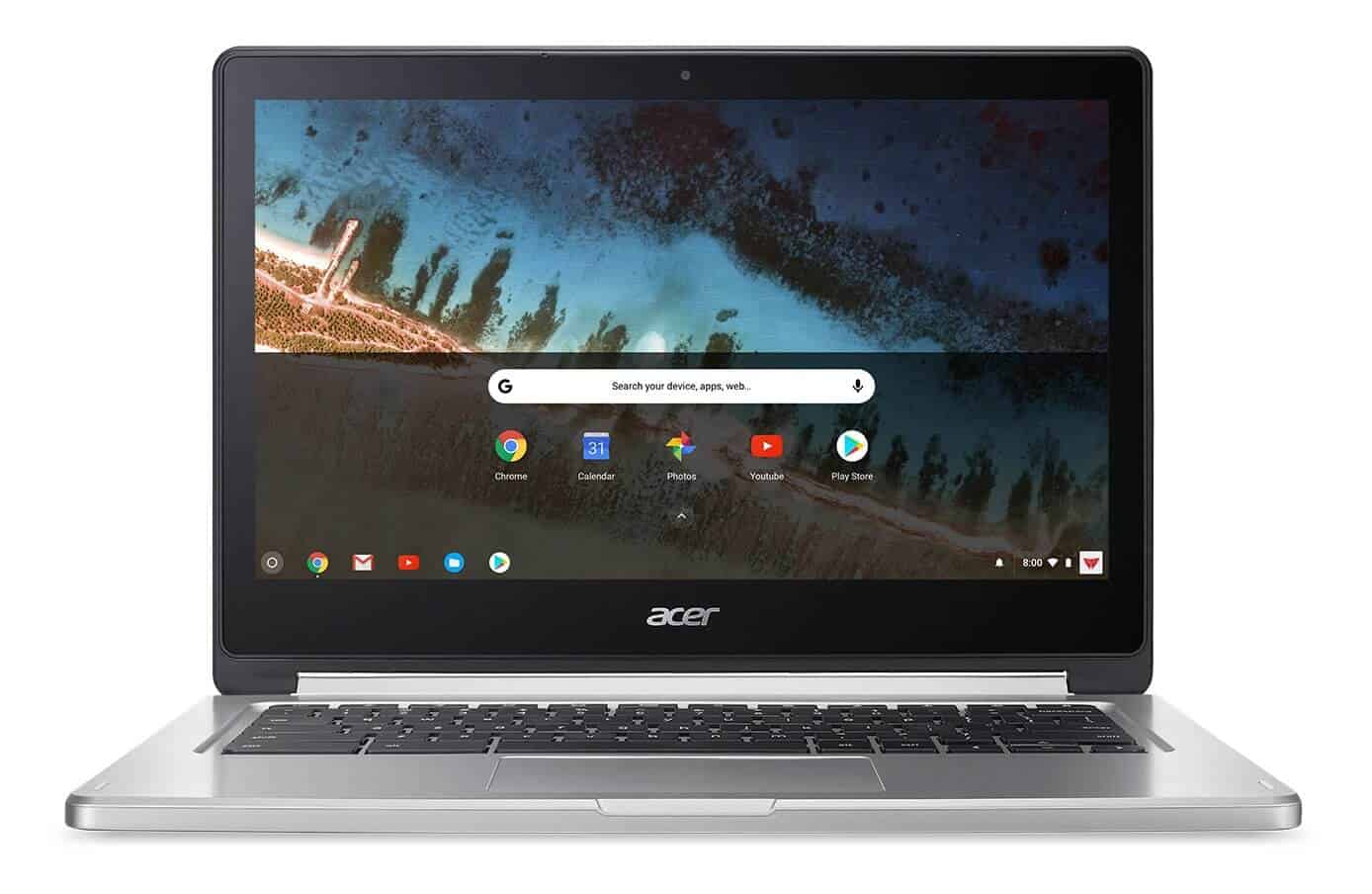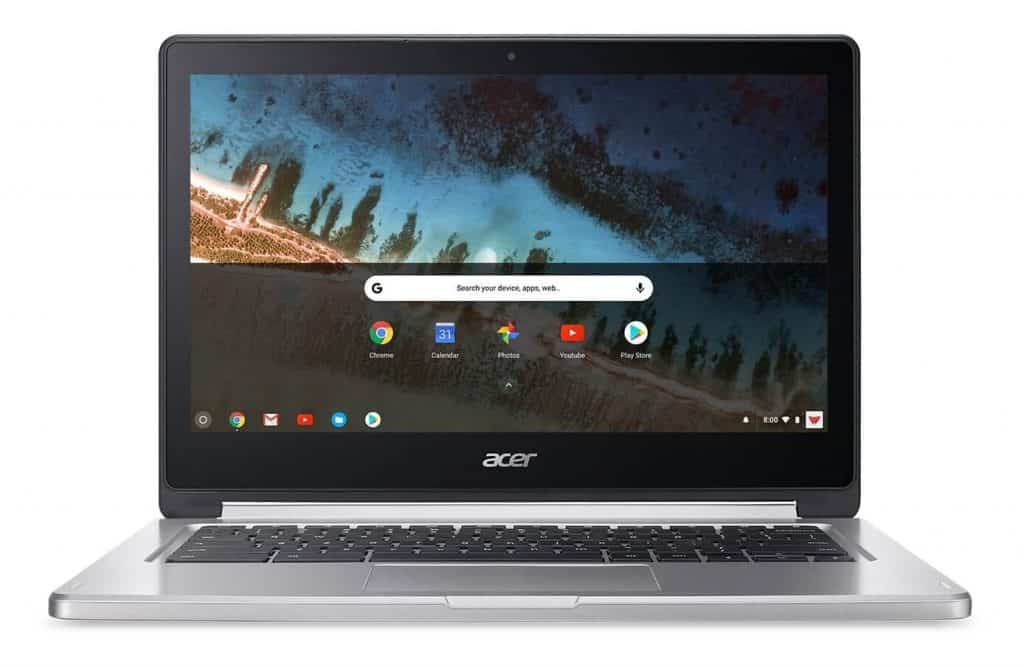 Acer's R13 13.3″ 1920x1080p Full HD Convertible is a 2-in-1 Chromebook that folds 360–degrees into a touch screen tablet.
So, if you're a big app user, the ability to switch into tablet mode and use it like a mobile device will serve you comfortably well if you're planning to use your laptop as a learning/entertainment device.
A big reason to buy, is for its outstanding 12–hour battery life where most Chrome Books last 8-10 hours for a full days charge. This will last you more than an average day at school.
Aesthetics are pleasing with its stylish sleek aluminium finish that doesn't look 'cheap' but clean with its minimalistic design.
This device provides more than enough power with its 2.1GHz quad-core MediaTek M8173C CPU, with a 1MB cache and 4GB of RAM and 32gb internal storage.
Being a student means endless essays and assignments so you're going to make sure you want a comfy keyboard. Its spacious keyboard is ideal for typing but for students who enjoy studying in dim environments it could be tricky without a backlit keyboard.

Another great feature are the additional ports found on the laptop for all your connection needs which includes USB 3.0 port, USB Type-C, HDMI port and microSD card slot.
This is an above average Chromebook. The major take–aways here are the high–end design, multipurpose value and a battery life that will be worthwhile and efficient in the long run.
Now that's what I call a great value.
[su_table]
| | |
| --- | --- |
| Feature | Specification |
| Screen Resolution | 13.3″ Full HD (1900×1080) |
| RAM (Memory) | 4GB LPDDR3 Ram |
| Processor | MediaTek M8173C 2.10GHz |
| Hard Drive | 32GB SSD |
| Battery Life | Up to 12 Hours |
| Ports | 1 x HDMI, SD, Audio, 1 x USB-C |
| Weight | 1.49kg |
| Special Feature | Lightweight |
[/su_table]
[wp-review id="749″]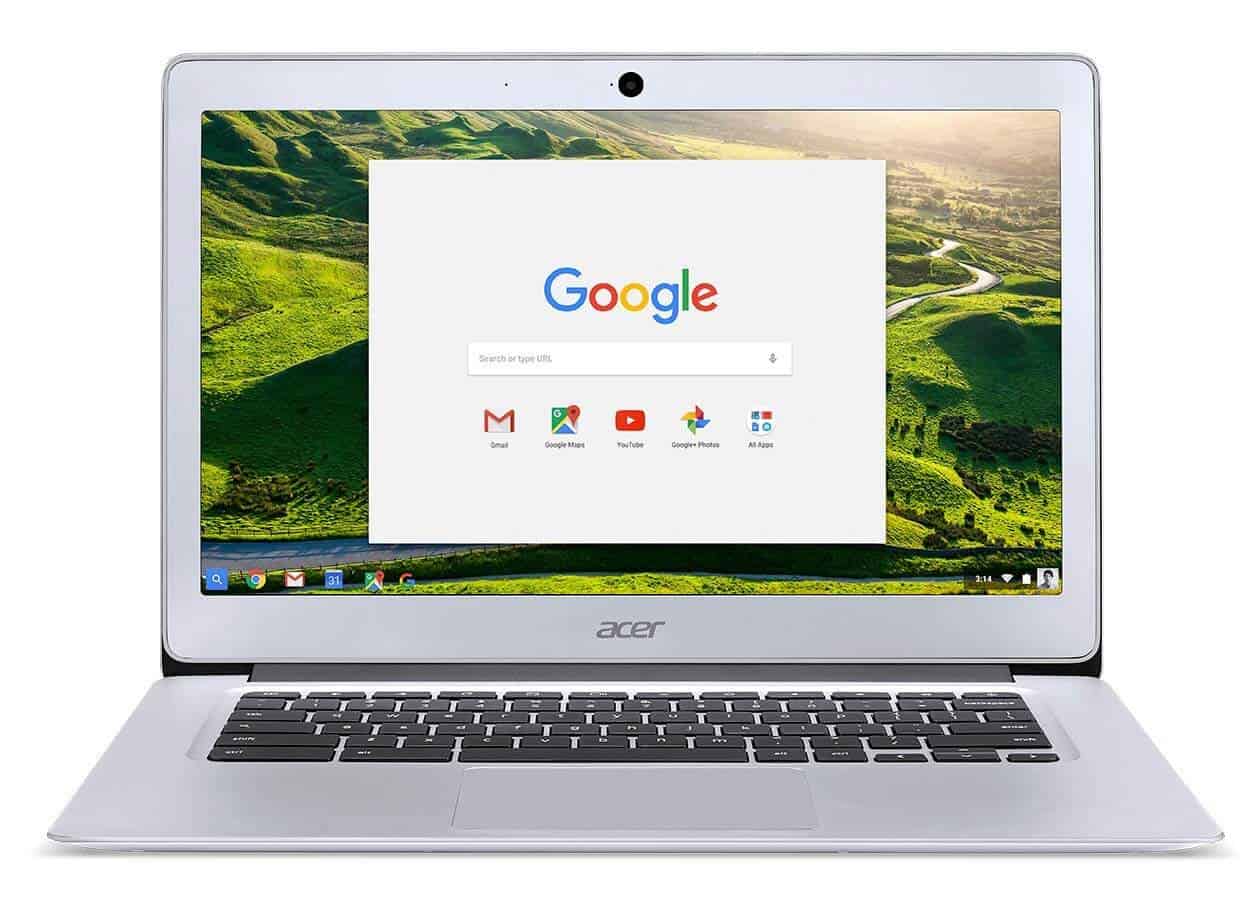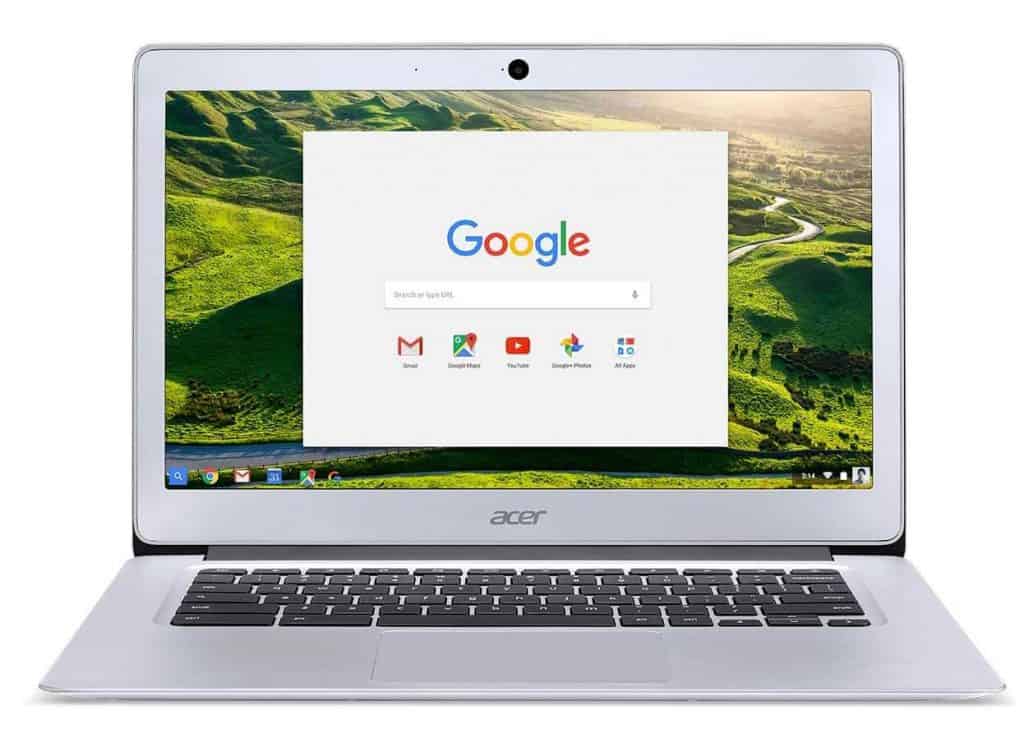 The Acer Chromebook large 14-inch IPS 1920×1080 display runs at 1.60 GHz base processor speed built with a crisp matte screen display that helps temper glare especially if you're working in the sun.
With aluminum casing, its definitely one of the better ones out there when it comes to display. It's silver brushed metal lid makes it feel solid and premium.

What's worth mentioning is the impressive quality of keyboard and touchpad, great for smashing out essays. Its perfectly spaced, breathable keyboard that makes touch typing easy.
It's an affordable machine that's built for strong 12 hour battery life fully charged set for the day, crisp HD visuals and excellent usability for a budget price that represents excellent value for money.
Display hinge offers a 180–degree tilt so you can tilt it way back until its laid flat so you can have your preferred viewing videos.
It includes an Intel Celeron N3160 chipset, backed up by 4gb RAM with 32gb storage that does a respectable job at multitasking.
If you're after a straightforward long lasting device that simply aims to provide a low-cost alternative to a traditional laptop, this one's for you.
[su_table]
| | |
| --- | --- |
| Feature | Specification |
| Screen Resolution | 14″ Full HD (1900×1080) |
| RAM (Memory) | 4GB LPDDR3 Ram |
| Processor | Intel Celeron N3160 |
| Hard Drive | 32GB SSD |
| Battery Life | Up to 12 Hours |
| Ports | 1 x HDMI, 2 x USB, 1 x Audio |
| Weight | 1.68kg |
| Special Feature | None |
[/su_table]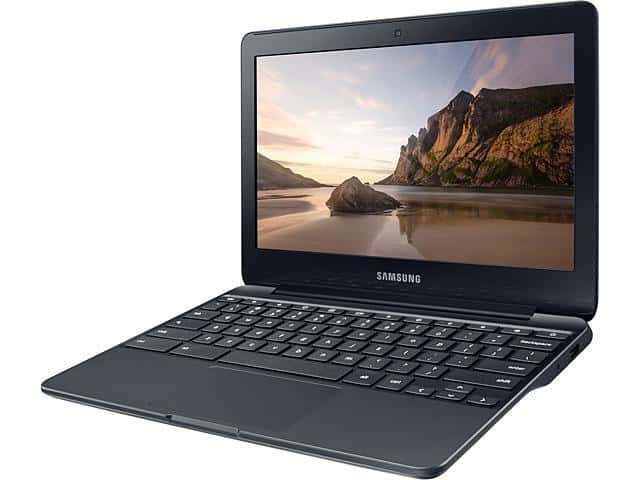 The classic metallic black 11.6"Samsung Chromebook 3 is a simplistic mini-laptop that's advertised as the perfect student notebook.
With a 1.6-GHz Intel Celeron N3060 processor, Intel HD Graphics 400, 2GB of RAM and 32GB flash storage, the Chromebook 3 has the performance you need when it comes to simple web browsing, emailing, word processing and watching videos. 
ust don't have high expectations of it operating like a fully sized laptop. If you're a travel enthusiast too who's constantly on the go, this is the perfect companion when you're out and about and running from classroom to classroom.
Take a break on your shoulders thanks to its lightweight and slim designs. You can carry it all day without the weight of a full sized laptop.
If you accidentally spill coffee over your keyboard, rest assured as this devices comes with a spill-resistant keyboard that protects against accidental damage.

This is a reliable purchase if you primarily use your laptop to write notes, browse the web, write up documents for all up to 11 hours of battery usage with a single charge, you're good to go.

It's definitely the best device for its intended use of portability. 
[su_table]
| | |
| --- | --- |
| Feature | Specification |
| Screen Resolution | 11.6″ HD (1366×768) |
| RAM (Memory) | 4GB LPDDR3 Ram |
| Processor | Intel Celeron N3060 1.6GHz |
| Hard Drive | 16GB SSD |
| Battery Life | Up to 11 Hours |
| Ports | 2 x USB, 1 x Audio |
| Weight | 1.49kg |
| Special Feature | Spill Resistant Keyboard |
[/su_table]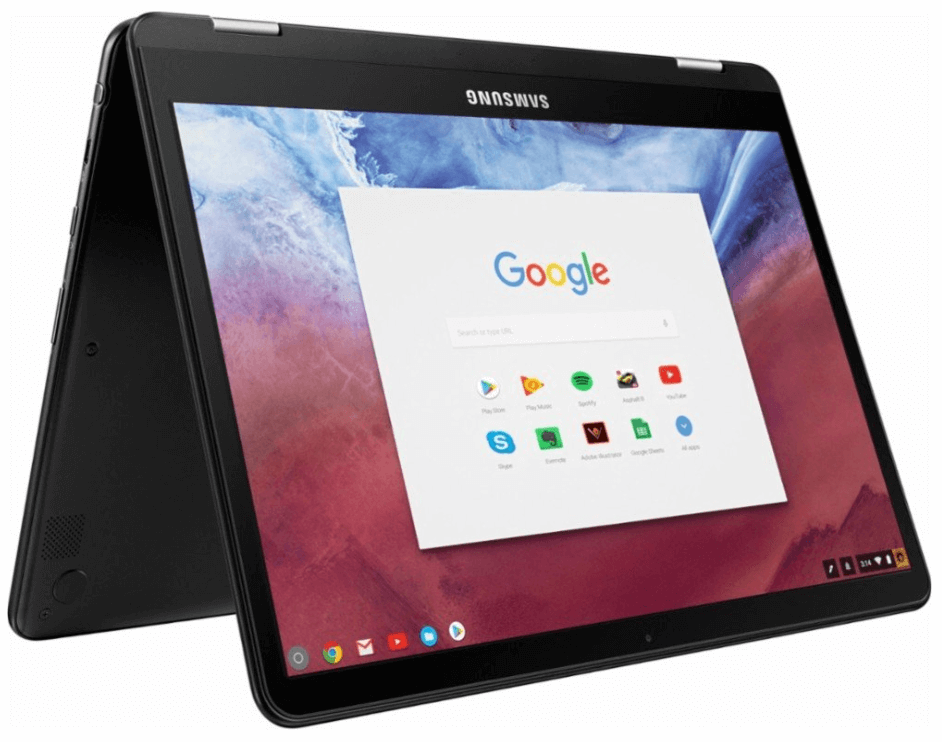 This is where portability meets performance. It's the Samsung Black 12.3″ 2400×1600 screen resolution, 4GB RAM with 16GB Hard Drive Chromebook Pro.
It has the power for hours of workload. When you're in study mode, use it as a laptop but it also provides the flexibility to have fun so when you need a break, switch to tablet mode, watch movies, play games.
It adapts to you.
It provides the versatility of a tablet too that includes a fun built in stylus that's responsive and enjoyable to use so help you a create a more personalized, precise, detailed result whether that'll be designing slide shows, writing personalized notes– don't be THAT person that types frantically in class; doodling, editing images or simply exploring your creating side.
For its long list of awesome features, it feels like a smart buy and its one of the top of the range Chromebooks out there.

It's lightweight but the Chromebook Pro packs power with a fast and efficient Intel Core M3 Processor 6Y30 for quick launch time for advanced software and programs and 3D games while you can easily run multiple apps at once.
[su_table]
| | |
| --- | --- |
| Feature | Specification |
| Screen Resolution | 12.3″ Full HD (2400×1600) |
| RAM (Memory) | 4GB LPDDR3 Ram |
| Processor | Intel Celeron N3060 1.6GHz |
| Hard Drive | 32GB eMMC |
| Battery Life | Up to 9 Hours |
| Ports | 2 x USB C, SD Reader, Audio |
| Weight | 1.08kg |
| Special Feature | Touch Screen, Built In Stylus |
[/su_table]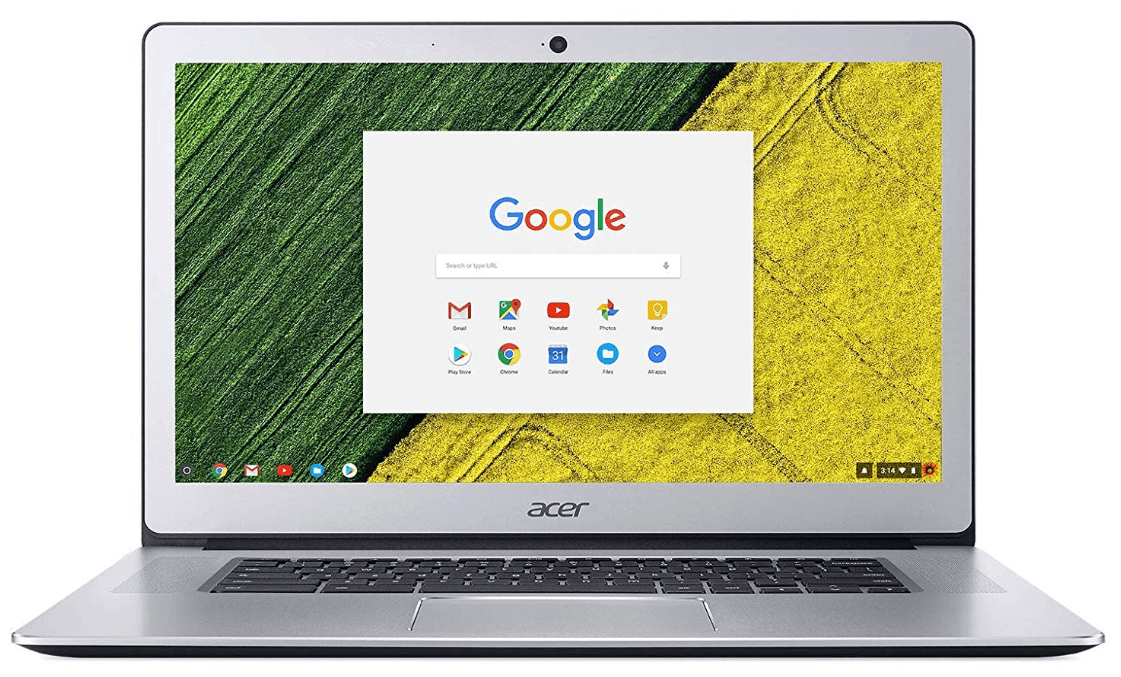 It's hard to come by a Chromebook that offers a screen larger than 13 inches but if you like big visuals, consider the Acer Chromebook 15 with a whopping 15.6 inch 1080p display Intel HD graphics allowing you 9 hour battery life that will get you through the day.
It gives you 4gb of RAM and 16GB drive which is enough for streaming, word processing and simple tasks. It has everything you could have in a Chromebook.
The vision for this Chromebook was built to combine all decent spec sheet components and provide a solid package deal.
There's nothing groundbreaking about the build of this device but it looks good and feels solid smooth with its stunning Linen White aluminum shell.
It comes with great features; backlit keyboard when you're studying at night, it's considerably silent with touchscreen and loud and crisp speakers, it's an overall allrounder performance laptop.
It's a tough-rock piece of hardware that's capable of withstanding the usual drops and roughness of an average student.
Its giant screen is not only a treat but also say no more to eye strains that's reduced by the ample screen. Other benefits are its sharp display, colourful touch display, handsome exterior and super charged battery.
Movies look great on this screen, and text is crisp and clean.
[su_table]
| | |
| --- | --- |
| Feature | Specification |
| Screen Resolution | 15.6″ Full HD (1920×1080) |
| RAM (Memory) | 4GB DDR4 Ram |
| Processor | Intel Pentium N4200 Quad 1.1GHz |
| Hard Drive | 64GB SSD |
| Battery Life | Up to 12 Hours |
| Ports | 2 x USB-C, 2 x USB, 1 x Audio, MicroSD |
| Weight | 1.8kg |
| Special Feature | High Performance |
[/su_table]
Difference between Chromebook and a computer?
Think of it as a laptop of a different breed. It runs on a different operating system that is, Google's Chrome OS rather than Windows or MacOS.
Almost everyone uses Chrome on any desktop but now you have the option to have the Chrome browser run your computer.
Google designed Chrome to run on lightweight hardware and rely on cloud for storage. So, its primary purpose is to be connected to the internet where applications and documents live in the cloud (storage built in means automatic backup)
Why shell out nearly a grand for a powerful Mac OS or Windows PC when all you really need is a browser and internet connection. It really depends on what tasks you need to do at hand. It's lightweight so it's not built for intensive tasks like gaming or opening 300 tabs at once. It's simple, web centric and budget friendly that can complete every basic task in the cloud.

If your online activities include web browsing, social media, YouTube, Netflix and word processing of which, outlines the identity of typical students, its definitely does the job and it's a cheaper alternative.
Using Chome OS means it's designed mainly around Google's free office suite including Google docs, Gmail and Chrome web browser– perfect for students and anyway these laptops are booming since most functionality most people want is in a Chromebook.
Can I use Word on a Chromebook?
Yes you can. You can use the web based version without installation. Microsoft offers a completely free web-based version of Office called Office Online.
Microsoft even makes these apps available in the Chrome Web Store so you can download and install the app version via this link. 
Can you play
Fortnite
on your Chromebook?
Most articles say that Fortnite won't be supported on Chromebook devices any time soon but I actually found this article that claims to show you how to stream it to ChromeOS. 
The main caveat is you also need a Windows PC.
OK, so you can't actually run Fortnite on ChromeOS. 
Why are Chromebooks so cheap?
Chromebooks feature a simpler operating system that's made primarily for the web for lighter usage that require little hardware resources to run.
Mac and PC's have higher horsepower to do high end work that involves operating advanced programs. Chromebooks = less hardware and cheaper components. 
Now checkout our other product reviews and buyer guides.
Latest posts by Vicky Lane
(see all)
Last Updated: January 2, 2023 by Rhys