Latest posts by Yves Matthews
(see all)
So you want to teach your kids how to balance from a young age? We don't blame you, balance bikes are becoming the best technology to teach kids a life skill they will need to ride a bicycle in the coming years.
In this crowded market place it can be difficult to find the best balance bike Australia has to offer but we've done the hard work and tried and tested five of the best available for Aussie kids.
We've provided reviews, product ratings and which ones we recommend buying based on other consumer reviews provided online.
All these bikes are easy to setup, ship within days and will bring endless fun to your kids. Don't forget to buy a robust toddler helmet too for outdoor fun.
What is a balance bike?
There are a number of different terms for a balance bike. They are also known as run bikes, no-pedal bikes, dandy horses and training bikes.
They are all designed to teach young children how to ride bicycles, how to balance and steer, but without pedals, chains, gears, etc.
A balance bike will be suitable for the whole learning period and are a really excellent and fun way to teach your child to ride, starting as young as eighteen months old.
They're fun, safe, easy, and convenient. They build strength and coordination as well as spatial awareness.
And they will be suitable for the child right through to when they are ready to ride a normal bike, usually around the age of four to five years.
Balance bikes are a much better way to teach a child how to ride on two wheels than trainer wheels – because the balance bike experience is so similar to riding a bicycle when the child actually does lift their feet off the ground.
Trainer wheels just don't provide that experience so the child will be just as frightened when they first use a regular bike.
Why buy a balance bike for your child?
A balance bike is a fun, safe, and easy way for a very young child to learn balance, strength and coordination without the fear and confusion that a traditional bicycle can engender.
Balance is a skill that is key to riding any bicycle, even a motorbike. It includes leaning into corners and riding without your hands on the handlebars.
The best way to learn balance as a young child is to be able to focus on that and not too much else.
Introduce the balance bike. This invention allows young children to learn essential bike riding skills, particularly balance, by removing other issues that complicate the process.
To start with, all the child has to be concerned about is moving the wheels with his feet. And then, at his or her own pace, other skills are introduced one at a time and even then not too many.
The balance bike will satisfy a child right up to the age of four or five.
And the progression to a bicycle is much easier because they already know how to balance, and pedalling is relatively easy to learn if you've mastered balance.
Best Balance Bike Australia
All these balance bikes were available via Amazon.com.au which offers fast delivery to all Australians and a simple returns process if there is ever a problem.
You can also buy from local baby stores as well as kids toy shops. We found few online retailers stocking these major brands aside from Amazon. Most were bike shops.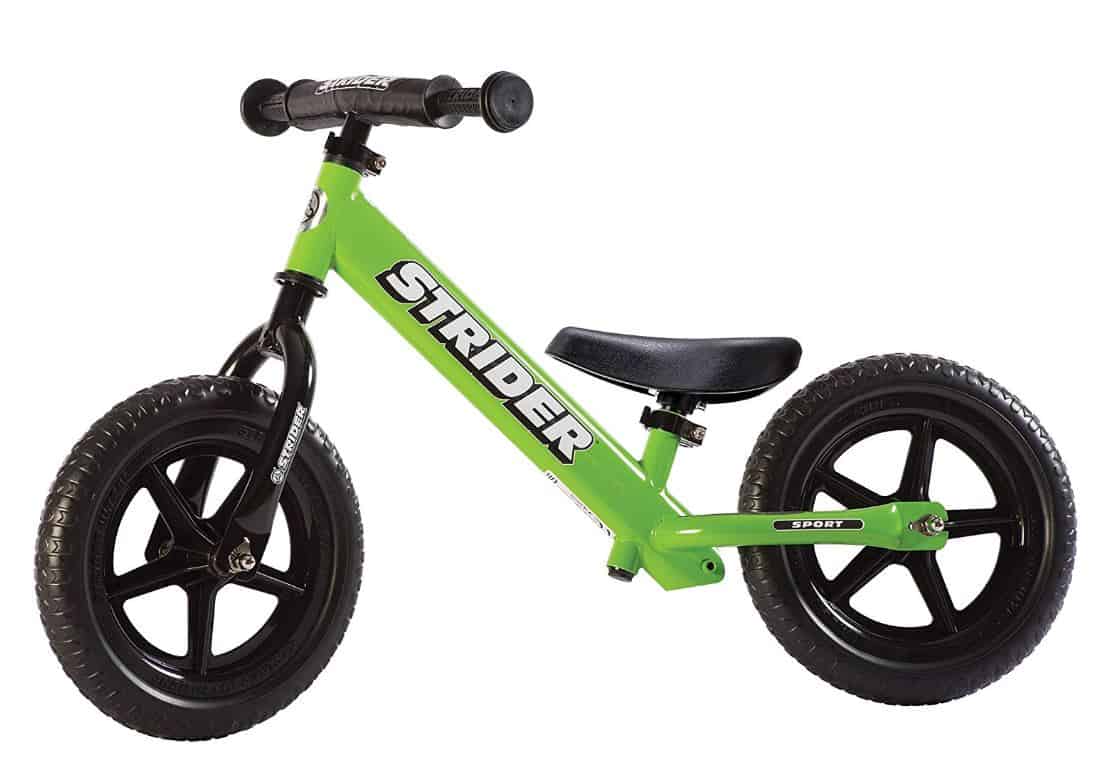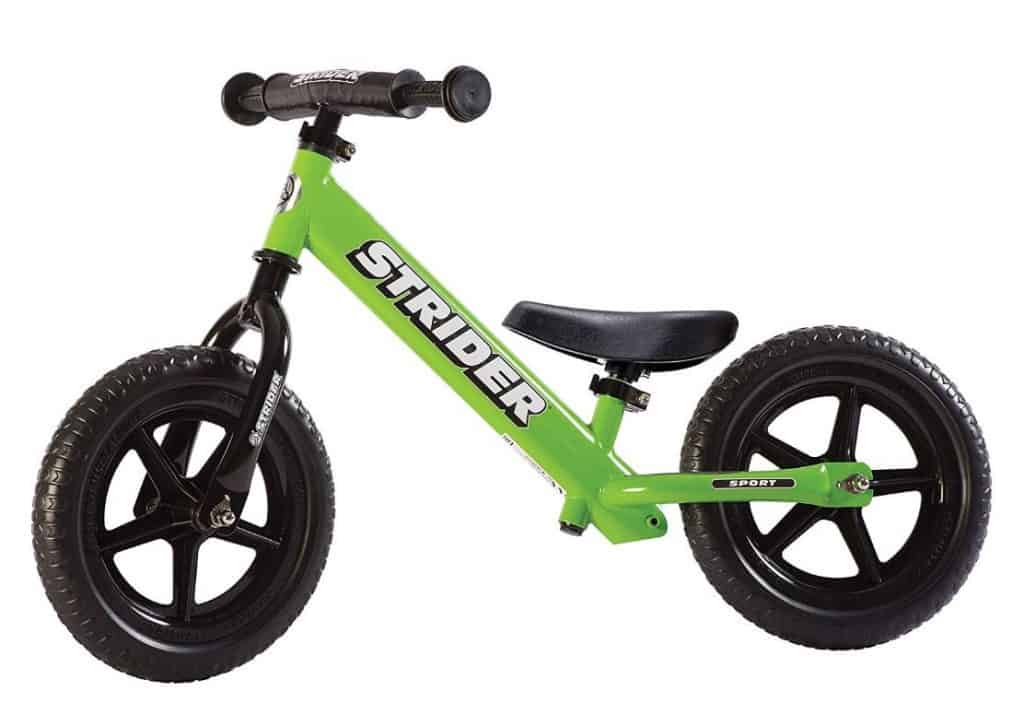 The Strider 12″ Sport Balance Bike is a fully adjustable balance bike to suit your child from 18 months to five years.
Balance bikes are now seen by many parents as the best first bikes for children as they allow kids to learn the essential skills of balance, steering and leaning without the added complications of pedals etc.
The Strider 12" range adheres to the most stringent of safety standards and is easily adjustable in seat height (without tools) to meet the needs of your growing child.
Simply measure your child's inseam and adjust the length of the seat pole to fit as they grow. The handlebar height is also adjustable, with soft-feel mini grips to suit little hands.
And the tyres will never go flat or need any maintenance!
You have the option of upgrading to fit a foot brake and heavy duty tyres down the track if you want.
The bearings are in sealed cartridges for smooth rolling and the overall design allows for low rolling resistance on hard surfaces and grip for stability and better handling.
The bike has a sturdy, durable and lightweight steel frame – only 3kgs. So they're easy for little people to manoeuvre and for dads to carry around later.
The frame is a cool powder coated green.
When you consider this as an investment for possibly five years the price is well worth it.
[wp-review id="917″]
The Step Through Balance Bike from Kazam is a step-through patented design from the US with a unique footrest for better balance control and for scooting.
The patented footrest design apparently does make a significant difference to the balance aspect of learning to ride so that is a real plus.
The bike suits children between the ages of 2 – 5 years and has adjustable wide handlebar and seat placements, both featuring quick release functions.
It has a lightweight but very strong 4.5kgs metal frame and with a weight bearing capacity of 27kgs. The tyres are air-filled foam with steel rims for a soft ride.
And the rear tyre is set a little further back than is the case with other balance bikes, which gives slightly more room for older kids to move around and not get too scratched up. The seat is padded for comfort as well.
There is a limited amount of assembly required but all tools are supplied and it is apparently a very easy job.
The Kazam Step Through comes in 4 powder coated colours.
Reviews are all very positive and there do seem to be some significant differentiating features on this product to consider when purchasing a balance bike.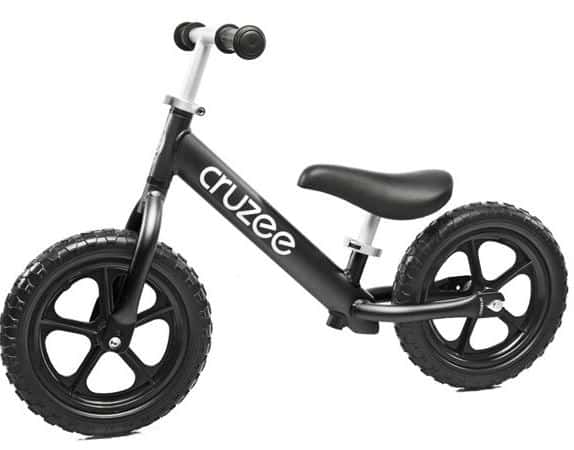 The Cruzee Two Balance Bike is another adjustable balance bike for kids aged between 18 months – 5 years.
At only 1.9kgs and made from aluminium it is the lightest on the market, great for dad and for mum! But it's still strong, safe, and durable.
And with an anodized finish, it's rustproof. The foam tyres are puncture-proof.
The seat height and handlebar are both adjustable (without tools) to meet the needs of your growing child (suits 60-125cm height children).
The seat and grips are comfortable for little bottoms and hands. And it's a stylish looking bike to boot.
There is assembly required when you first take delivery but that is quite straightforward according to customer reviews.
This is a great first bike for kids to learn balance and coordination without the fear of falling off and the confusion of too much to learn too soon.
It will last the distance without any fuss or maintenance and so easy to take anywhere. It will even fit under the pram when need be.
Customer reviews are all extremely positive in relation to every aspect of the Cruzee bike and the price is on a par with other similar products. Overall a product to buy with confidence.
The 12 Inch Kids Balance Bike from Rigo is a light-weight portable starter bike for kids between the ages of 3-6 years old.
Any exercise is great for children's development but bike riding is especially good for coordination, balance, and confidence.
The balance bike is a great way to start your child off with confidence and fun and room to grow.
The Rigo balance bike has adjustable seat height (32-42cms) and handlebars (50-60cms) by quick and easy release lock mechanisms.
The seat is padded with leatherette for comfort and the hand grips are soft and textured for a firm grip. And there is a built-in footrest for added comfort.
The construction of this bike is particularly sturdy, made from durable powder coated steel with screw covers to prevent scratching.
The tyres are made from a quality EVA polymer for a steady ride on any surface, and no pumping required, ever.
And at 2.6kgs it is so easy to carry around when your child has had enough for the day.
There is self-assembly on delivery but that is an easy process with a tool supplied.
Comes in a variety of bright colours, and at a very competitive price!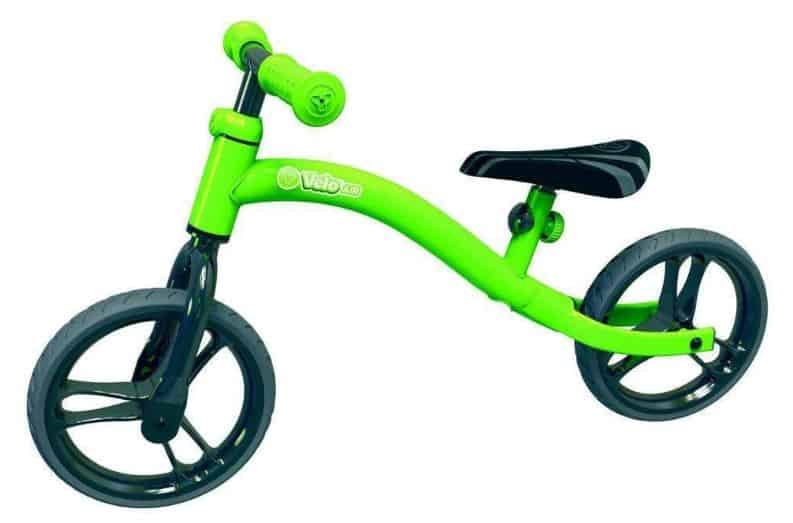 The Y Volution Air Balance Bike is a very stylish addition to the modern range of balance bikes for youngsters learning to ride bicycles.
Its lightweight design helps them to enjoy the freedom of movement whilst still being in control. And like any clever kids' toy it teaches invaluable skills like balance, coordination, confidence and gross motor skills.
All fundamental to being able to progress to riding a pedal bicycle when ready. And without the fear of falling, and without the burden of too much happening at once.
The Y Volution is suitable for children aged 3-5 years.
It has a sturdy – indestructible some have claimed –  and light aluminium frame (2.9kgs) so is easily manouevred by the child and carried by the parent.
Yet it carries a total weight of 25kgs. It features a built-in steering limiter so the child can manage where they are going.
The rubber puncture-proof tyres are shock absorbent for comfort, as is the seat. The clearance between the bike and the ground is a good distance to avoid getting caught on uneven surfaces.
The seat height and the handle are adjustable (pretty quickly and painlessly!) to grow with your child.
The bike needs assembly, as is the case with all online products, but it's an easy task.
A great training bike.
How to use a balance bike?
A balance bike focusses on balance, steering, and leaning without the child being at risk of falling over or needing to master pedals and free-wheeling.
The first thing to do is to make sure that you have the right size bike height for the child (follow the manufacturer's or online directions for this).
The young child will normally want to simply walk the bike along without sitting. Allow this to last for as long as it takes.
The next stage, when the child is ready, is to walk the bike whilst sitting on the seat. Again, this will last until they feel comfortable enough to lift their feet off the ground and be reassured that they are not going to fall over. They will then start to sit and run to feel the fun of moving faster.
Once their confidence has built the child will typically begin to experiment with balancing the bike and learning to glide along without their feet on the ground.
Giving your child the opportunity to experiment on a safe slope will provide them with the fun of gliding and they will likely progress pretty quickly to balancing and controlling their balance bike for hours of fun.
The final stage, which happens pretty much at the same time as gliding, is learning how to stop the bike with their feet and then a hand brake.
A balance bike can be just as much fun for a young child as a proper bicycle until they are as old as 4 or 5 years of age.
Why buy a balance bike over training wheels?
Training wheels simply do not provide a child with the opportunity to learn the skills needed to ride a bicycle. The choice is as basic as that.
When one considers a traditional bicycle with training wheels attached it is pretty clear that the rider has no need to control the bike at all except to steer and to move the pedals.
But these are relatively safe and easy skills to learn. Training wheels give the child absolutely no influence over balance, indeed they usually tilt the bike to one side so the child is riding whilst unbalanced!
Now think about the time that inevitably arrives when the child outgrows the balance bike and is ready to move on to a traditional bicycle.
Will he be able to manage that same degree of confidence with balance while also mastering the pedals, steering and braking?
Perhaps not is the answer to that question. It may well be that a balance bike cannot really fully prepare a child for the complex skills required to successfully ride a bicycle on his/her first try.
If that is the case, then perhaps a pair of training wheels may be a good idea at that stage, just for a little while, until riding has become something he is capable of doing pretty well on his own.
Food for thought at least.
Now you know the best balance bike Australia has to offer, checkout our other guides.
Last Updated: November 6, 2019 by Rhys