If you're an Australian heading overseas soon you'd be a fool to skip on buying travel insurance. While it may seem like an excessive addon to your relatively cheap holiday, it can and will save your life. Today we're looking at our World Nomads Australia review.
There are so many horror stories of Mr X renting a scooter in Bali, only too crash into a lorry and end up needing $100,000 worth of treatment and payment must be made up front.
Do you really want your friends and family to have to spend their life savings or start a Gofundme page to save your life? Is it worth the $100 you could have spent on your travel insurance?
A recent study found that 1 in 3 Australians still don't bother buying travel insurance. Others think that their credit card policy will cover them when the small print says otherwise.
Now that I've got your attention, you definitely don't need to speed a fortune on travel insurance but you generally get what you pay for.
Cheap policies may make your trip cheaper but often don't cover you for life threatening injuries, adventure sports, repatriation costs and stolen property so if you're offered a standard or advanced policy it's often beneficial to go for the advanced option.
World Nomads Australia Review
I've personally used all five of the companies mentioned in this article. It would be unfair of me to write a review without actually doing so.
For pricing we've used a two week trip to Philippines (1st April-15th April) with the same dates and an Australian residence, aged 27.
To show you the pricing on extras we're going to do one sky dive.
World Nomads Policy
World Nomads is the only travel insurance provider that will cover you after you've left Australia. Did you forget to buy your policy or want to extend your trip? You won't be able too with other providers.
World Nomads is the Australian backpacker insurance provider of choice as you can buy a standard policy and extend it multiple times.
You definitely don't need to buy what you think you'll need with them until you actually need too. After spending 9 months in South East Asia they were a pleasure to deal with.
Of all the policies I've taken out over the last two years, they were the only one that allowed us to extend our policy without returning to Australia.
They offer two price points for all policies called, 'Standard' and 'Explorer'. Personally we recommend the 'Explorer' policy if you're heading further than New Zealand.
If you're planning on doing anything extreme such as sky diving, rafting, dirt biking or bungee jumping then you need to pay a premium. Currently they offer three levels of risk (0,1,2). For example sky diving is currently level 2 and can add $$ to your policy.
World Nomads will cover up to $4,000 of personal goods but if you're travelling with expensive technology then you'll need to insure further.
World Nomads Pricing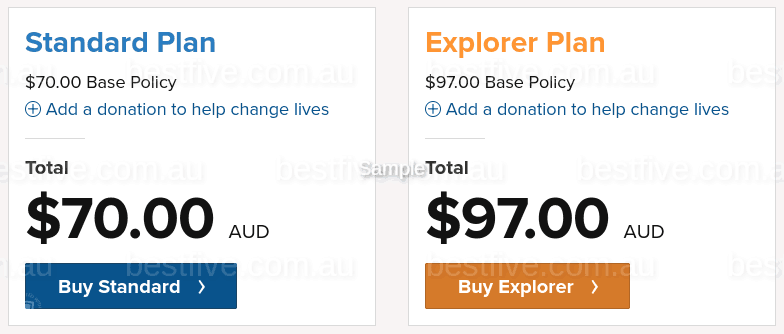 The key differences on the two plans are that explorer offers unlimited overseas medical expenses and cancellation costs whereas standard is caped at $3.5 million and $3,500.
You also get additional benefits such as therapies, out of pocket hospital expenses such as better food. You can also claim up to $10,000 on theft or damage as well as cover for hijackings, car rentals and accidental death.
Both offer a high level of personal liability including $1 and $2.5 million respectively. Students may find the loan repayment beneficial if ever needed to be claimed.
World Nomads Premium Addon
We added our sky dive to see what the extra fee would be and this came to a premium of $101.85 (correct Feb 5th 2019).
As you can see most adventure sports aren't covered in the standard premiums and if you have an accident you won't be covered so make sure you don't skip over this section.

Our total policy for the explorer plan came to $198.85.
Given the dangers that you'll potential encounter in Thailand, especially if you rent a scooter or go out on a boat tour this is pretty affordable.
World Nomads Claims Process Review
During a recent trip to the Philippines we actually had to make a claim with World Nomads and it was very straight forward.
We called them using their international phone number which was answered instantly and asked which hospital we could go too under our policy and were told any is fine just keep the receipts and take photos.
We were seen too within a few minutes (being foreigners) and advised not to continue our trip to an outlying island. We were told to book a hotel near the hospital which was $100 per night.
Bummed out at losing our flights to the next island, 3 nights hotel, return boat trip and of course the cost of the hotel in Cebu we submitted our travel claim online which took no more than 30 minutes.
World Nomads asked us to upload our receipts, include dates and proof we had not been refunded for any of our non-refundable tickets. This proved to be pretty difficult as Philippine Airlines don't seem to answer their emails.
After four weeks we had a reply and the claim was submitted which took a further two months to receive our money back.
We received a full refund for everything we booked that wasn't used as well as all our hospital expenses and emergency hotel.
I have to say the entire process with WorldNomads was painless and although it took a long time to get the money into our bank account, there were minimal questions asked.
World Nomads Verdict
This is probably the best travel insurance provider in Australia and offers a 24x7x365 support number, the ability to submit claims online using their online form. They are one of the few providers that allow you to extend cover on the road and they even donate a % of your premium to charity.
Rock on World Nomads.
World Nomads discount coupon codes are usually available at a maximum of 10% off. Don't fall for those coupon jackers that claim to offer 50%. They simple do not exist.
Now you know what our take on our world nomads australia review is, you should checkout our other buyer guides and reviews.
Last Updated: January 2, 2023 by Rhys