You don't have to spend up large if you're looking for the best webcam Australia has to offer. Believe it or not, more megapixels does not mean better picture quality.
There are many different brands and models of webcam available in the market so you should decide on what features you actually need and how much you're willing to pay.
Most people don't actually need a webcam, their laptops come with them already and that leaves desktop users that are looking for something that mounts neatly on the top of their computer screen.
While most webcams claim to be universal and fit more computer monitors you may run into issues and need to purchase a webcam stand mount.
These table mounts are perfect for live streaming and getting better videos. They are also multi functional, working with both webcams and smartphones.
If you're looking for a meeting room webcam then you may find you need something more powerful that offers zoom functionality with a remote control. The Logitech PTZ Pro is the best webcam for businesses looking for a Skype For Business Webcam.
For all other users, there are a wide range of webcams available on the market and we've found the five best webcams below.
Best Webcam Australia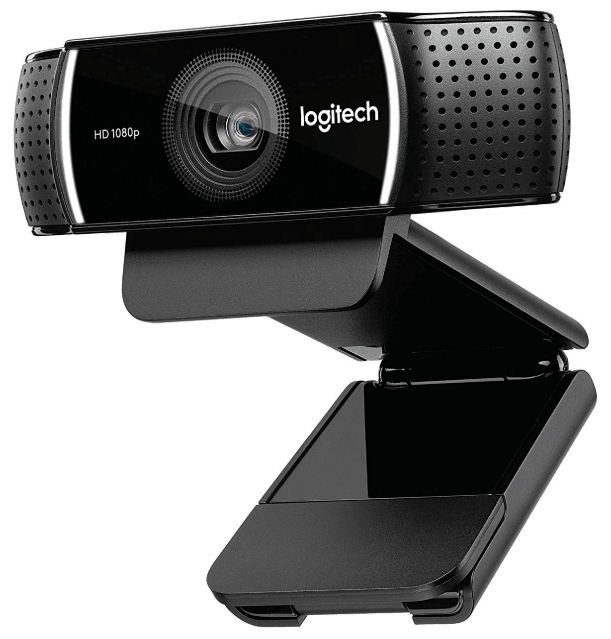 Start streaming will full clarity every time you go live on YouTube with the Logitech HD 1080P Pro Stream.
This webcam gives you a full HD result with 1080p at 30fps as it captures every fine detail and bright colour that comes within the plain of sight of the lens.
On the other hand, serious streamers need the hyperfast HD 720p at 60fps for a smooth video that is built-in to the Pro Stream Webcam. So, you can live broadcast with no lag or distortions.
Equipped with HD autofocus and light correction, the Pro Stream automatically fine-tunes your lighting conditions to produce optimal high definition pictures even if you are in dim lighting.
There is no need for you to buy a separate microphone as the Pro Stream comes with two fitted microphones on either side of the camera.
This allows the webcam to capture realistic sound form every corner of the room that the webcam is in, giving you natural and clear sound.
To top of this great webcam, Logitech gives you a free 3-month XSplit premium license. This way I was able to try this great software before I committed to purchasing it.
[wp-review id="676″]
For all your video chatting needs, use the Jiffy Live Camera.
This webcam has transformed my video chatting experience by providing clear audio and visual at the same time.
The 7-element optical glass lens webcam produces high definition video quality and clear pictures, making it ideal for family catch ups over Skype, online teaching courses and video conferencing for businesses.
The lens of the Jiffy webcam gives you the option to view through a wide-angle view and also through a manual focus design.
There is no optical distortion even in dim lights as the Jiffy Live has a built-in automatic low light correction.
The Jiffy Live has 2 built-in digital microphones that produce a clear and natural sound when you are within 3 meters.
A great feature of the microphones is that they have noise cancelling technology so they significantly reduce background noise.
If you're uploading to social media frequently, you would know how difficult and long it takes to upload a high-quality video.
The Jiffy webcam has advanced compression technology that lets you record and compress at the same time so that streaming is faster and smoother to upload.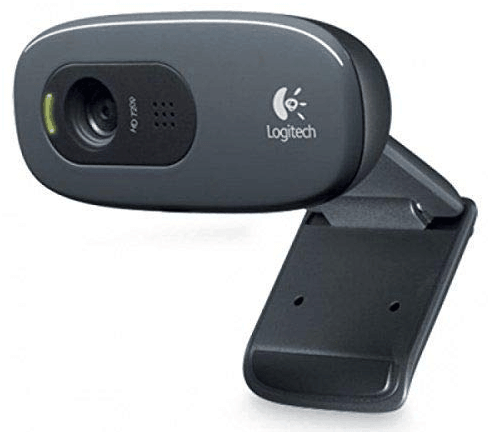 The C270 has a high definition 720p video calling and recording capacity. This ensures that every memory is crystal clear whether you are streaming, recording or vlogging.
It's one of the cheapest HD webcams in Australia right now.
Combined with automatic light correction, you'll get the best video image even if you are in a poorly lit room.
Background noise can always be distracting and hard to completely eliminate, but with the C270 the built-in microphone reduces all background noise so when you're recording or video conferencing everyone else can hear you loud and clear as though they are in the same room as you.
The Logitech HD Webcam C270 is compatible with all your favourite programs: Facebook Messenger, Skype and Windows Live so you can keep in touch with your friends face-to-face without blurred images.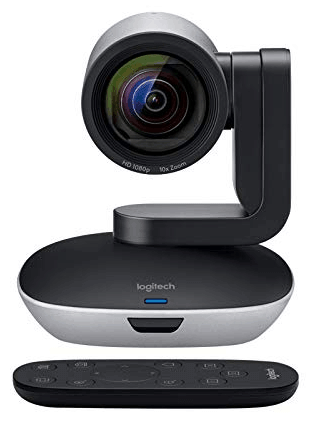 Whether you're wanting to upgrade your webcam at work or home or just after a new webcam that is guaranteed to give you ultra quality, the Logitech PTZ Pro 2 Video Camera is your best choice.
Logitech is the number one webcam brand on the market and the PTZ Pro 2 is a testament as to why it holds first place.
This webcam has a premium camera lens that gives you vibrant and clear videos with accurate colour rendition and sharpness, whether you're zoomed in or out.
You can use the PTZ to either get a wide shot of everyone in a conference room or switch between people and a whiteboard. The presets in the PTZ save pan, tilt and zoom settings and with a touch of a button, you can swiftly transition between the sets.
The unique design of the PTZ lets you place the webcam in place you want as it includes an attachment for tabletop mounting and wall mounting. If you after wanting to move the PTZ around often, then the tripod gives you additional freedom.
To start up the Logitech PTZ all you need to do is plug the webcam into a computer UBS port and you're good to go!
This device is compatible with any software that recognizes a webcam such as Skype, Cisco WebEx and Zoom.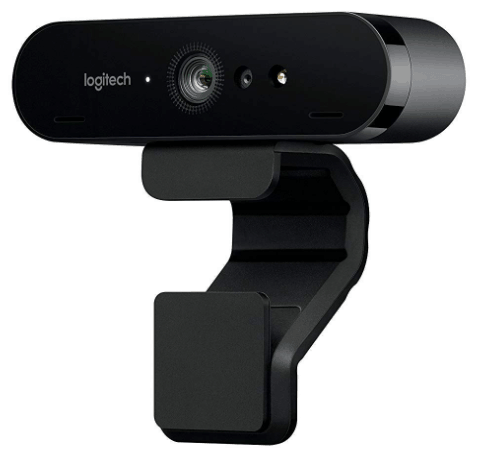 Start recording your video in Ultra HD quality with the Logitech BRIO Ultra HD webcam. Built with high-tech optics and lenses, you are guaranteed to capture every fine detail, offering you a professional-level visual in a small and simple device.
The BRIO offers recording, streaming and calling capacity all at full 4k Ultra HD. So, you can see all the visuals crystal clear.
Logitech's built-in RightLight 3 also ensures that the lighting in your surroundings is correct, so no dull stops in your videos as it automatically adjusts the image quality if there is too much or too little light with High Dynamic Range capabilities.
No more background noises when video streaming with the BRIO has it has two omnidirectional microphones that amply your voice to make sure you are heard clearly, while the noise cancelling technology filters out unnecessary sounds.
This Logitech webcam is super easy to install, just plug it into the USB port of your computer to power the webcam and you're all set to go. This device is compatible with Windows 7 or later, Mac OS 10.10 and up, Chrome OS, and Cisco, so it is great to use at home, work or even school.
How To Choose Best Webcam?
When choosing the best webcam you don't need to buy the most expensive one. Much like buying a car, the most expensive one isn't the best and that's the same with webcams.
Most laptops include webcams by default so check to ensure your device doesn't already have a webcam. It might be hidden along your screen.
If you definitely don't have a webcam already then decide,
Are you going to be recording videos for a Youtube channel? Or are you kitting out a commercial office with Skype For Business meeting rooms? Or are you just going to be Skyping friends?
For most people, they use a webcam to call friends and family.
Next you need to decide if you need any special features such as the ability to Zoom in or out. This is where expensive webcams such as the Logitech PTZ Pro are great and perfect for meeting rooms as the remote can be used from the table.
All webcams are compatible with all types of software such as Skype, Webex, Zoom, GoToMeeting, WebinarJam and Youtube Live.
Most webcams use USB and you'll need a spare port wherever you're going to install the webcam.
[su_box title="Our Recommendations"]
Calling friends or family: Logitech HD Webcam 270
Live Streaming: Jiffy Live
Small office/meeting room: Logitech HD 1080P Pro Stream
Large meeting room: Logitech PTZ Pro.
[/su_box]
How To Test Webcam?
Usually the best way to test your webcam is to use the software package you're using to communicate or record your webcam from.
For example, Skype, GoToMeeting and Webex all offer webcam and audio testing tools which you can use to test before your meeting or conference.
If you want to use a web based method then you can use a website such as Online Mic Test to check if you web camera is working and setup.
Their test runs on the 'client side' which means they cannot see your webcam or record your audio however exercise caution.
How To Hack a Webcam?
There are many tutorials out there than will show you how to hack a webcam. With that said, you as the consumer, buying a webcam should be fully aware of the possibilities of someone spying on you when you're not expecting it.
Most people will be completely fine however downloading suspicious files and opening files via emails can cause viruses and trojans that can cause hackers to access your webcam.
I recommend getting good anti virus software on your machine. I also recommend unplugging your webcam or covering the lens when you're not using it to avoid any issues.
Can You Use Phone As Webcam?
Yes you can, but only if you have an Android. Sorry Apple!
It is possible to use your phone as a webcam on a Windows or Linux PC.
There's two options, WiFi and USB cable.
For WiFi, both your computer and your android need to be connected to the same network via WiFi.
Next download and install an application called IP Webcam.
For further instructions you can read this tutorial.
Now you know the best webcam Australia has to offer, checkout some of out other guides and product reviews.
Last Updated: January 2, 2023 by Rhys