So you want music on the go but don't want to spend a fortune? You want awesome quality with a decent level of bass too? I hear you. Loud and clear.
We've been on the hunt for five of the best portable speakers money can buy with change for $150. It wasn't hard to find five, it was hard to narrow down to the final five as there is so many different brands in this crowded market.
We've given you a variety of different portable speakers to choose from including the high end Bose brand through to mid range, Sony and even cheaper alternatives such as Anker.
Each have their own pros and some cons so have a read and see what one tickles your fancy. All products are available through Amazon.com.au which offers fast, free, 2 day shipping.
How To Choose Best Portable Speaker
There's many factors you'll probably want to consider when choosing the best portable speaker such as:
Weight and compactness
Sound quality
Battery life and quick charging
Connectivity type (Bluetooth or NFC)
Compatibility with other devices
Handsfree functionality
Daisy chaining multiple speakers
Durability
Price – likely a deciding factor.
Best Portable Speakers Under $150
Start dancing the night away from any place you want with the Sony SRS-XB10B Wireless Speaker. This wireless speaker brings your music to life with the extra bass function that enhances low–end tones and boosts the bass in music.
For a small compact device, it really does pack a loud sound! The design of the SRS-XB10B is made for taking the music with you, wherever you go so all you need to do is pop it into your bag and you're good to go.
With up to 16 hour listening time and water-resistant surface, you are free to take the SRS-XB10B wherever you go without worrying about damage to the speaker.
This wireless speaker is easy to set up, either connect via Bluetooth or with NFC One–touch to get your music beating in an instant. No need to deal with pesky cords any more.
If you're wanting to achieve stereo sound, simply connect two wireless speakers together to get the perfect sound output.
This Sony wireless speaker comes in 5 colours; red, black, green, white and blue so you can pick whichever you desire. The SRS-XB10B is charged via a micro USB so even if you lose the wire, it can be easily be replaced.
[wp-review id="714″]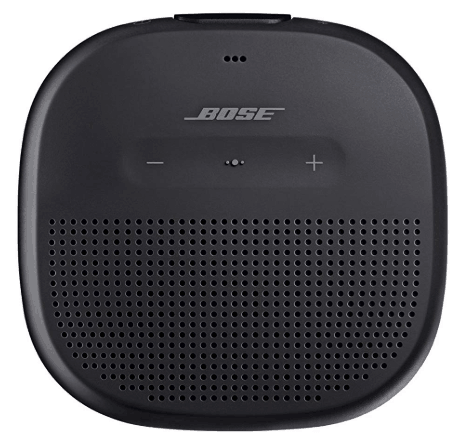 Get listening to your favourite songs on the go with the Bose SoundLink Micro portable speaker. This portable speaker is compact and small, yet very powerful.
The built-in custom mounted transducer and passive radiators in the SoundLink Micro give this portable speaker a loud and clear sound output, whether you take it inside or outside to listen to your tunes.
The rechargeable battery gives you up to 6 hours of play time of your favourite music.
The SoundLink is waterproof from the inside and has a soft, rigid silicone exterior to prevent any dents or scratches. This makes it the perfect portable speaker for me to take while I go camping as I don't have to worry about breaking it.
Combined with the tear resistant strap, you can take this speaker anywhere with you, strapped to your backpack or handlebars of your bike.
With easy Bluetooth set up, no need to fiddle with any wires when you're on the go. The built-in speakerphone allows you to take calls and access Siri, so you don't even have to touch your phone.
If you're having a party and need louder music, you can pair two compatible Bose Bluetooth speakers using the Connect app to play the same music on Party Mode.
On the other hand, Stereo Mode lets you listen to separate instruments and vocals, to hear the music as though it is playing live right in front of you.
Available in other colours: orange and navy.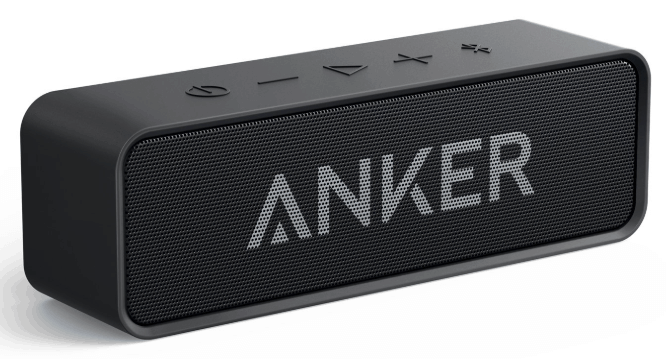 Start listening to your favourite music with the Anker SoundCore Bluetooth Speaker.
This portable speaker produces high-quality clear stereo sound with deep bass and zero distortion. This is through the two high-sensitivity drivers and patented bass port. So, you'll be sure to hear every lyric just as the artist intended for it to be heard.
The Anker SoundCore has a play time of 24 hours due to the long-life battery technology so no need to constantly charge your portable speaker throughout the day.
You can instantly pair your smartphone with the SoundCore using Bluetooth 4.0 and maintain a connection of up to 66 ft. You can also link your Anker with voice-command software such as Alexa or Siri.
This portable speaker is small and compact yet very robust, so it is drop-proof to ensure you can take it anywhere on the go without worrying about damage.
Get the most out of your portable speaker with the Sony SRS-XB21W Speaker.
This compact Bluetooth speaker comes with built-in Extra Bass Technology to enhance your party experience.
This portable speaker is made for you to party with as it has a Party Booster function where all you need to do is simply tap your speaker in different places to produce different sounds such as a scratch drum and cowbell.
You can also control the volume of the speaker with gestures of force, such as a gentle tap changing the music to a soft or giving it a good hit for louder sound output.
You can experience your music in a whole different way with Live Sound mode that brings to life your music with unique 3D sound output, as though you are having a festival in your own backyard.
To make it even better festival experience in your own backyard, your portable speaker can connect up to 100 wireless speakers with the Wireless Party Chain function.
Enjoy up to 12-hours of play time and Smartphone charging, with USB-DC output. The SRS-XB21 is completely rustproof, waterproof, dust-proof and washable, so there's no place that you can't take your portable speaker to.
Comes in other colours: black, cyan and white.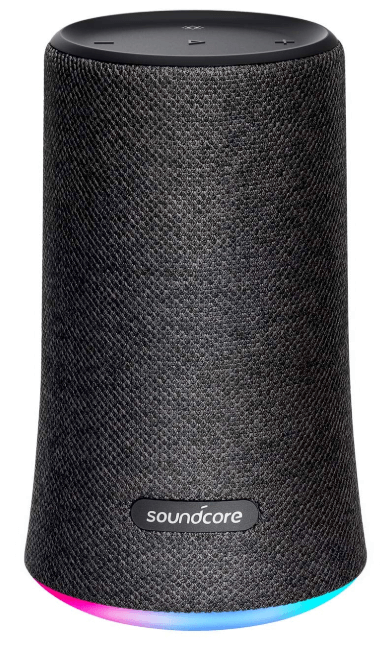 Start jamming to your favourite tunes with the Soundcore Flare portable speaker. This portable speaker delivers 360° sound as the dual drivers arranged back-to-back in combination with passive bass radiators deliver you intense all-around sound.
Double the intensity of your music by pairing two speakers simultaneously so that they are synchronised to give you a multidimensional experience of your music.
The built-in BassUp Technology in the Flare produces precise EQ adjustment. The digital signal processor enhances the bass frequencies of your music in real time.
A unique feature of this portable speaker is the halo of LEDs that react and phases with the rhythm of your music, giving you a whole new audio-visual experience.
You can choose from 5 colour themes to create the right ambience for your occasion, and then 5 adjustable illumination patterns that give you the freedom to choose the perfect light to suit the mood of your music
The Flare can be controlled with the new Soundcore app that allows you to customise your device with ease. You can adjust the sound profiles, lighting and much more all with the tap of your finger.
What is the best portable speaker?
There are many different portable speakers out there so finding the best one can be quite hard. We hope today you've learned of five of the best different options in our opinion.
The best speaker is portable but offers a long battery life, good level of bass and quality, is aesthetically pleasing and is lightweight.
Where to buy a portable speaker?
You can buy a portable speaker from many different retailers such as Harvey Norman, JB HiFi and Kogan.
If you want to buy a cheap speaker you can checkout BigW or Target.
We found all ours on Amazon.com.au which offers fast free shipping nationwide and an easy to use returns and warranty process.
Most speakers come with one year retail warranty with some manufacturers offering additional warranties so check before you buy to see what you're covered for.
How do I play music on a portable speaker?
Most portable speakers use wireless or Bluetooth to connect a smartphone, tablet or computer to the speaker allowing for playback up to 5 or 10 metres away from the device.
This makes a portable speaker perfect for parties, gatherings or simply using at home on a table away from where you might be sitting.
Now you know the best portable speaker Australia has to offer, checkout our other guides.
Rhys is a successful entrepreneur with a PHD from University Colleague London with a strong interest in product reviews, blogging and traveling. Based in Melbourne, he loves to write about electronics, tech and travel.