Latest posts by Jill Saunders
(see all)
When it comes to buying the best microwave oven on a budget you definitely don't need to spend a fortune. Believe it or not, you can pickup a microwave oven for under a couple hundred dollars, a decent brand too.
We've been hard at working looking at the best budget microwave you can buy in the country without breaking the bank. We've found four and something different you might like to consider for our fifth.
You can purchase all these from Amazon.com.au which means you don't even need to leave the house. Most ship for free nationwide and have a simple returns process, if you ever need to return for any reason.
We've created a full buyers guide below too, so have a read of that after.
Best Microwave Oven Australia
[table id=9 /]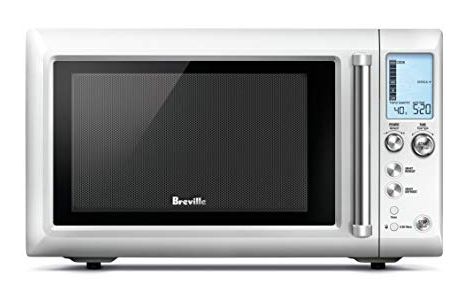 The Quick Touch compact microwave from Breville is an intelligent easy-to-use machine which delivers effortless performance and dynamic results.
With its 20 one-touch auto buttons (nicely hidden on the inside door) the Quick Touch does everything from cook, reheat, defrost, melt, and soften by automatically adjusting the time and power during the cycle for optimum results.
These intuitive Smart settings take the guesswork out of defrosting and reheating. As well as having factory menu settings it allows you to programme your own favourites for quick access and consistent results.
The interface allows you to experiment with the oven and get it just right and the LED screen is an easy way to view all the settings.
The 'bit more time' button gives you the ability to extend the time on the microwaving process by 30 seconds each time without the need to start a whole new cycle.
The smart multi-purpose kitchen timer is an independent asset to your kitchen's functioning.
(The more expensive 'Grill' version has a grill element and grill pan for browning and crisping the base of a pizza, heating the middle of it and grilling the top all simultaneously. How great is that!)
In a sleek brushed stainless-steel, the Quick Touch will look great in any kitchen and is a compact 50x58x36cms to fit easily into a smaller space and is easy to clean.
[wp-review id="1065″]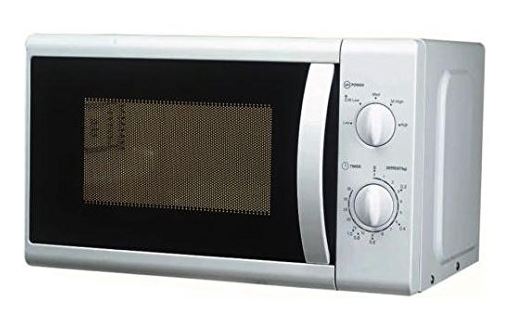 The Midea White Manual microwave is a very compact microwave oven coming in at an extremely low price point.
With a 20L capacity and 700W power output this microwave measures just 36(W) x 44(D) x 26(H) cms. Its glass turntable has a diameter of 25.5cms which is large enough to hold an average dinner plate.
Perhaps we shouldn't expect too much from it in terms of what it can do beyond defrosting and reheating, the basic functions we want all microwaves to do. After all, Midea does have a larger more expensive microwave on the market (their 34L 1100W oven).
But there's more to this microwave than you might expect. The controls may be manual and simple, but there are 11 power levels so you can cook as well as defrost and reheat with this microwave. And the oven is very easy to master and will let you achieve perfect results every time in both flavour and texture.
The Midea White is energy efficient, and the size is perfect for a single person in a small living area with not much kitchen space. Or even an office for staff use.
And it looks nice: a clean crisp white finish to match up with your other appliances. At this price, it's a pretty good investment for the single who doesn't need anything fancy.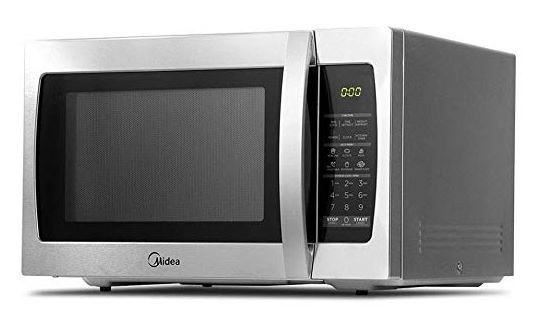 The Midea 34L 1100W Electric microwave is a step up from their basic compact White Manual model.
This microwave has a much larger 34L capacity with a 1100W power output. The unit is stylishly designed in silver stainless steel with an LED display and digital touch control panel. The door has a convenient easy open handle and there is a digital clock.
The oven has a 30 second 'quick start' function and six pre-set menu options for cooking popcorn, vegetables, pizza, dinner plate, drinks etc.
There are ten adjustable power levels for perfect results every time. The 99-minute digital timer means that you really can walk away knowing that your meal will keep cooking for as long as it needs to.
There is a defrost option with a choice of weight or time, express or multi-stage cooking, a memory function, child lock for safety, and function complete alert.
The glass turntable is removable for easy cleaning, and the interior cavity is anti-bacterial painted for food safety.
The Midea 34L microwave does everything you want a microwave to do. The display is smart, simple and intuitive with pictures as well as words to make it as easy as child's play.
Setting the function and time is a matter of pressing the buttons. Make potatoes gratin, roast chicken, crispy pizza, or perfect vegetables from frozen.
A good microwave at a great price.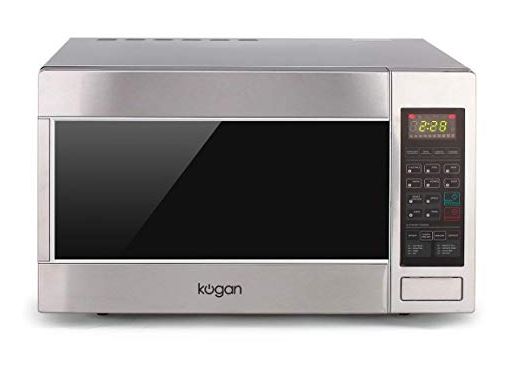 The stylish and highly versatile microwave plus convection plus grill oven from Kogan is a winner on all counts!
A brand new 28L capacity oven, this appliance has three functions: heat or defrost with microwave, cook and get a crispy browned surface with convection, or make healthy meals with the grill function.
The Kogan Microwave Convection and Grill oven is perfect for everything from burgers to roasts to pies to grilled cheese sandwiches. As well as the traditional functions of defrosting and reheating, and cooking popcorn, beverages, frozen vegetables and frozen dinners.
It has ten pre-set menu options for different food types, which the oven will then select the right time and power setting for the perfect cooking result. The pre-set choices are vegetables, meat, seafood, pasta, potato, soup, roast chicken, cake, and pizza.
The oven has a large 31.5cm glass turntable and comes with a wire grilling rack.
The stainless-steel finish and black tempered glass door with aluminium handle is a very classy look for any kitchen, and the easy to use button-push control panel a breeze to use. The LED time and function display can be easily seen from a distance.
The oven comes in at a great price for what it is and customer reviews are very positive.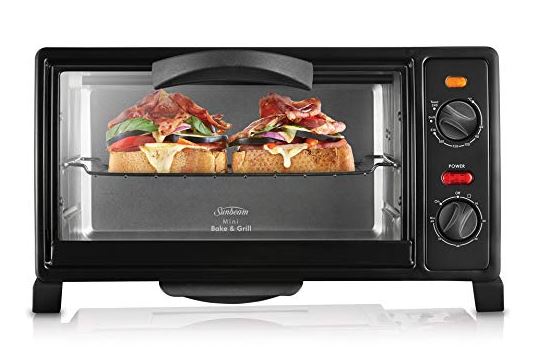 The Sunbeam snack oven is a great little benchtop oven for singles (couples at a stretch). It's designed for cooking what you might normally use a conventional oven for but has the efficiency and convenience of a small appliance.
So the suggestions around what one might use the Snack Oven for are roasts, baking, grilling, and toasting. From snacks to complete meals for one or two. Or simply for reheating or keeping food warm.
The oven is compact, functional, versatile, energy-efficient and inexpensive. That's an awful lot of pluses!
One does need to bear in mind that the Snack Oven truly is designed as its name describes it. Its capacity is very small. It will fit two slices of bread with toppings.
And it will probably fit two not-too-large steaks. But the vegetables would probably need to be done separately, or on the stovetop. But these are simply things to be thought about if you're thinking about purchasing one of these appliances.
The oven has a timer and a temperature setting control.
One point made by customers reviewing the Snack Oven is around the fact that the unit itself does get very hot when in use. Again, that is something to know about the appliance for safety's sake.
Overall, customer reviews of the Snack Oven are very positive and the appliance does fill a spot in the market for singles. A good buy at a great price.
What to look for when buying a microwave?
Microwave ovens come in a variety of sizes, offering a selection of functions, and at a range of prices.
At their most basic and lowest cost, you will want them to defrost and reheat food.
Moving up from there you can find microwaves which allow for automatic and sensor functions like defrosting and cooking. Some allow you to 'boost' power for a quick defrost, and to increase/decrease the cooking time without interrupting it.
At the higher end there are microwaves which have multi-stage programming for performing a complete sequence – defrost, cook, stand.
Features such as child safety locks, kitchen timers, low noise, built-in as opposed to free-standing, and inverter technology, can also be considered in the quest for a microwave.
But whatever you decide to purchase you will still want an oven that fits into the space you have in your kitchen, allowing for adequate ventilation.
It's always best to look for appliances which have good controls and clear instructions. Also, look for an oven which has a good interior light and an easy to clean design (inside and out). And then, of course, price is important.
How long does a microwave last?
If it is a reputable brand and as long as you look after your microwave oven by cleaning it regularly and being gentle with the door and the controls, it should last around 8-10 years.
Signs that your microwave is coming to the end of its life are the fact that it is 10+ years old, cracked or broken seals around the door, the fact that it is taking longer times to perform its operations, or if you hear a buzzing or any other unusual noise while the oven is operating.
Signs that your microwave is dangerously unwell are sparks, smoke and burning smells. These need to be taken extremely seriously by immediately switching the oven off and unplugging it at the power point.
Under any of these circumstances, throw your old microwave out and look for a replacement.
How to use a microwave oven?
If you're new to using a microwave oven the first thing to do is to read your oven's User Manual. Although the basics of using all microwaves are the same, they are all different as well in the way they look and their detailed operating features.
A microwave will usually have three functions: defrost, reheat or cook. Depending on which function you want to use, the level of power and the timer will need to be set as well as the food type you're dealing with. But those are details you need to refer to your Manual for. Do not assume that you can cook any food in your microwave – they are all different and you do need to thoroughly familiarize yourself with what yours can and cannot do.
Firstly though you need to understand some basic rules around using a microwave oven.
Never use metal of any kind in a microwave oven as it may well damage or even ruin it.
Always cover foods to avoid splatter inside the oven and to cut down in cooking time.
Make sure that the plate is rotating on its base as it is supposed to. This ensures even cooking.
Try to cut food into small pieces if possible – this reduces cooking time.
If you're cooking foods in containers, ensure there is an outlet for steam to escape. Sausages, potatoes and other foods with a skin should be skewered to allow the escape of steam.
How much electricity does a microwave use?
Modern microwave ovens will generally use around 1200W of power. If you use your microwave every day for say 30 minutes, and that is perhaps a high estimate, then the cost may be around $65 per annum (assuming a cost per kWh of 30 cents).
To calculate the cost yourself use the following formula:
Determine the input power of your microwave (the average is 1200W = 2kWh)
Determine your power unit cost (average in Victoria is 28cents per kWh)
Calculate your microwave's hourly running cost: 2kWh x 28cents = 56cents per hour.
Now how about checking out our other buyer guides.
Last Updated: November 6, 2019 by Rhys