Latest posts by Jill Saunders
(see all)
Clearing an entire driveway of leaves can be a tiring and drawn out process that's enough to drive anyone insane.
That is unless you invest in the best leaf blower.
Whether you want to clean those autumn leaves away, remove grass cuttings or clear pathways, a leaf blower can replace a brush and make your life much easier.
Many years ago leaf blowers were an expensive piece of equipment but due to advancements in technology and cheaper components, you can pick one up for a very affordable price.
Australia offers a wide variety of different models across many manufacturers so it can be hard to find the best leaf blower in the market. There's petrol and electric, cordless and corded and a wide variety of power ratings and sizes.
What to consider when buying a leaf blower?
Before rushing out and buying the cheapest leaf blower, you should really consider where and how you're going to be using your leaf blower.
The main factor to consider is how large an area you're going to be covering. This will quickly help you decide between corded and cordless. Most corded blowers only have a cable of 5-10 meters and you'll likely need a long extension lead if you want to go further.
With that said, given the price, most people choose a cordless leaf blower as they can go wherever and whenever they want without cables limiting them. One disadvantage is ensuring the blower is always charged and ready to go when you want.
If you've got a larger estate you may find the battery life on an electric leaf blower is limited and may prefer using a petrol lead blower. However these can be noisy and for less technical people, fixing them when they won't start can be a nuisance.
Which ever option you choose, Consumer Australia recommends wearing hearing protection and while optional it's strongly recommended to wear Goggles and a dust mask.
Best Leaf Blower Australia
You can purchase a blower from retailers such as BigW, Bunnings, Target and Harvey Norman. Personally we found all these on Amazon.com.au which offers fast shipping and an easy returns process.
Generally with leaf blowers you get what you pay for, so if you want a cheap blower, it probably won't last too long.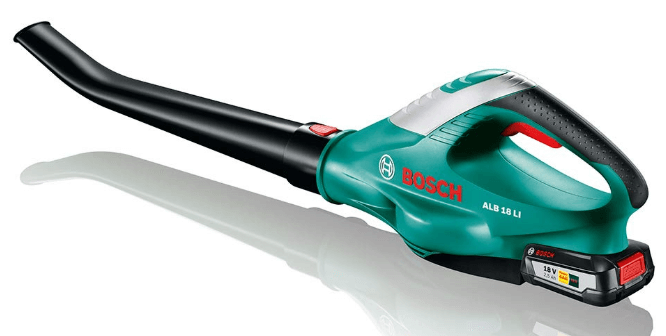 If you're after an electric leaf blower that is ultra-lightweight yet powerful, then the Bosch Cordless Leaf Blower 1800W is your best pick!
Due to its ergonomic design and being only 1.8kg light, you can easily maneuver the leaf blower to get perfect results.
The 1800w powered motor produces an airflow of up to 210km/hr making the Bosch Cordless Leaf Blower strong enough to use in patios and home gardens.
As this leaf blower is cordless, you won't have to worry about cords getting in the way when you clean up your garden.
The Syneon Chip that is built-in to the Bosch Cordless Leaf Blower regulates the power from the battery based on how intensely you use the tool, so you're bound to use every drop of power efficiently.
The 18 Volt lithium-ion battery allows you to clean your garden without the device running out of power halfway, with a run time of up to 17 minutes.
When you're done using this electric leaf blower, all you need to do is detach the blower tube to compactly store the blower, without it taking too much space.
A great feature of Bosch tools is that you can use the Bosch battery from one tool to the next, so no need to waste money on multiple batteries.
[wp-review id="869″]

For a powerful electric leaf blower, the Black Decker GWC1820PC-XE is guaranteed to provide you with exceptional strength.
The PowerCommand Boost feature is able to give you the strength by merely through the touch of a button.
Once it is turned on, you can clean your garden, patio, front lawn, driveways, walkways and deck. Activating this feature gives you an additional 20% of power in contrast to the standard mode, giving you a maximum airspeed of up to 209 km/hr.
The more power means the easier it is for you to get rid of debris. And if that isn't strong enough to get rid of stubborn debris, the built-in scraper comes in handy to get you the perfect finish for your garden.
The lightweight design combined with the 18V 2.0Ah Lithium-Ion battery of this electric leaf blower makes it easy to manoeuvre and control without having to worry about using extension cords to reach certain spots.
An added bonus is the low noise design that lets you operate the leaf blower at any time of the day without disturbing your neighbours.
Once you're done using the leaf blower, all you need to do is detach the chute for easy storage.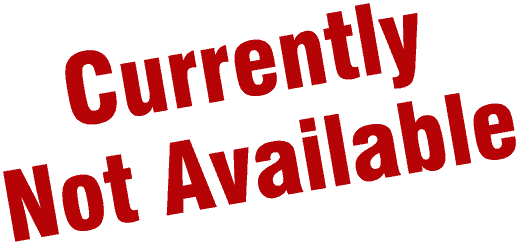 Start cleaning up your garden with one of the best cordless electric leaf blowers on the block, the Black Eagle 20V Lithium Cordless Leaf Blower.
You'll have a clean and pristine garden or walkway in a matter of minutes.
The Black Eagle has a DC 20V, 2 Ah Lithium-ion battery so that you are able to have maximum mobility and longevity as there is no need to fiddle with cords that restrict you in getting to hard to reach places.
This leaf blower is super lightweight at 9.5kgs only, so you can easily operate it with a single hand. The ergonomic grip handle enables you to use the blower for long periods of time whilst still ensuring comfort.
Whether you want to blow a pile of leaves or get rid of stubborn debris, the two-speed positions of the Black Eagle suit either of your needs.
The powerful setting that produces 190 km/hr gives you fast use of up to 12 minutes whereas the second setting gives you a slower speed that lasts up to 30 minutes.
To recharge the Black Eagle, it only takes up to 4 hours and then you're good to go!
For the best leaf blower currently out in the market, the BLACK+DECKER GWC54PC-XE is the pick of the crop.
This leaf blower is cordless with a 54V lithium-ion battery that produces up to 300 cubic feet per meter blowing capacity, and with a speed of 195 Km/h ensuring that you get the best results for your garden, walkway, patio and your lawn.
The BLACK+DECKER dualvolt lithium-ion system battery is built to be compatible with all BLACK+DECKER 18V tools.
So, if you have other products, no need to buy separate batteries as the one battery can be used on all, saving you money.
If you have stubborn debris that is difficult to get rid of, the PowerCommand function will come in handy as the PowerCommand boost feature gives you additional power for when you need it, and this is all simply at the touch of one button.
With the cordless feature, you can manoeuvre this leaf blower whichever way you wish with a single hand, without having wires and extension cords coming in the way.
The soft grip handle provides additional comfort and at 2.7kgs only, the lightweight weight design only requires one hand to use.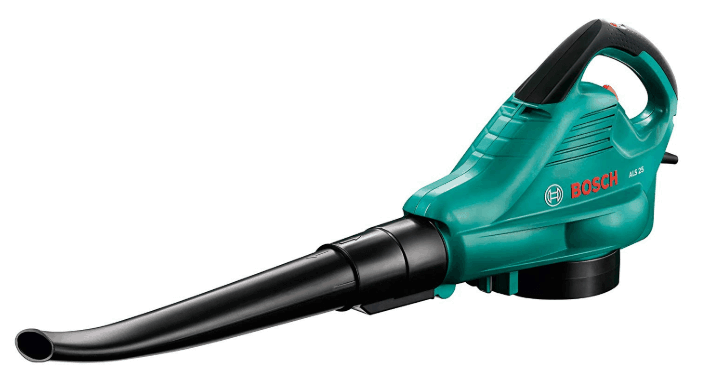 Revolutionise the way you clean up your garden with the Bosch ALS 25 Leaf blower and garden vacuum.
This is a high-quality tool that is designed to tidy up your lawn, walkways, patios and much more all within a matter of minutes.
You can use this tool in two ways, either as a leaf blower to collect leaves and debris or in vacuum mode where you can suck up the waste from your garden.
Once sucked up, the shredder function in the tool breaks down the waste into material that is easy for composting, working at a ratio of 10:1.
The compost is stored in a 45–litre collection bag which is attached to the ALS 25 blower and is made of a special material which is moisture repellent so that it is long-lasting.
The collection bag has a second handle and a zipper to easily empty and reattach the bag.
With a motor power of 2300 watts, the ALS 25 produces a blower flow rate of 800 cubic meter/hour and blow speed of 300 km/hr ensuring that you get rid of waste and debris, no matter how stubborn. The blower speed is adjustable so you can change is according to the strength you need.
Now you know the best leaf blower Australia has to offer, checkout our other guides.
Last Updated: November 6, 2019 by Rhys