So you're looking for the best laptop travel backpack Australia?
Ever since the first Kickstarter campaign for a multi purpose backpack, the market has exploded with dozens of companies offering their own backpacks claiming to be the best.
A few years back, the thought of charging your phone or laptop directly from your backpack was pretty much unheard of.
Now you can do exactly that as well as countless other features such as anti-theft zips to stop pickpockets.
You can also carry laptops up to 17″ in size which covers every model in the Australian market.
Some laptop travel backpacks even offer audio ports to connect your headphones and play music while on the go.
It was hard narrowing down the best five we could find however the ones we've chosen cover a wide variety of budgets.
Best Laptop Travel Backpack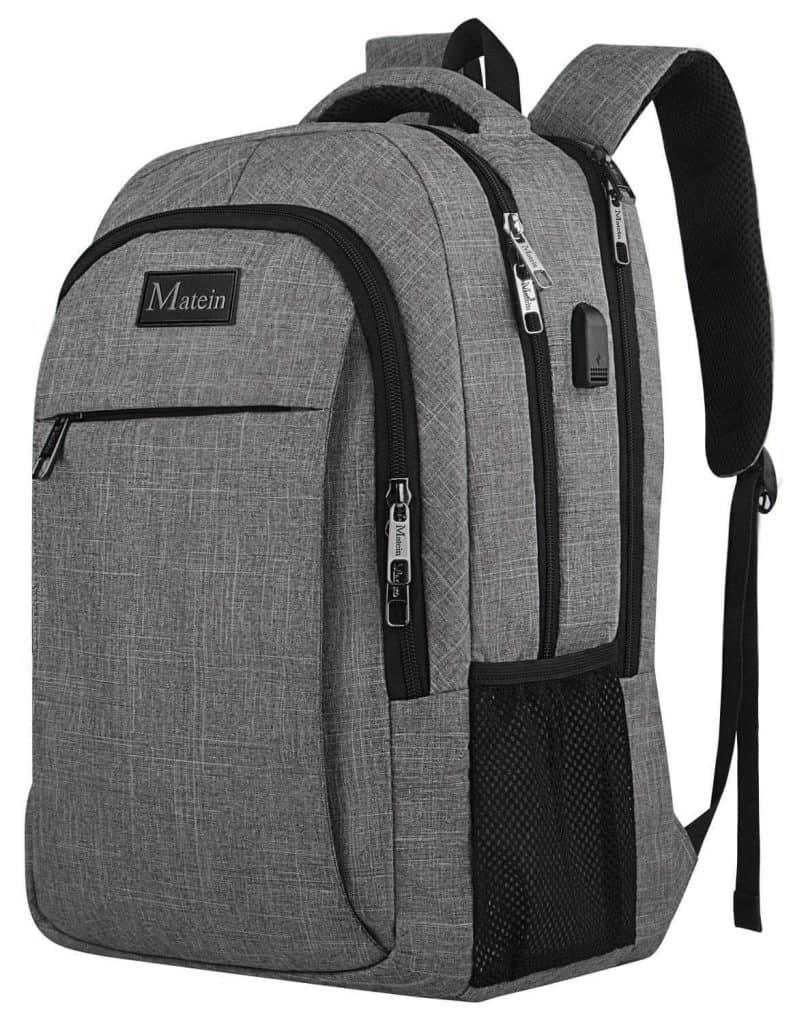 Inspired by the theft of a passport, the Matein anti-theft design gives the intrepid traveller all the peace of mind they need to explore the world knowing that their belongings on their back will still be there when they arrive at their next destination.
This innovative design, which took 2 years to develop, was only launched on Amazon in 2016 but has quickly topped the market as the best-selling travel and other backpacks with sales in excess of one million since their launch!
This top-of-the-range travel backpack by Matein is all you want a backpack to be and has been designed with pretty much all the attention being given to your comfort as a world traveller.
It has so many features to rave about. So where to start?
Well, it has a hidden anti-theft pocket in the rear to protect your valuables from thieves.
It's lightweight, super comfy and very sturdy.
The airflow designed into the back via multi-panelled ventilated padding means that you have maximum back support without the heat that you might get with other backpacks.
The shoulder straps are also breathable and adjustable for maximum comfort.
The backpack is water resistant and durable and is suitable for students as well.
Very importantly the Matein travel backpack has heaps of storage space and pockets.
It has a separate laptop compartment to hold a laptop or MacBook up to 15.6", a spacious packing compartment for clothes and other travel items, and a front compartment with lots of pockets for organizing your other smaller daily necessities like fob for keys, pens, money, phone, etc.
It has USB charging capability so you can charge your phone as you walk.
There are also versatile luggage straps for easy attachment to other items of luggage if you need to.
[wp-review id="815″]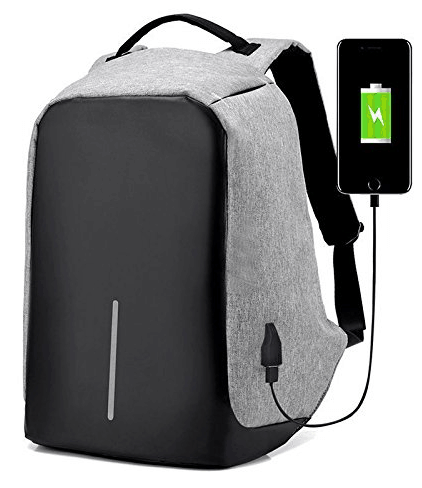 The Ozstock Anti-Theft Smart Backpack is a very affordable durable and versatile backpack for everyday use as well as lengthy travel adventures.
Made of a durable PVC coated polyester, this backpack is built to last. It is tear resistant as well as water repellant.
Ergonomically thoughtful, it has wide padded shoulder straps of a breathable mesh material, and a balanced centre of gravity for a reduced weight feel and a super comfortable experience.
The 10+ compartments hidden compartments which are secured by zippers provide effective anti-theft security and peace of mind when you're out and about.
And the backpack is very spacious and allows its owner easy organization of all their belongings in different sized compartments.
There is even a small zippered pocket on the shoulder strap for quick and easy access to your keys, cards, etc.
An elasticised band across the back gives you the ability to attach the backpack to your suitcase when traveling.
And of course, it has a built-in USB charging port for your phone or other electronic gadgets (although a power-bank does not come supplied with the backpack).
At an incredibly low price point, this travel backpack is a great buy and comes in three great colors: Gray, Blue, and Black.
The Kopack Lightweight Laptop backpack is a clear standout amongst its competitors in this market. At less than 1 kilogram empty it truly is a lightweight, but only in weight! Its design is clever and innovative all round.
The laptop compartment is separate and hidden in the back of the backpack, allowing the wearer to easily access the laptop without revealing any other contents of the pack.
The pocket measures 17.7" x 11.8" so will fit a laptop/notebook up to 15.6" x 10.5". There is a strap to hold the laptop in place and the lock is a D buckle for extra security.
All the other compartments in the Kopack backpack are similarly hidden from public view, including would-be thieves.
And for good measure, the main compartment is protected by a lockable puncture-proof double layer 4 tooth zipper.
There is an easy to access small pocket on the shoulder strap for the stuff you need to access whilst out and about, like cash, cards, phone, etc.
The pack is water repellant (fantastic!) and made from durable nylon which is tear resistant.
And of course, as you'd expect in the current age, the backpack has a built–in USB charger for your electronic devices.
The USB port is sewn into the fabric of the bag and is fed from the power-bank also inside the backpack. The power-bank does need independent charging from a mains outlet.
The pack comes in six great colors.
At the top of the price range for travel backpacks, the Kopack is still well worth the money with many other fab features waiting to surprise and delight you!
The Tzowla backpack is a multi-purpose and multi-usage pack, suitable for many occasions including travel.
Its features include a really big laptop compartment which will accommodate a laptop/tablet up to 17" plus documents and a few accessories that you might need to carry around.
Then there's second large compartment which has several smaller pockets for organizing travel items such as camera, money, tickets, passport, headphones, books, etc.
There is a surprising amount of space in this backpack which reduces those difficult packing choices! There are even pockets on each side for water bottles.
As with pretty much all travel and day-to-day backpacks these days, this one has a built-in USB charger for all your devices and gadgets – phone, laptop/tablet, headphones, etc.
The USB port connects to a rechargeable power-bank via a cable which is sewn into the fabric of the pack.
For the security of your belongings, there are anti-theft features which include combination locks on the compartments and a fixed password system. The steel zippers are an added layer of safety.
The backpack is made of quality durable polyester which is waterproof.
The padded shoulder straps are adjustable for maximum ergonomic support, and the back of the pack has breathable mesh padding for extra comfort.
There is a luggage strap for convenience when traveling with more bags.
The Modar Anti-Theft backpack is an excellent mid–price backpack to purchase for travel or other uses like school or work.
It's a good size for most trips and features pretty well everything you want in a travel bag.
Boasting three main compartments with nine smaller inner pockets and two side bottle holders it will have a spot for all of your belongings up to a weight of around 20kgs.
The laptop sleeve supports a 15.6" device.
It has a USB charging port as well as a headphone jack.
The backpack is made of a durable waterproof material and is designed with ergonomics firmly in mind.
The shoulder straps are 8.5" wide to spread the weight of the bag evenly across the body and thereby relieve pressure.
It has a unique three-digit anti-theft password system.
The Modar comes in three colours: Black, Blue-Gray and Gray.
Where to buy a laptop travel backpack?
Australia boasts a large number of online and in-store outlets selling travel and other backpacks. Focusing on the online marketplace we've looked at the top 10 online retailers which came up on a Google search for a comparison of range, shipping speed and rates and returns policies.
Of the ten looked at, four had a fairly limited range of travel size backpacks on offer and one was Ozstock, which is an own brand stockist.
Of the remaining five retailers we felt that although eBags.com has a very good range of backpacks their delivery charges are exorbitant and turnaround times unacceptable in today's online world.
Mydeal also has a large range but still offers a very long delivery turnaround time. Kogan.com offers a reasonable variety and has some free shipping available. All of these outlets have acceptable returns policies.
That left two outlets: Wildearth.com.au and Amazon.com.au.
Both have extremely extensive ranges of travel backpacks and accessories. Interestingly, Wildearth offers none of the backpacks we've reviewed above yet Amazon stocks all of them.
Wildearth does offer across the board free shipping on orders over $99. Their delivery times are subject to Australia Post services though so delivery will always be a few days and depend on your location. They have a good returns policy. They offer Paypal and also have Afterpay and Zippay options, which many customers do like to take advantage of.
Amazon is a significant retailer in the marketplace generally with an excellent reputation worldwide. It has a huge range and variety of backpacks on offer at excellent prices.
And their delivery options are unbeatable, from same day down to standard, all at very reasonable charges.
Free shipping is available on most items sold by Amazon over $49, with next day delivery often possible.
Amazon Prime members get free shipping on all eligible orders. And Amazon's returns policies are excellent as well.
On balance we'd recommend doing your research and then looking at the best deal you can get on Amazon and perhaps Wildearth. It's likely that these two sites won't necessarily both have the backpack you decide upon.
How does the USB charging work in a backpack?
Backpacks and many other types of modern bags now often have as a feature handy ports for charging your phone, laptop, tablet, and even wireless keyboard if you want.
They're known as 'Powerbags'.
How do they work?
The basic model is one which boasts a power-bank supporting cables which are sewn into the fabric of the bag and provide you with the means to charge your gadgets with iPhone friendly cable, micro-USB cable, even USB ports, located in pockets on the bag. 
The power-bank will need to be recharged because it is a battery supported device. There are two types of recharge: direct access to a power outlet from the power-bank in the bag itself, or removal of the power-bank for plugin to the wall socket.
In addition, you can, if you like, choose to charge all your devices at once (say overnight) by attaching all of them to the power-bank and then plugging that into the wall socket. The devices will charge first and then the power-bank will charge itself.
Note that Powerbags do differ in the number and types of outlets for charging they have and also the size of the power-bank (battery). As with any purchase, It's important to check the specifications to ensure you are getting all the features you want.
Why should you buy a travel backpack?
If you're a traveler, or a keen hiker or camper, a good travel backpack will make your life so much easier.
The better quality travel backpacks allow you to organise all your goods and chattels in a weatherproof space on your back, freeing your body up for walking and enjoying the sights and sounds around you.
They will have pockets and compartments for everything from your laptop to your toothbrush.
They will be ergonomically designed for your best comfort – with weight-spreading, airflow and padding features to reduce your consciousness of the weight you're actually carrying.
They will have security features to ensure that your valuables can't be stolen from behind your back, quite literally.
And you won't need to worry about your phone or laptop running low on charge because there will be a handy USB port connected to a rechargeable power-bank to let you charge your devices as you walk or between night stops.
So there are a few really great reasons for investing in a travel backpack, and to be honest they are not a big investment!
What
size laptop
 can you fit in a travel backpack?
You will generally be able to find a travel or other modern backpacks to fit any size laptop you own. You will need to measure your device and then check the specifications of the backpacks you've shortlisted to make sure they will take the laptop or tablet you own.
If you don't have the paperwork that came with the laptop you have it's easy enough to check the dimensions online. And don't forget the weight – that's important too as the smaller or more lightweight backpacks may not have the strength to hold a heavy device with sharp corners over lengthy periods of time.
Having said all of that, modern travel backpacks are designed with laptops in mind and the majority of the larger ones have the capability of carrying a device up to 17" without issues.
Now you know everything there is about the best laptop travel backpacks checkout our other guides.
Last Updated: November 6, 2019 by Rhys