Latest posts by Jill Saunders
(see all)
This article we'll be looking at the best kids travel pillow Australia and how these crafty inventions can help your child to sleep pretty much anywhere.
If you're looking for an adult travel pillow, then checkout our guide here.
It seems like every one is travelling these days and Australia is fairly isolated so heading overseas usually means a long flight. Even flying Melbourne to Darwin is nearly 5 hours!
Aeroplane seats are getting more and more comfortable but face it, they are not designed for sleeping upright.
Some airlines have those pointy side bits on the seat that allow you to form your own pillow but these aren't designed for kids.
Flying on a budget airline you can probably assume there will be nothing of the sort. Many travellers then resort to those blow up neck pillows that airport stores make a fortune from.. selling them for $15 when they cost $2 at the local dollar store.
The blow up neck pillows are uncomfortable and smell pretty bad.. straight outta the Chinese factory. Then there's the slightly more comfy neck pillows that retail up to $40. Best Five has gone even better with these epic kids travel pillows.
Best Kids Travel Pillow Australia
You can buy a kids travel pillow from many retailers including Big W, Target and Kmart but we've found the best place to buy high quality, branded pillows is from Amazon.
They have the patented, world famous BCOZZY kids travel pillow which gets raving reviews from nearly everyone who buys one. Amazon ships most products fast (and free if you're a prime member, free trial).
The BCOZZY comes in sizes suitable for adults as well as children (three – eight years).
The BCOZZY Kids Travel Pillow is a patented design specifically to support a child's chin, neck and head while sitting in planes and cars for long periods.
As a travel pillow though the BCOZZY Kids is an excellent product for both adults and kids. With overlapping arms under the chin, it encases the entire neck and supports the head, neck and chin whatever position the child is sitting or sleeping in.
It prevents the head from falling forward which saves the child from waking unexpectedly or from experiencing neck pain. The side cushions also prevent the head from falling sideways.
The BCOZZY is adaptable, by twisting and shaping alone, to fit any child from age three to eight years, so even though it is a bit pricier than its competitors it should last a lot longer.
And because it's filled with machine washable polyester fibre, that may happen despite the worst that your child can throw at it! And it has a handy snap strap to attach it to other bags.
Highly recommended.
[wp-review id="1025″]
The Go-Travel Kids Lion Neck Travel Pillow is a soft and cuddly neck and head support for smaller children (six months and upwards) on long trips.
It's made to support the child's head and neck so he can lie, sit or sleep comfortably on long trips.
The pillow is too bulky at the back of the neck to be used when the child is in a capsule or car-seat for safety reasons, and reviews suggest that it is quite small so it is really confined to use by young children on plane flights, or perhaps in their strollers.
The Lion Neck Travel Pillow certainly has a fun look and children would love to play with it, but when in use the lion's head is at the back of the child's neck so it's difficult to see how much fun it would be in reality.
It's sure to be a fun pillow for a child to have when on a long car ride or plane trip, and anecdotal evidence certainly suggests that these soft toys and pillows are all good for helping a child to settle down to sleep and doze off, but whether they provide much neck support is debatable.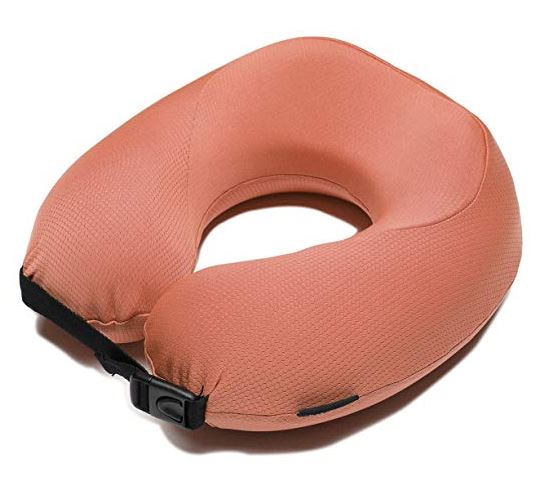 The Smartrip Adjustable Neck Pillow is perfect for everyday use as well as travel, for older kids as well as adults.
The patented adjustable strap and clip (also handy as a luggage clip) allows you to fit the pillow perfectly around your neck and between your chin and shoulders for maximum support and comfort depending on your particular need at the time.
So you might have the pillow fit more loosely when your child is sleeping in bed than when you're sitting in a car or on a plane.
The memory foam filling means that the pillow quickly moulds to your childs individual head, neck and shoulder curvature. And the breathable wicking fabric provides a welcome cooling and fresh effect.
The cover can be removed and washed in the machine, but do not wet or wash the inner filling of the pillow. The Candlelight Peach colour has been carefully chosen to enhance sleep.
Being memory foam, the Smartrip pillow is not ideal for younger children as they are too small and light to benefit from that aspect of it, but teenagers can certainly use this pillow.
Reviews are very favourable, particularly as to its comfort and price. And the price is surprisingly low price. Certainly recommended as a travel pillow to try, but perhaps not for smaller children.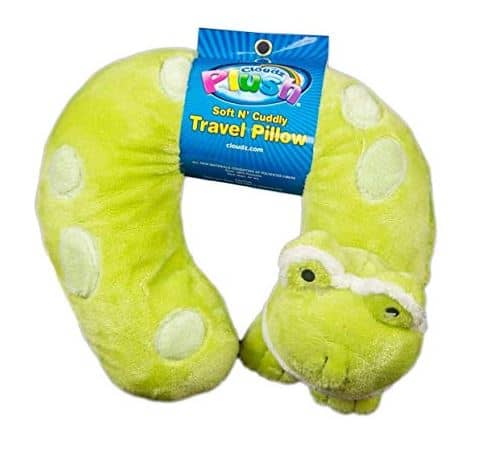 Cloudz Plush Animal Neck Pillows are plush fun pillow friends for kids on the go! Designed for support and comfort when the kids are with you in the car or on a plane, or just at home while you're busy with chores.
Made with premium polyester filling these animal neck pillows are designed to support the child's neck so they are more comfortable while sitting and sleeping for long periods in the car or on a plane.
They also provide quite a lot of fun and distraction by being wonderfully cute, colourful, cuddly, soft, and interactive.
Reviews are a little mixed but overall the verdict seems to be that these pillows are very well received by younger children and that they do serve their purpose of providing a lot of play and some useful encouragement around sleep during car and plane trips.
The pillows seem to stand the test of time and are a good size for a young child's neck. The criticisms were around issues such as the pillow not having anything to secure it around the child's neck, but perhaps the manufacturer will take that on board.
The Cloudz Plush Animal Neck Pillows come in a variety of different animals and colours, and at a reasonable price.
The Yomao Travel Pillow is a unique and highly unusually designed travel and relaxation pillow. Made from soft latex memory foam, it has flexible 'arms' and 'legs' with adjustable straps to fix it onto your seat at work, in your car, on the plane or at the office.
Or you can simply lay it on your bed as a pillow to rest your head and neck on at night to get a good night's sleep.
The design is intended to correct your upper body's posture through extension so that you don't suffer from the aches and pains of muscle stress and tension.
The memory foam (super soft latex) is very elastic and soft. It is durable and will not deform over time. And the entire pillow can be folded into a small carry bag (measuring 6" x 8.2").
The latex core cannot be washed but the removable cover is machine washable.
And now for the biggest surprise: it works for the kids as well! Probably because it is so soft, flexible, small and versatile it can be adjusted to fit around small heads and necks with the straps and tapes just as well as adult size bodies. And it's safe. It may not be fun but it works. And it appears to be a therapeutic pillow as well.
The Yomao pillow comes with a 100% quality warranty.
This is a perfect travel and everyday pillow at a price you won't believe.
Is a travel pillow worth the money?
Travel pillows for kids are not, on the whole, inordinately expensive. On average $15 – $30 will buy a good quality pillow. Certainly, you can spend quite a bit more if you want to but you don't have to.
Whether it's money well spent is really a personal decision. When travelling with children, especially over long distances in cars, buses or planes, their mood is a pretty important consideration. Your own enjoyment of the holiday will depend to a large extent on that of your children.
So if your kids don't travel well historically, perhaps it's time to think about travel pillows.
Travel pillows are designed to ease the discomfort of sitting and sleeping (or at least trying to sleep) whilst in a car or on a plane on long journeys.
They have been used by adults for many years and are now (very sensibly) being designed for children.
Anyone who has travelled with children understands that it is a challenge even with the most good-natured of kids. You might get them off to sleep, but we all know how stiff and sore we can feel when we wake up in those positions. And grumpy!
Enter the travel pillow. The challenge with children, of course, is that they are not tall enough for their head and necks to rest at the top of the seat. You need a pillow which is designed for kids – don't try to adapt an adult travel pillow.
There are a lot of different designs of travel pillows on the market these days. You know your child the best and will be able to tell which design will suit him the best. When you do give it a go, you will almost certainly notice the difference it makes to his mood and the length of time he sleeps. If not, it's not a lot of money lost.
How do you use a travel pillow?
On the market these days are kids' travel pillows for the neck, legs, car seat-belt, and so on. As with everything we buy for our kids it can be a case of trial and error, although equally, most kids will feel the benefit of any one of the pillows you decide to try.
Obviously, it's imperative that you be age appropriate in your choices. Research is important. Think about the positions your child prefers to sleep in and where the pillow might best be positioned to support him/her.
Most children over the age of around twelve months or so, as with adults, prefer to use the neck pillows, for pretty obvious reasons.
Support of the chin, neck and head provides the most obvious amount of comfort simply because that's the part of our bodies which bob around and cause stress and strain. It's also why most travel pillows are of that design.
Children don't have the weight or neck strength to benefit from memory foam so forget that idea. Blow up pillows are not ideal either because they are also fairly stiff once inflated and will restrict the child's movement.
If your child moves around a lot a filling of polystyrene beads might be a good choice because they quickly adapt to the child's changing position.
The ability to wash the pillow cover is also something you may want to consider (spillage and other messes are inevitable with children).
Travelling with children is hard work at the best of times – make sure that the pillow can be easily attached to, or stored in, your other luggage.
And finally, if you are using a neck pillow in a car-seat, it must be flat enough so that the safety of the car-seat is not compromised.
Checkout this how to guide to using one.
Are travel pillows good for neck pain?
Well-designed travel pillows are excellent for reducing, perhaps even preventing, neck pain whilst travelling for long periods, or even for those who suffer neck pain to use as an aid when driving or sitting at work or home. Some people even sleep with travel pillows.
Support for the head, neck, chin and shoulders can go a very long way to preventing the muscles, tendons and ligaments from becoming tense, stiff and sore when being held in the one position for lengthy periods.
The head is a very heavy and unstable part of the body, and the neck is a relatively slender support for such a heavy and unpredictable object!
Clearly, not every travel pillow on the market is going to be a therapeutic neck support, although we would like to have the same characteristics in each!
A good ergonomic and beneficial neck support pillow needs to be designed to support the natural upper back and neck curvature.
We would generally look at adult travel pillows for neck pain relief, partly because of issues such as the filling and the specifications. Children are still growing rapidly. And they are just more flexible than adults are.
Whilst the aim of a good travel pillow is to reduce their discomfort and help them relax and sleep, the pillow is a seasonal purchase – they will grow out of them each year or two and any attempt to include more than a minor therapeutic benefit into the choice may be a little optimistic!
Should I buy a blow-up or memory foam travel pillow?
There are four main fillings for travel pillows: memory foam, water, polystyrene beads and air. The choice as to filling firstly depends on the type of pillow you're buying.
If it's as a bed for the child to lie on then any of the fillings will suit.
A footrest pillow can also be filled with any of the four without too many problems.
If you're looking at neck support pillows then the choice is much more important. For adults, memory foam is great for the same reasons we love it as a mattress filling. But for children, it's not a good choice.
Kids simply do not have the neck or head strength to mould the memory foam into the shape to support them properly. What ends up happening is that you make the problem worse for them because they'll feel like they're leaning against a brick.
Ideally, a neck support pillow should be a bead filled pillow simply because it is so responsive to the child's shape and movement.
If you're going to go for a blow-up pillow because of the compact travel factor (and that certainly is an advantage of these and the water-filled option) then don't over-inflate either of these.
The pillow needs some flexibility to shape around the child's neck and head. And perhaps pack a spare because one nick and these pillows are no longer viable!
Be sure to checkout our other product and consumer guides at bestfive.com.au
Last Updated: November 6, 2019 by Rhys