Latest posts by Jill Saunders
(see all)
The film camera never dies, I'm sure you've heard that expression before and even in Australia the movement is thriving with film camera's a hot commodity.
Today we're looking at the best film camera Australia has to offer. We couldn't narrow it down and there's only really two companies in the country that still make film cameras with modern technology.
Those brands are Fujifilm Instax and Polaroid.
Best Film Camera Australia
We found all our film cameras over on Amazon.com.au which offers fast shipping nationwide and an easy to use returns process if there's any issues.
You can however buy cameras such as these from camera retailers and places such as Kogan, JB HiFi, Harvey Norman and BigW.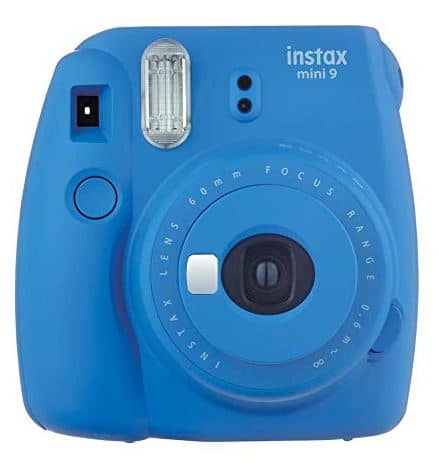 You can now capture any moment instantly with the Instax Mini 9 Camera. This camera instantly produces a Polaroid of your favourite moments in a matter of minutes.
All you need to do to operate this camera is to turn on the power of the camera, which is located beside the lens, adjust the light dial and click the shutter button to take a picture.
The dial around the lens allows you to adjust the brightness of your photos. You can choose from various options such as indoors, cloudy, sunny/ slightly clouded and sunny/ bright, plus an additional High-Key setting that allows you to take pictures with a softer impression.
This camera also has light sensors that help you decide which setting your dial should be on depending on the amount of light present.
You can take pictures with the close-up lens attachment that allows close-up shots that are up to 35 cm away. This would come in handy when taking selfies and combined with the front selfie mirror, you can check your framing so that every selfie ends up being the perfect one.
The Instax Mini 9 Camera comes in five vibrant colours, a colour to suit anyone. So, grab your Instax and start clicking.
[wp-review id="1071″]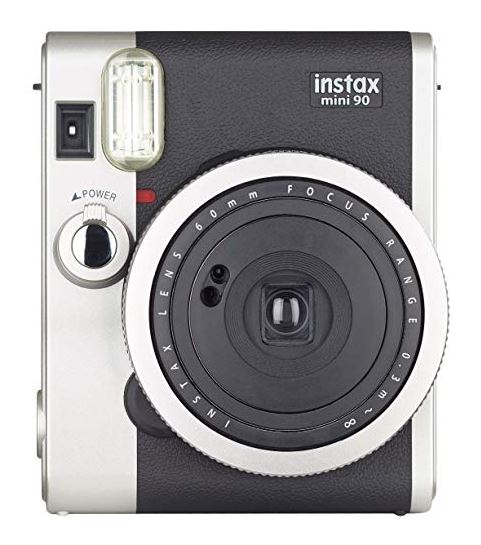 Go back to the traditional way of taking a picture with the Fujifilm Instax Mini 90 Neo Classic. With the attractive exterior of a traditional analog camera, the Neo Classic allows you to instantly take a photo of any moment, making the favourite keepsake.
With the various modes, you can unleash your creative side. In bulb exposure mode, the shutter of the camera stays open while the shutter button is pressed, allowing you to capture impeccable night shots and light streaks.
On the other hand, the double exposure mode allows you to superimpose two different pictures into one frame, giving an artistic flair to your pictures.
In party mode, you can capture the background as well as the subject of the picture brightly. The last mode, kids' mode, is best when you are trying to take pictures of kids, pets or other fast-moving subjects as you don't have to worry about having the subject stay still.
A great feature to compliment the various modes is the MODE dial that lets you switch between modes with eat. The high-performance flash ensures that all your pictures films have the ideal amount of light to capture the perfect picture.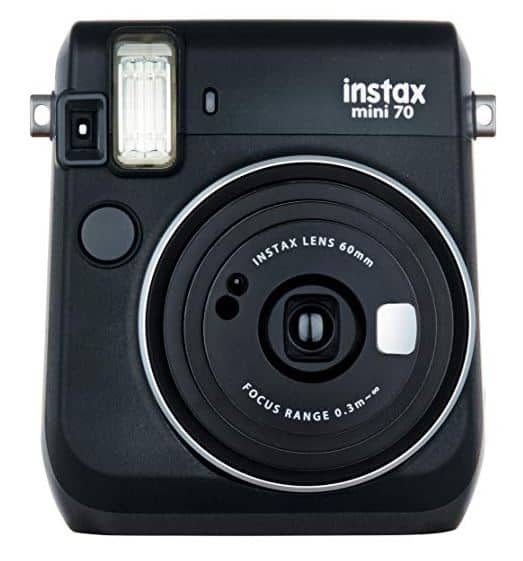 The trouble with digital cameras is that you don't get to instantly get a physical copy of your photos. However, with the Fujifilm Instax Mini 70, you can take a picture, and have it developed right in front of you in a matter of minutes.
The new stylish exterior of the Instax camera makes it the best travel companion or fashion statement. It is now even easier to take pictures of yourself using the new 'Selfie' mode for getting the perfect selfies.
All you need to do is press the selfie button and the camera will automatically adjust to obtain the optimal focal length and brightness for your selfie.
You can also use the selfie mirror to ensure you get your perfect angle in the frame. So, all you need is the camera and yourself, and you're good to go.
The Instax Mini includes great new features such as Automatic Exposure Control which can capture not only you but the background in impeccable clarity, giving your photos a natural brightness.
If you need a bit of extra brightness, the Hi-Key mode will brighten up your subject to get the perfect shot, so no more dark photos.
If you're after a film camera that is guaranteed to give you perfect photos with every click, then the Olympus Accura View Zoom is the best pick.
This camera has an extra-large viewfinder with a high resolution 38mm-70mm 2x zoom lens. This enables you to see clearly and frame your subject with ease, while the power zooming lets you perfectly composition the light according to your surroundings.
The Olympus Accura is fully automated as it conveniently adjusts the autofocus, auto exposure and auto flash to take the best quality photo.
Combined with the red-eye reduction feature, you'll get your photos looking like exact replicas to reality. No more washed out faces with red eyes!
The built-in self-timer allows you to set up the camera and take photos with the whole group with you in it as well. If everyone isn't able to fit the frame, fear not because you can switch the camera to landscape mode to capture more within the frame.
This film camera is small and portable so you can take it with you when you're on the go. The sliding barrier protects the lens from dust and scratches making it more durable for an on the go photographer.
With everyone having a camera on them these days, how often does the digital picture on your phone make it to a film format?
Hanging digital photos is near to impossible so that is why the Polaroid One600 Pro Instant 600 Film Camera comes in handy for an instant photo to capture the moment.
All you need to do is take a picture at the click of one button and you can hang your pictures straight away once it is developed.
No need to even visit a photoshop to develop your photos as the magic all happens in the comfort of your own home on the Polaroid 600 Instant Film.
Because this camera is small and compact, it makes it perfect for you to take while you're on the go, whether it be on vacation, on a night out or just hanging with your loved ones.
Features like the built-in auto flash, fixed-distance lens and the self-timer functionality give you a better photo taking experience to capture those precious moments and ensuring that each photo is if the highest quality.
The red-eye reduction also ensures that your photos are perfect with no flashback.
Be sure to checkout our other consumer guides before you leave.
Last Updated: November 6, 2019 by Rhys