Latest posts by Jill Saunders
(see all)
So you're in the market for a new laptop or Chromebook? Maybe you are still on the fence and unsure what you actually need for studying.
If your sole purpose of buying a new device is to use a web browser and a document creator such as Microsoft Word then why would you need to spend $1,000+ on a fancy laptop.
A Chromebook offers the exact same functionality as a laptop, you can even run the entire Microsoft office suite, watch movies and stream videos on Youtube. You can't however install Windows applications.
Difference between a Chromebook and a laptop?
A Chromebook functions as a laptop in all areas with the only distinction of running a Chrome operating system, more commonly referred to as Chrome OS.
It does not support software and programs which are built for Windows or Mac OS. Additionally, all applications built to run on Chrome OS are available on the google play store.
The Chrome OS is built around the Chrome Web Browser with the concept of internet doing all the major processing and the device only serves as a medium of interaction.
Hence, a Chromebook can match the performance of premium laptops with less, often far more cheaper supporting hardware, thus lowering the price you will pay. 
On the contrary, Windows and Mac OS are enterprise operating systems built to perform offline and run software tailored for design, development, and editing.
You do not need an internet connection to use your device. You do the first time but you can still login and work away without Internet but to save to the cloud you'll need to be connected.
Best Chromebooks For Students
We've reviewed five of the very best Chromebooks for students in Australia. These can all be purchased from Australian sellers and come with an AU/NZ approved power pack and plug.
Most come with a one year retailer warranty and may include an extended manufacturer warranty so check before buying to see your coverage.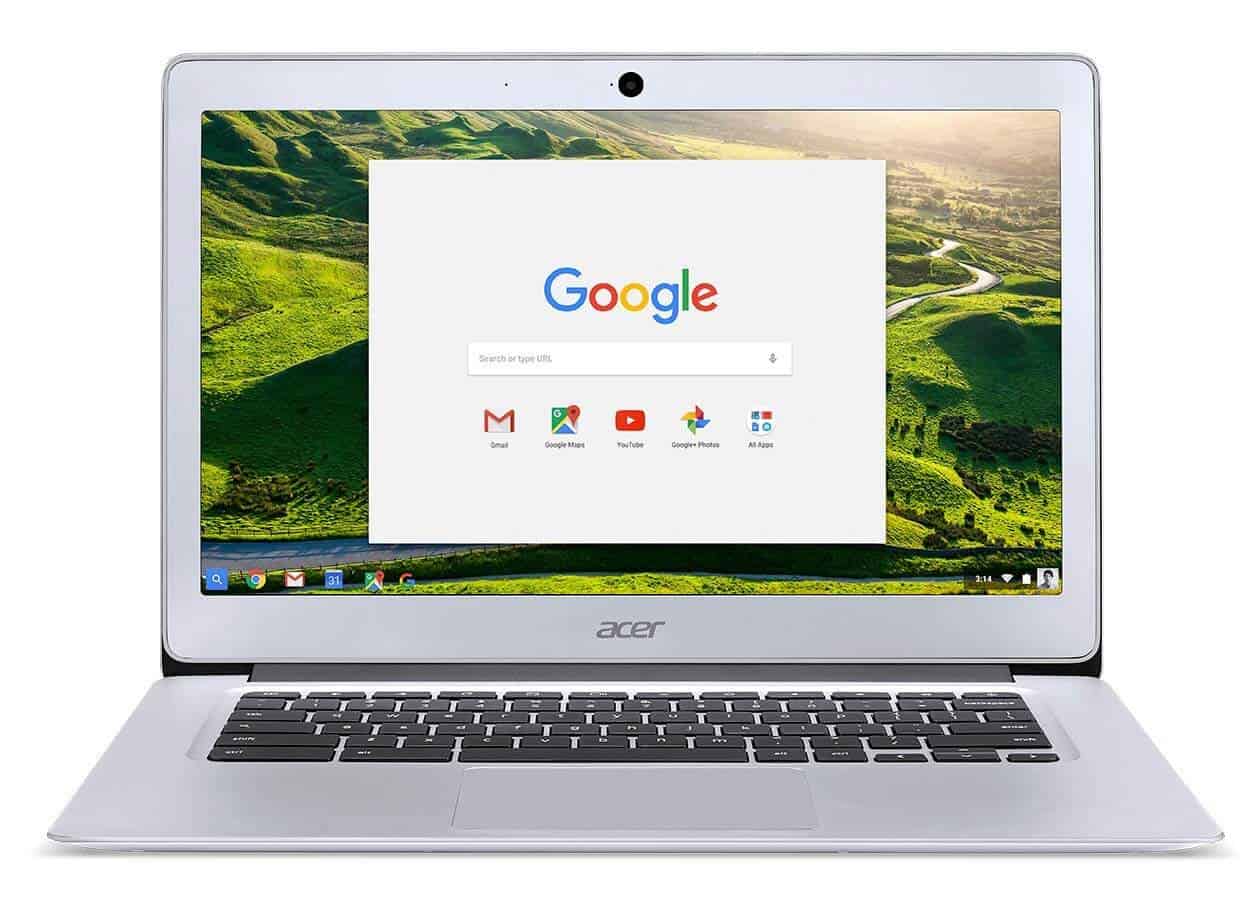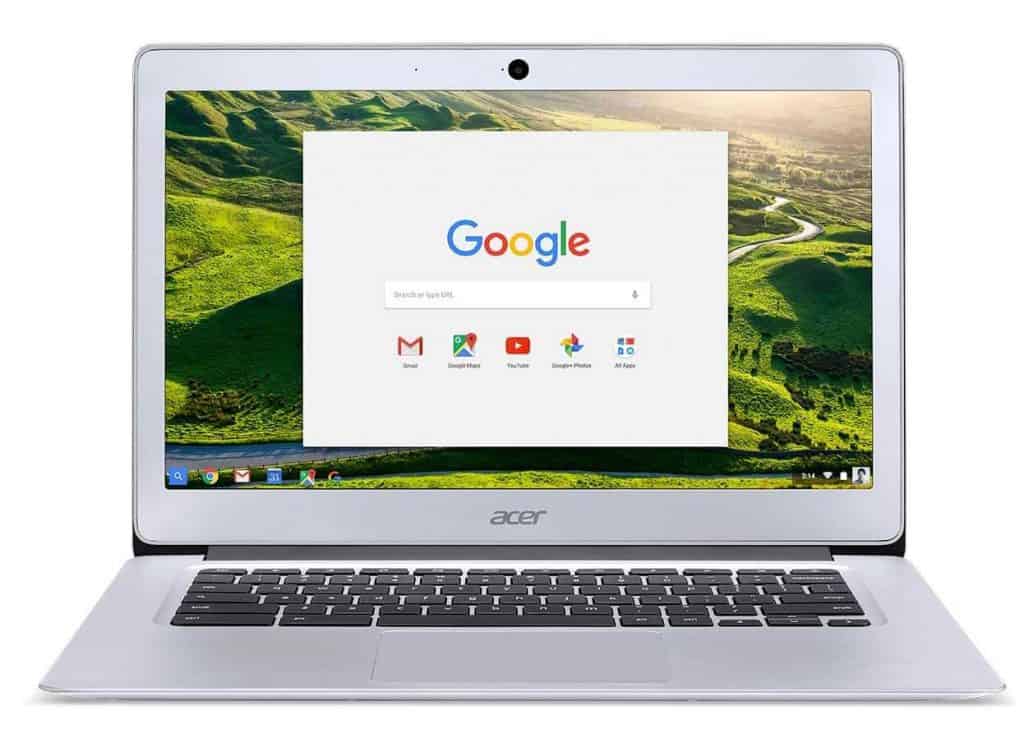 The Acer N3160 Chromebook is one of the best 14-inch Chromebook's out there in the market. It is powered by a strong Intel Celeron quad-core processor with speeds of 1.60 GHz and a RAM of 4 GB. This will allow fort an uninterrupted and smooth user experience.
Additionally, Acer N3160 comes across as an iconic style thanks in part to it's metallic white coloured casing.
The 14-inch screen size is packed with a beautiful anti-glare Full HD 1080p IPS LCD display. This allows for a video viewing experience you might have come to expect from more pricier Chromebooks.
The Acer is powered by a reliable battery with a extra long battery life of up to 12 hours. This gives users ample viewing time for movies or browsing.
Furthermore, to store all your favorite movies, the Acer N3160 Chromebook comes with a 32GB hard drive, however an external hard drive can be connected. 
The Acer N3160 Chromebook offers high speed wireless speeds with the internal wireless card. Acer boasts about their newest technology online and that it has enhanced wireless speeds to incorporate features like video-calling or conference calling on questionable internet connection speeds.
On the whole, the device is a good fit for today's fast-paced student community. It's worth is rightly accessed on Amazon with a 4-star consumer rating.
[su_table]
| | |
| --- | --- |
| Feature | Specification |
| Screen Resolution | 14″ Full HD (1900×1080) |
| RAM (Memory) | 4GB LPDDR3 Ram |
| Processor | Intel Celeron N3160 |
| Hard Drive | 32GB SSD |
| Battery Life | Up to 12 Hours |
| Ports | 1 x HDMI, 2 x USB, 1 x Audio |
| Weight | 1.68kg |
| Special Feature | None |
[/su_table]
[wp-review id="721″]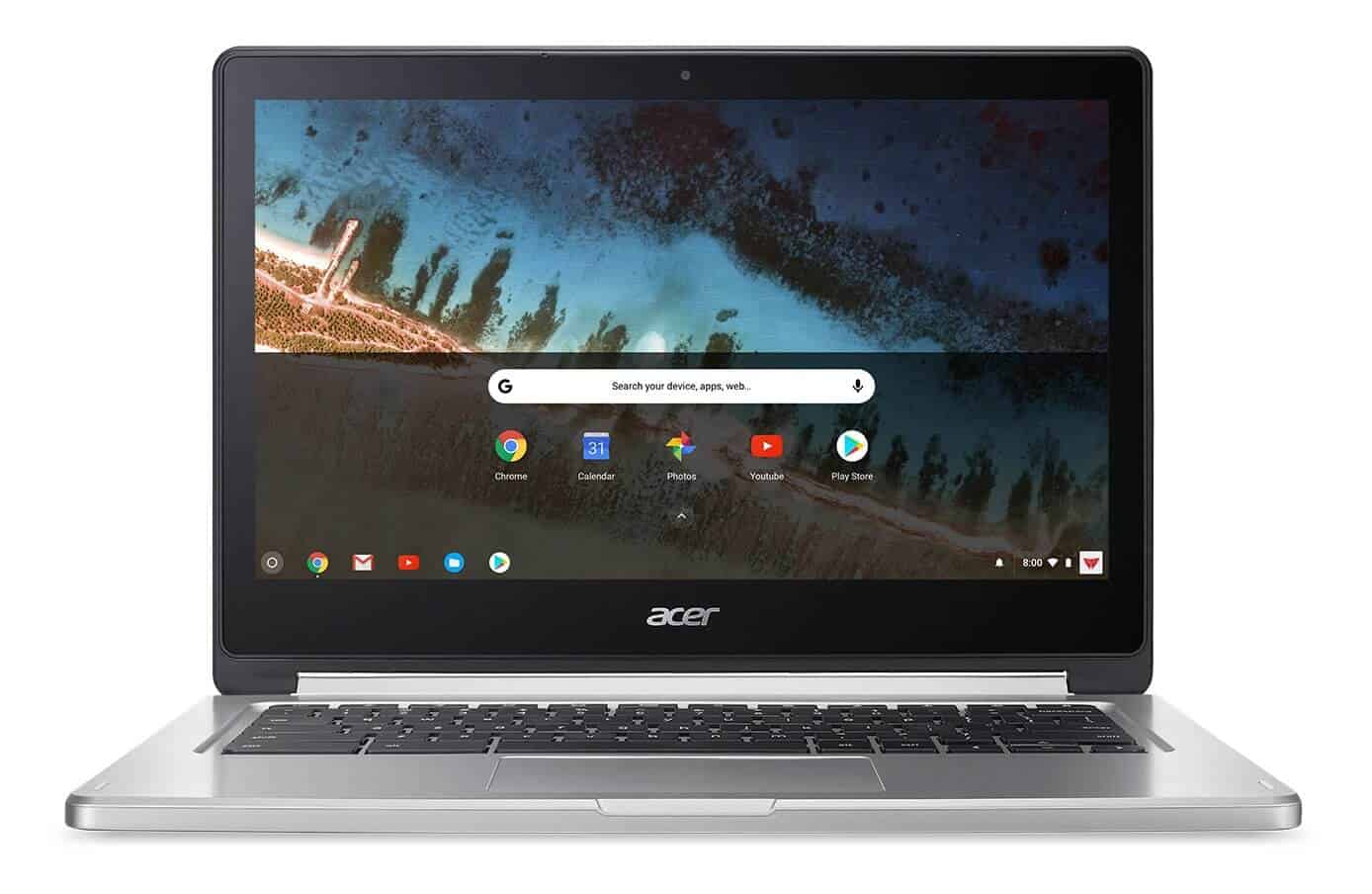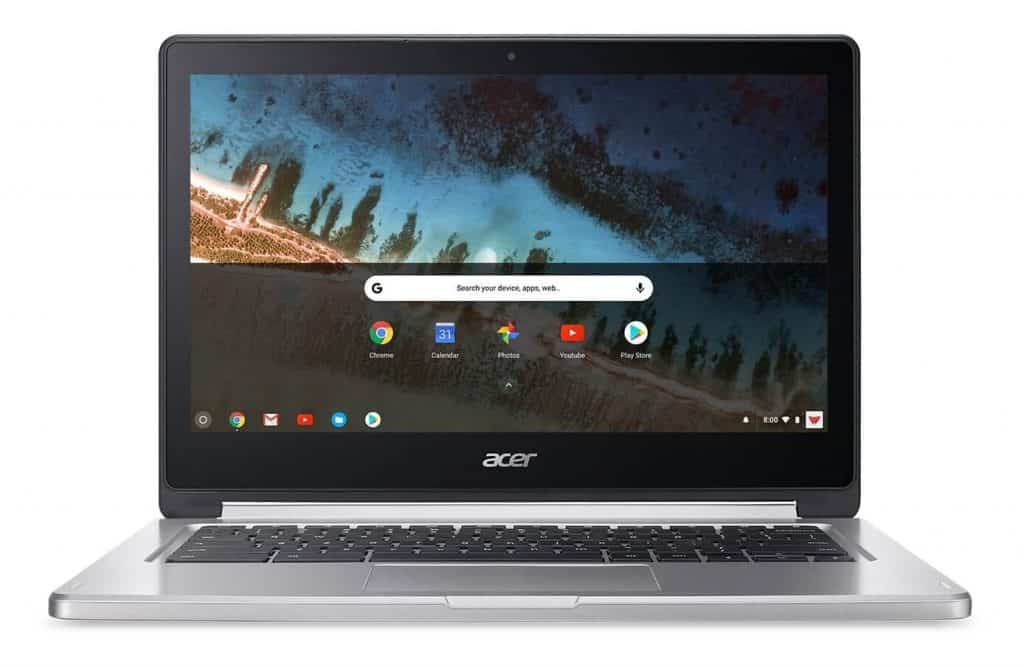 One of the most popular convertible books in the market is the Acer Chromebook R 13. It serves as a slightly heavier, weighing over 2.2 pounds device but offers multi-use functionality. 
The R13 looks sleek with a metallic silver casing, black keys and a black screen with small Acer logo. 
The R 13 convertible has a MediaTek MT8173C Core Pilot Quad-Core and an ARM Cortex-A72/A53 Heterogeneous Multi-Processor. These processors are a fast, paired with a 4GB RAM offering flawless online streaming experience and multi-tasking.
The 13-inch display is a Full HD display with 1920 x 1080 resolution. The display is also supported by a backlit-LED panel which also serves as a touch screen. There's not many Chromebooks that offer touch capabilities, especially at such a reasonable price. 
Like most newer Chromebooks, this particular one offers a 32GB solid-state drive which can be expanded by using the microSD slot on the side or a USB hard drive.
The one USB port can be problematic and a USB Hub may be required.  
Some features like HD-webcam and a display port allowing you to connect to a monitor, along with 12-hour battery life are key for students picking a suitable Chromebook.
The Acer R 13 convertible has all the features a student needs while being slightly heavier than other Chromebooks, but you do get touch screen! 
[su_table]
| | |
| --- | --- |
| Feature | Specification |
| Screen Resolution | 13.3″ Full HD (1900×1080) |
| RAM (Memory) | 4GB LPDDR3 Ram |
| Processor | MediaTek M8173C 2.10GHz |
| Hard Drive | 32GB SSD |
| Battery Life | Up to 12 Hours |
| Ports | 1 x HDMI, SD, Audio, 1 x USB-C |
| Weight | 1.49kg |
| Special Feature | Lightweight |
[/su_table]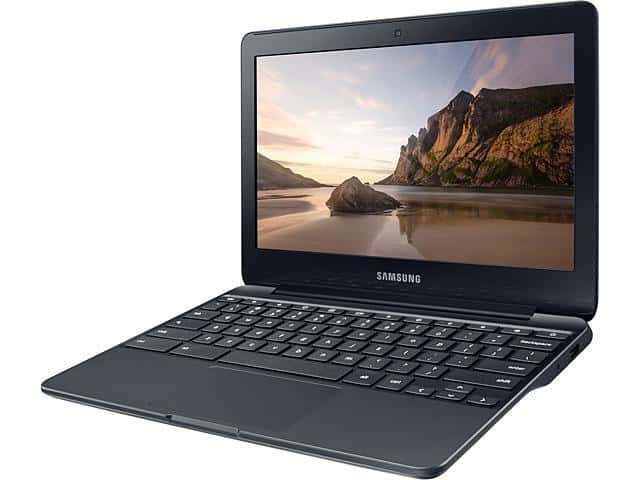 The Samsung Chromebook is a budget friendly device that offers just an 11-inch screen that does supports HD quality however the maximum screen resolution is only 1366 x 768.
Samsung is trying to overcome this by having a screen anti-glare along with image enhancer technology but this laptop won't be suitable for every student. 
Most students prefer a 13.3-15.6″ screen and those extra 2 inches are very obvious on a Chromebook. However if you're looking for a device to travel or take notes in lectures this could be what you're looking for.
The build quality is obvious and sleek with a dull black finish giving a subtle but classy look. Samsung also rendered a solid-state drive with 16 GB of internal memory paired with 2 GB of RAM.
This kind of specification may leave you wanting more from the unit and may struggle with streaming content.
This might be one of the best Chromebooks for those getting started with the Chrome OS and the Google ecosystem of computers. Samsung Chromebook 3 lasts up to 11 hours on a single charge which is more than sufficient for all students.
The device is backed by the Intel Celeron N3050 processor which is reasonable given the price of the device.
This device cannot handle intense multi-tasking.
The Samsung 3 can surprise you with how much it can accomplish. If you require to watch movies or video conferencing, then I'd skip this one. 
No HDMI or Display Port may be an issue if you want to connect to a monitor.
[su_table]
| | |
| --- | --- |
| Feature | Specification |
| Screen Resolution | 11.6″ HD (1366×768) |
| RAM (Memory) | 4GB LPDDR3 Ram |
| Processor | Intel Celeron N3060 1.6GHz |
| Hard Drive | 16GB SSD |
| Battery Life | Up to 11 Hours |
| Ports | 2 x USB, 1 x Audio |
| Weight | 1.49kg |
| Special Feature | Spill Resistant Keyboard |
[/su_table]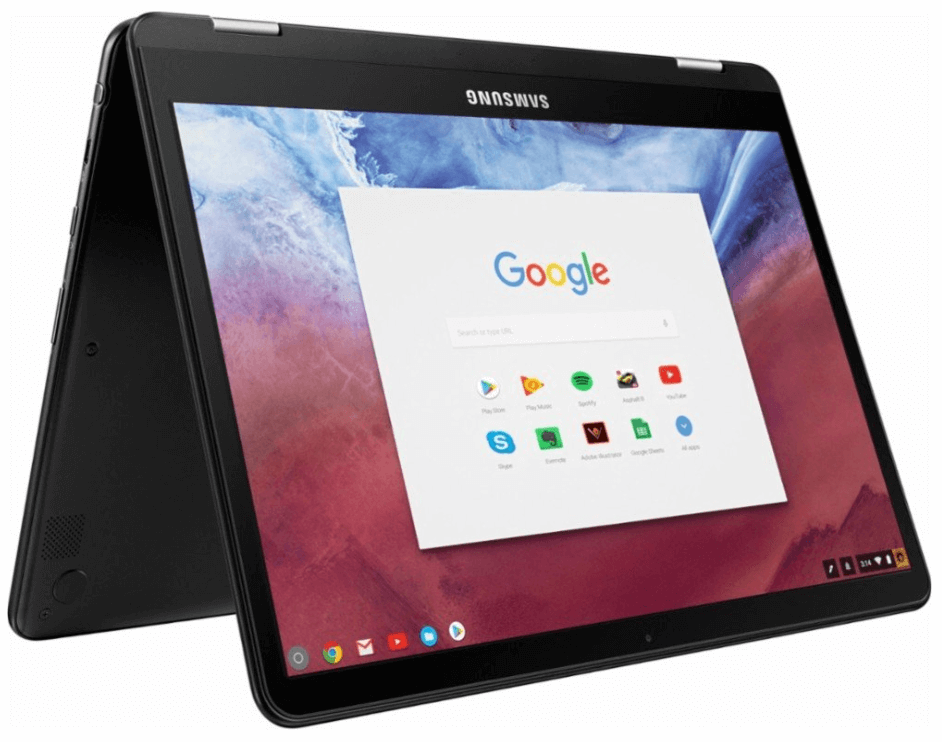 Samsung has delivered a top end device with this Chromebook.
The Samsung XE510C24-K01US Pro comes with a 2.2 GHz Intel Core M-5Y10 Processor which is a powerhouse of a processor packed into a Chromebook.
It can intensive streaming, game play, video-calling and multi-tasking without struggling and the 4 GB DDR3 RAM also aids the processor with a smooth and professional experience.
The 12.3-inch display has a max resolution of 2400×1600 pixels and is considered the best in-house viewing experience.
Samsung has incorporated a 32 GB eMMC solid state drive as storage capacity for users to easily download movies and shows to watch offline as well. This can be expanded with an SD slot or USB-C hard drive. 
The build quality looks great with a metallic grey finish. The device comes with a built-in pen for real-time note-taking and other uses. This makes the Samsung Chromebook Pro an ideal fit for students.
This device claims 9 hours of battery life which is a big achievement since it comes with such a high quality screen and resolution.
Comes with built-in stylus for touch screen. You will however need to buy a USB-C to USB adaptor and if you want to connect a screen then USB-C to HDMI or DP cable.
[su_table]
| | |
| --- | --- |
| Feature | Specification |
| Screen Resolution | 12.3″ Full HD (2400×1600) |
| RAM (Memory) | 4GB LPDDR3 Ram |
| Processor | Intel Celeron N3060 1.6GHz |
| Hard Drive | 32GB eMMC |
| Battery Life | Up to 9 Hours |
| Ports | 2 x USB C, SD Reader, Audio |
| Weight | 1.08kg |
| Special Feature | Touch Screen, Built In Stylus |
[/su_table]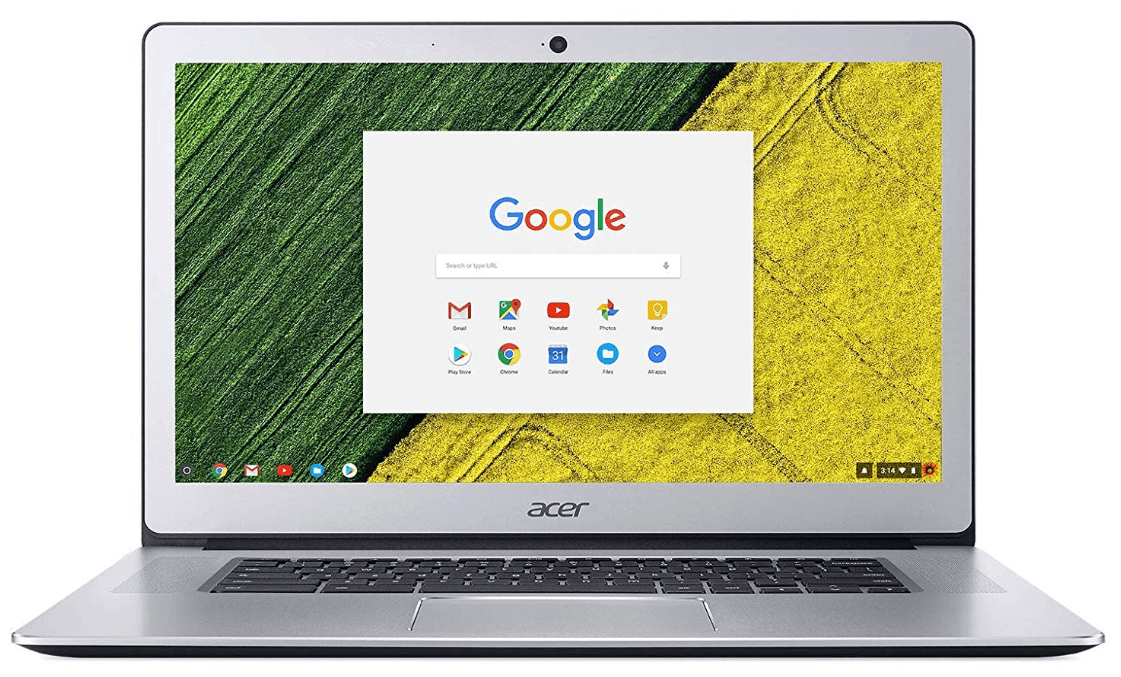 For students looking for a larger screen on their Chromebook then the Acer Chromebook 15 provides exactly that. It has a 15-inch display. 
This white sleek machine has a maximum screen resolution of 1920 x 1080-pixels and offers a modest 1.5 GHz Intel Celeron processor. It's easy to multi-task, stream videos and even watch movies on this device. 
The device comes with a solid-state drive of 16 GB storage, expandable by the SD card reader. Further, 4 GB of RAM to support daily usage is ideal and serves the purpose of interrupt free usage of the Chromebook.
This is the heaviest Chromebook on our best five list weighing nearly 2 kg which may be problematic carrying in a backpack.
However you're buying this for the screen and similar to laptops, heavier laptops usually have larger screens. Battery life of 9 hours on a single charge is lower than some others but a fast charger is included to get you back up to 100%.
As a large screen Chromebook, it's a worthy option for any student. 
[su_table]
| | |
| --- | --- |
| Feature | Specification |
| Screen Resolution | 15.6″ Full HD (1920×1080) |
| RAM (Memory) | 4GB DDR4 Ram |
| Processor | Intel Pentium N4200 Quad 1.1GHz |
| Hard Drive | 64GB SSD |
| Battery Life | Up to 12 Hours |
| Ports | 2 x USB-C, 2 x USB, 1 x Audio, MicroSD |
| Weight | 1.8kg |
| Special Feature | High Performance |
[/su_table]
Can I use Microsoft Word on a Chromebook?
Microsoft offers a specific web-based Microsoft office inclusive of Microsoft Word, PowerPoint, Excel, and other programs via Office 365.
So, yes you can use Microsoft Word on a the device, which is a web-based word program. It is similar to that on windows but with additional features of saving and online editing catering to the Chrome OS.
This functionality is much appreciated and also, you can find a lot of replacements for Microsoft word like Evernote on the Play store which serves the purpose of taking notes. If the agenda is to create reports and essays on Microsoft Word, Chromebooks have you covered.
C
an you play
Fortnite
on a Chromebook?
Unfortunately, the Chromebook cannot run Fortnite since the game Fortnite is not built for the Chrome OS.
Additionally, game play requires intensive hardware which most Chromebooks lack. On the contrary, there are several games available supporting the Chrome OS which can be played.
The Chrome OS does not refrain you from downloading the game to share through a USB drive, but the Chromebook can't play it.
The game play for Chromebooks is growing a lot and might see similar games in the Chrome store. You can play a lot of games on your Chromebook but you cannot play the game Fortnite on it.
Why are Chromebooks cheap?
They come at all prices.
There are a lot of cheap options and highly expensive ones as well. To answer how a Chromebook can achieve such low prices, the supporting hardware requirement to run Chrome OS is very light.
One does not need hefty RAM or intensive graphics cards to run programs built to run on Chrome OS.
The device uses the internet as a tool for processing and functioning, allowing you to have a fast experience at budget price.
There are expensive devices with additional features of a touchscreen, 360-degree rotating hinge, and full HD display, which are made to increase the experience of the Chromebook.
Checkout our other buyer guides.
Last Updated: January 2, 2023 by Rhys