Have you just seen your schools supply list for next term? Chances are you've noticed your son or daughters school is requesting you kit them out with a Chromebook or Laptop. 
As more and more schools develop their own learning platforms and tools, the requirement for technology in the classroom becomes more and more imminent.
Schools, teachers and parents want to keep things affordable so Chromebooks are increasing in popularity as they offer high performance experiences at rock bottom prices. 
If you've considered a laptop and noticed just how expensive they really are compared to an ultra lightweight and quick to start up (every time) device such as Chromebook then you've come to the right place.
Today we're going to be looking at five of the best Chromebooks for Kids Australia has to offer.
Why Should I Buy A Chromebook?
A Chromebook is a small laptop computer that is ultra lightweight and is mainly used for Internet usage and office suite processing only. 
They have their own operating system. Similar to Windows, but it's much easier to use and doesn't include all those unwanted software applications. 
You also don't need to buy Antivirus or Firewall software either. The downside to this is you can't install Windows applications on to a Chromebook. 
Chromebooks usually have smaller storage drives, the idea is you'll store your files in the Google cloud. Thanks to this your device will start up within seconds. 
Lastly Chromebooks have incredible battery lives, rarely slow down and you can still install applications such as Microsoft Office if you have a license. 
If you want to play games you're going to need to buy a Windows laptop. 
Best Chromebooks For Kids Australia 
If you've been doing your research today, you'll probably have found many American blogs linking to Amazon.com which will definitely not include a local warranty and import taxes and potential voltage issues then you're definitely in the right place.
All the Chromebooks we've included in this guide are Australian stock and include warranty and super fast delivery. If you're like me, you might have left things to the last minute.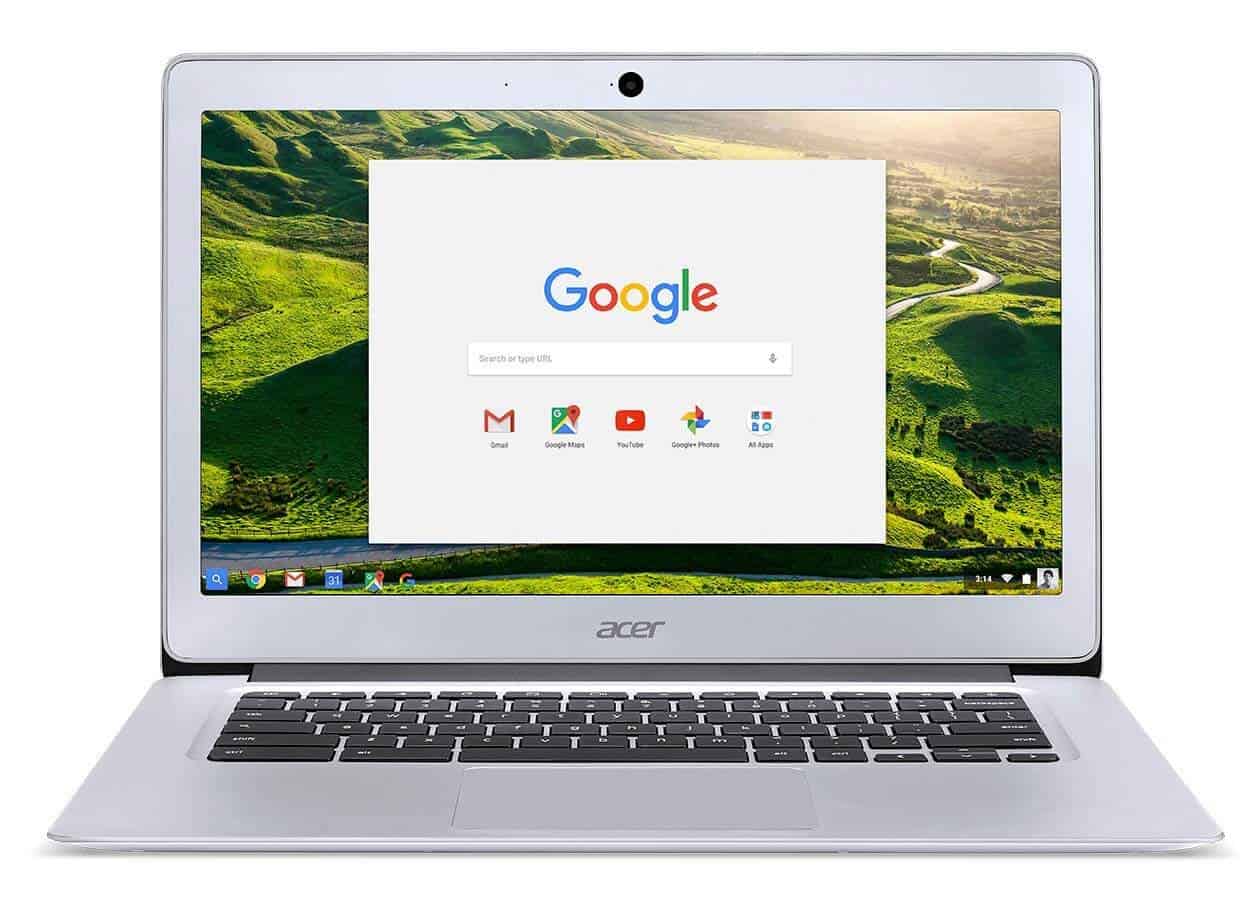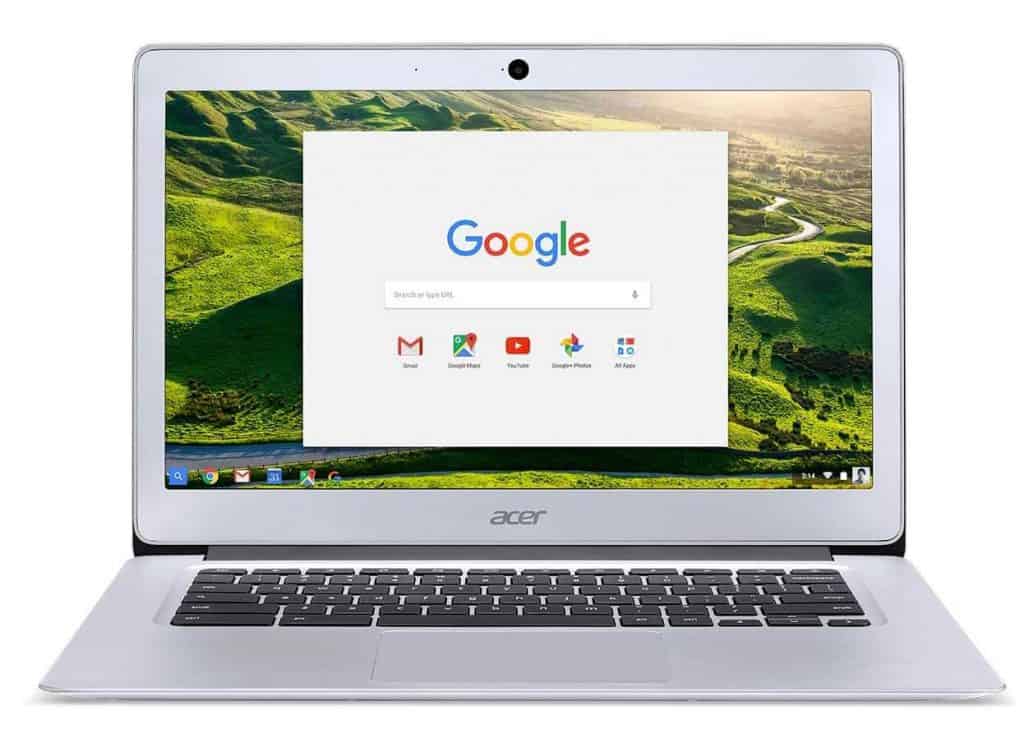 The Acer FHD Flagship tops our list of best Chromebooks for kids due to it's large screen size, high quality build and ease of typing. 
Under the keyboard is a powerful Intel Celeron N3160 quad core processor and 4GB ram which is rare in Chromebooks and packs a lot of power that you'll notice. 
Outside the classroom, your child will have no issues watching Youtube videos, working with demanding spreadsheets and using apps all at the same time. 
You could buy a smaller Chromebook but for studying, 13-14″ is definitely the right size screen for typing documents and working with spreadsheets and web browsing.
Students and kids will definitely appreciate the comfortable keyboard matched with screen size. 
The Chromebook only includes 32GB of storage but most schools offer cloud storage for your child to back up their work. 
This model includes a seven hour battery which is impressive for a Chromebook and perfect for a full day on the go. 
The stand out feature of the Acer 14″ is the full HD IPS display that displays 41% more pixels compared with an HD display making videos and presentations far more vibrant. 
Another feature we like to see is the anti-glare panel which helps to make the screen readable under most lighting conditions. 
[wp-review id="591″]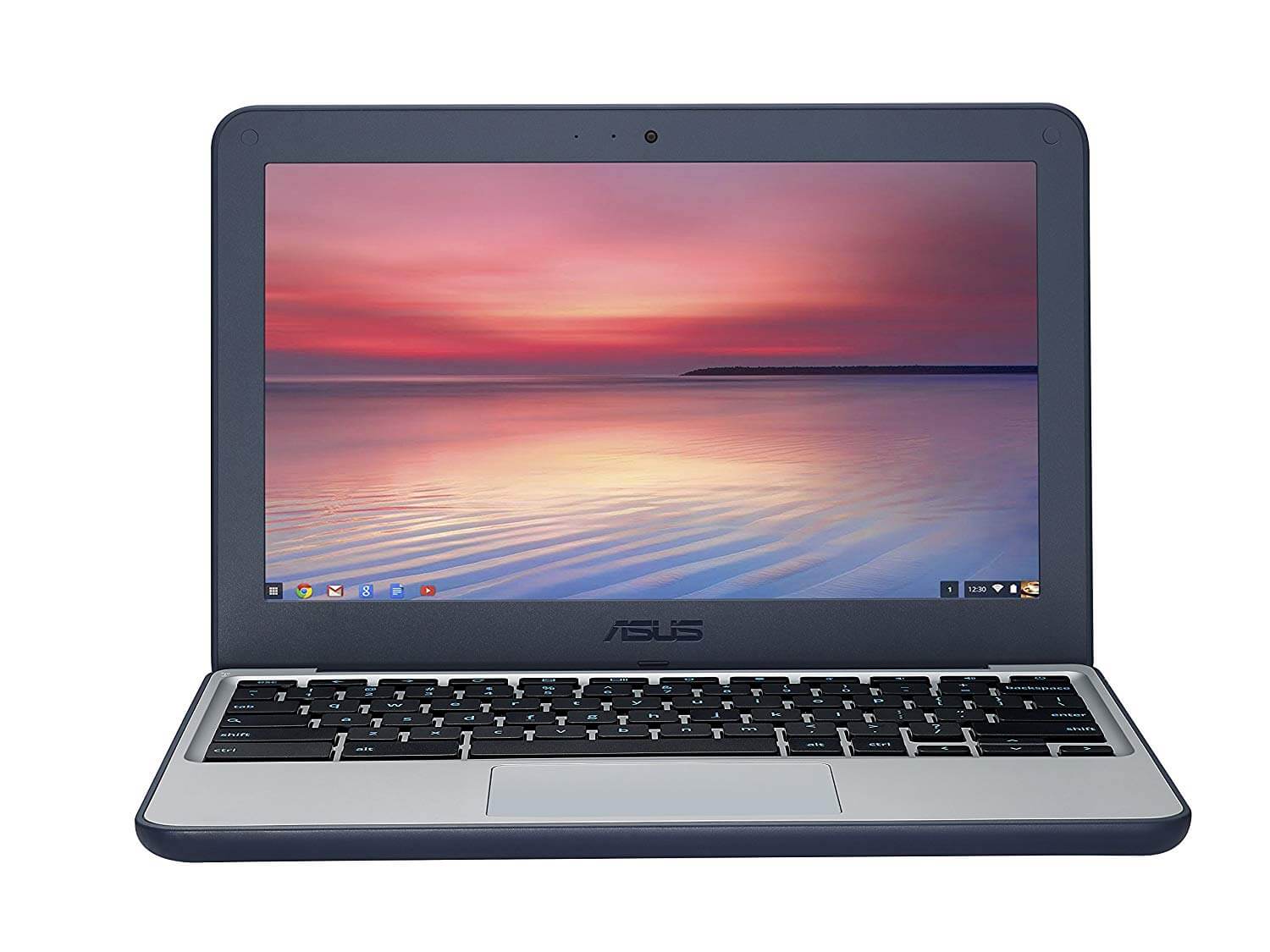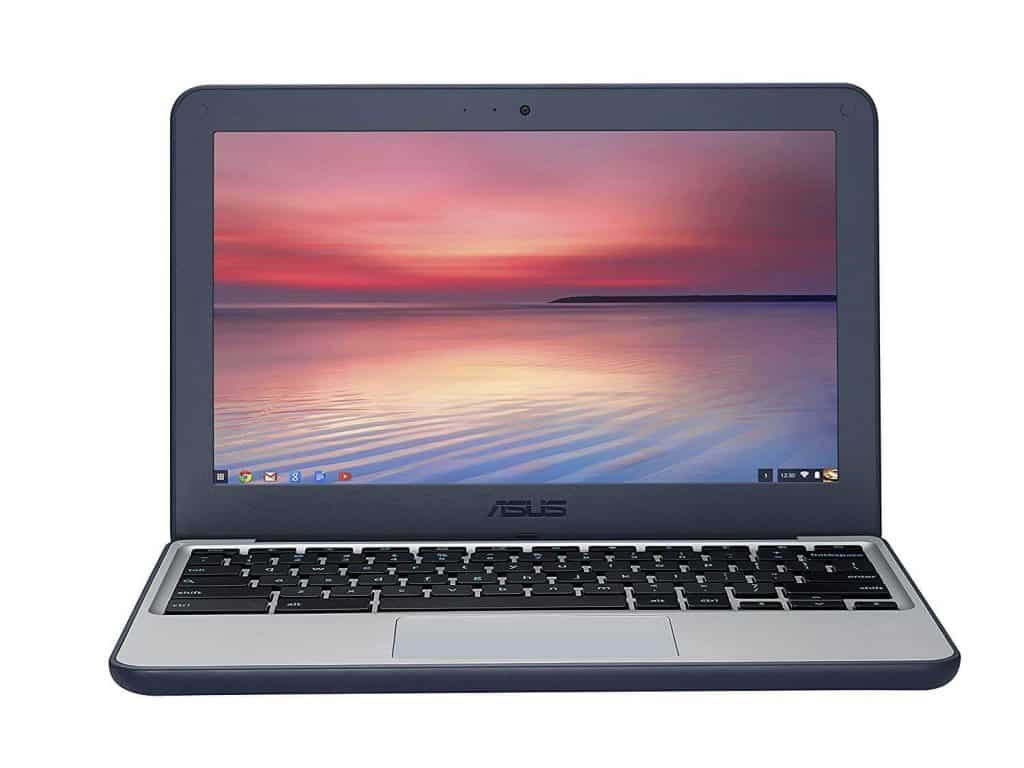 If you're looking for a smaller Chromebook that weighs less than 1.2kg then you'll be impressed with this ASUS model.
Featuring a fast Intel Celeron N3060 2.4GHz dual core processor accompanied by 4GB of RAM it's perfect for web browsing and working on the go.
The disk space is relatively low at only 16GB but you can insert a microSD with support for up to 128GB additional storage. 
Despite the small size there is two USB ports, audio out and the usual such as HDMI output for connecting to a large monitor and power.
The keyboard is nice and comfort but some users may find the small 11.6″ screen uncomfortable for long periods of typing. 
The keys feel very similar to the older Apple Macbooks but lack the backlit feature. 
Battery life is self rated at 12 hours for a full day of use. 
Given the entry level price, this ASUS 11″ chromebook packs lots of value and your kid will enjoy using it.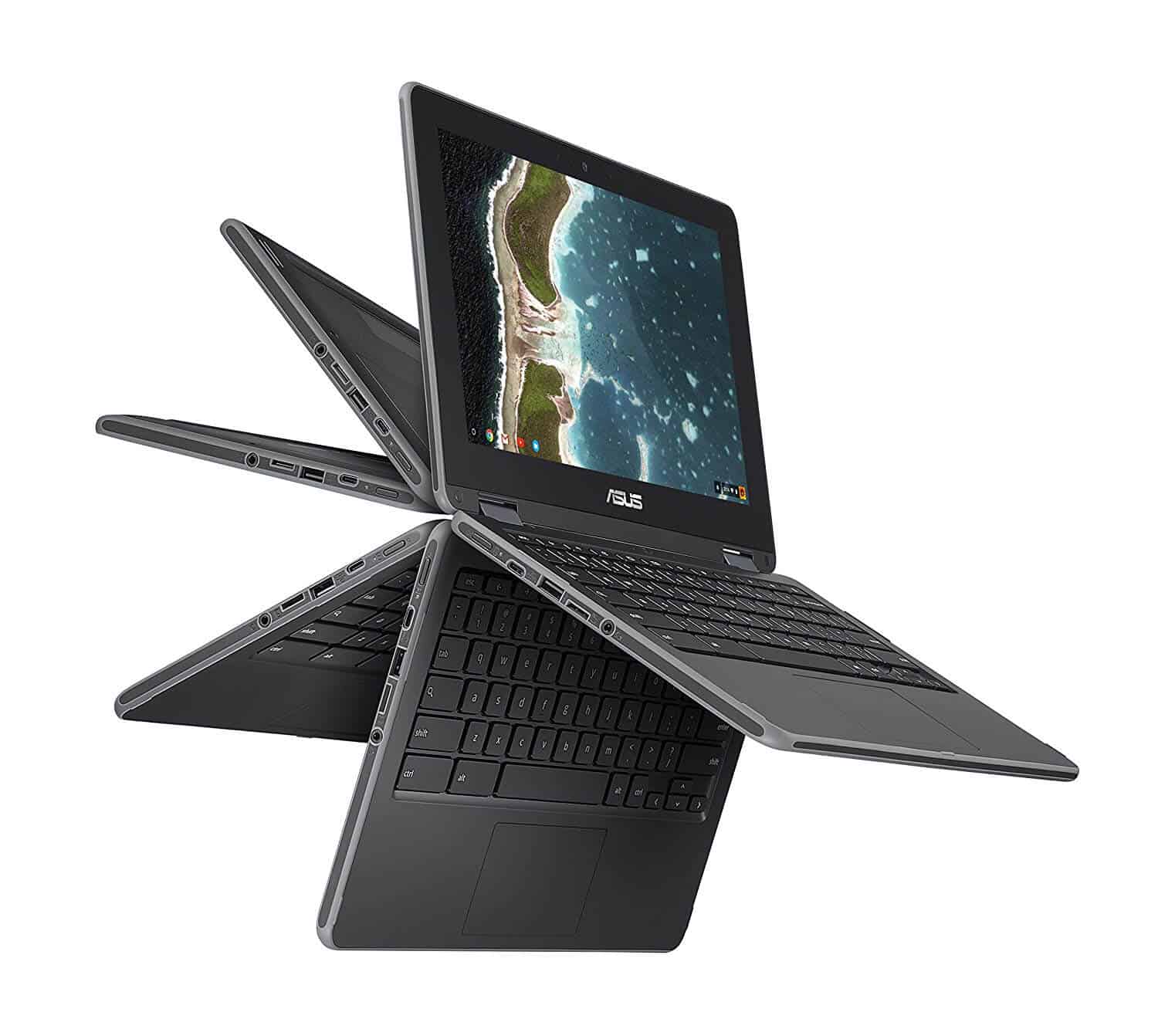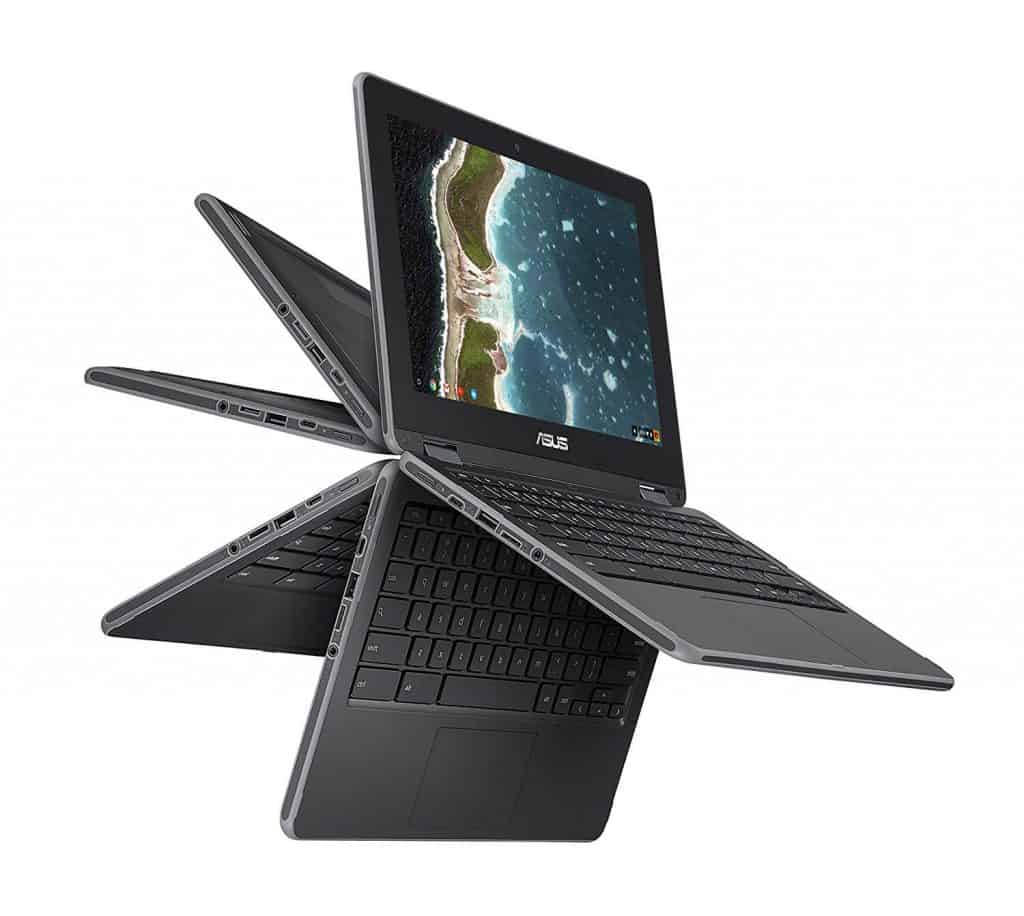 If you want a slightly bigger screen and the option to flip your screen around and turn it into a tablet then you could consider buying this model instead.
Featuring the same fast efficient dual core processor the flip model comes with an increased 32GB eMMC flash storage and an upgraded WiFi card for faster browsing.
Included is a microSD slot for increasing storage up to 128GB as well as two USB ports. There is also a webcam for using video conferencing apps such as Skype.
Battery life is equally as good on the flip model with 12 hours. 
The laptop is lacking an HDMI port so you'll need to buy an adaptor for the USB-C slot.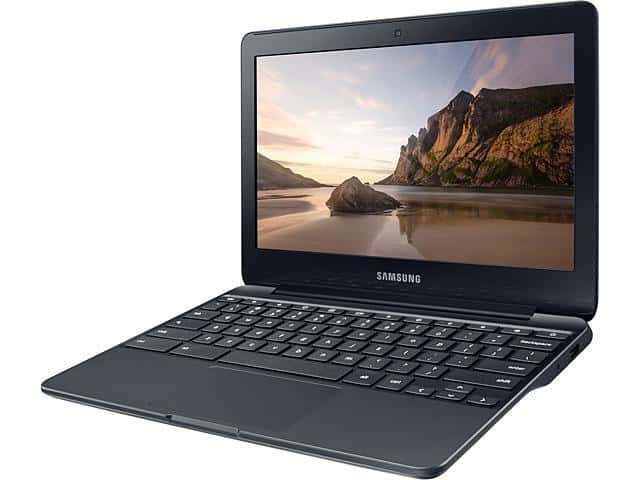 This Samsung chromebook 3 is one of the cheapest on the market but if your son or daughter is only looking for web browsing and office suite work it's perfectly fine.
The Chromebook offers a Intel Celeron N3050 processor with 2GB of RAM and a small 16GB solid state drive. A microSD drive can expand storage by up to 128GB. 
The screen is on the low end, only 11.6″ but this is fine for younger children. Adults and teenagers may find the screen is too small and lacks clarity which we've come to expect from high end devices such as smartphones or TVs.
The screen does offer HD resolution and an anti-reflective display with image enhancer. 
A spill-resistant keyboard helps protect against accidental damage. 
Included are two USB ports and a standard 802.11ac wireless card for fast browsing and uploading or downloading files. 
This Chromebook only weighs 1.15kg so is super light as well.
It's a decent super low priced Chromebook but if you want to stream videos you may quickly hit the memory limit.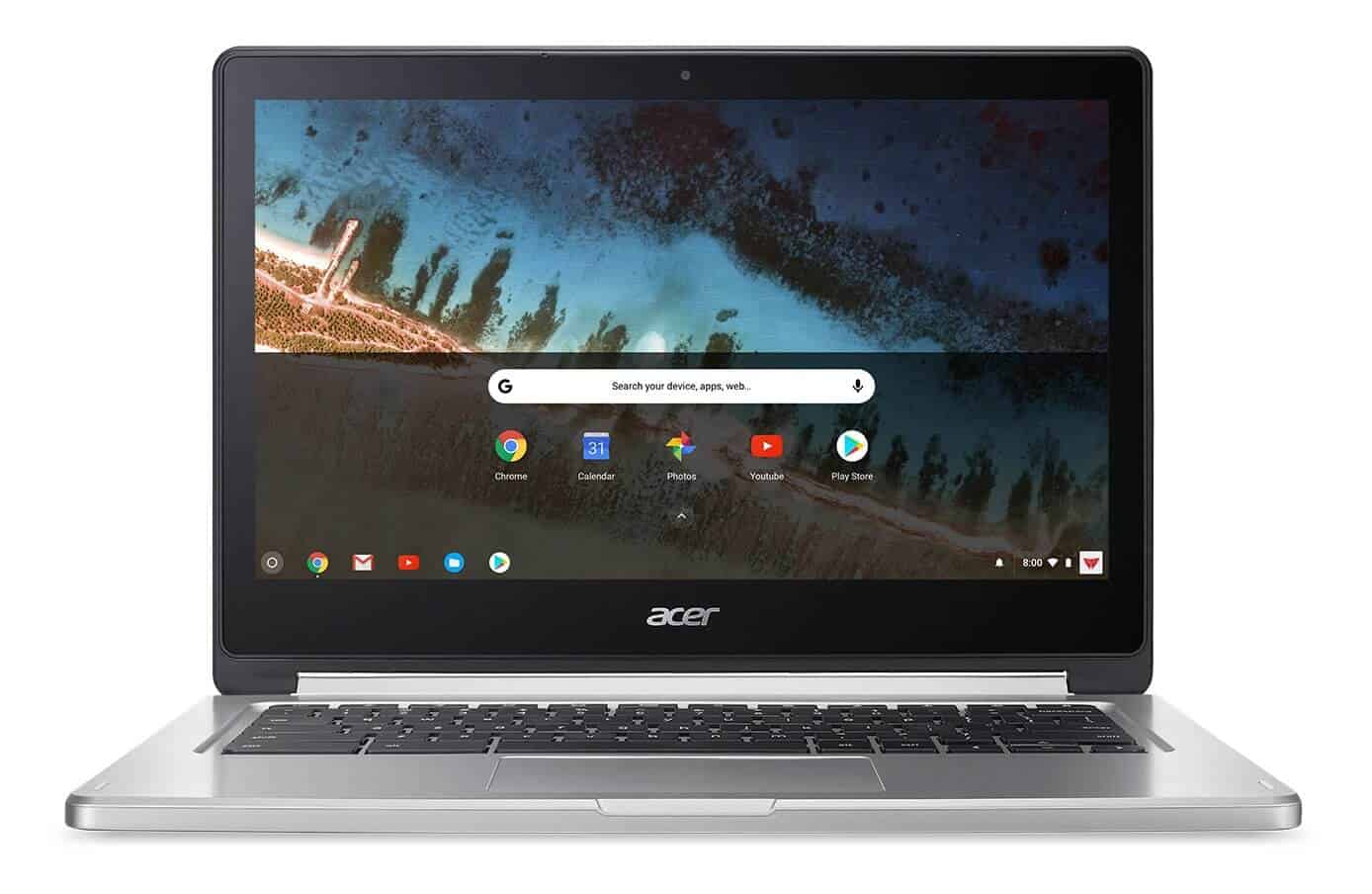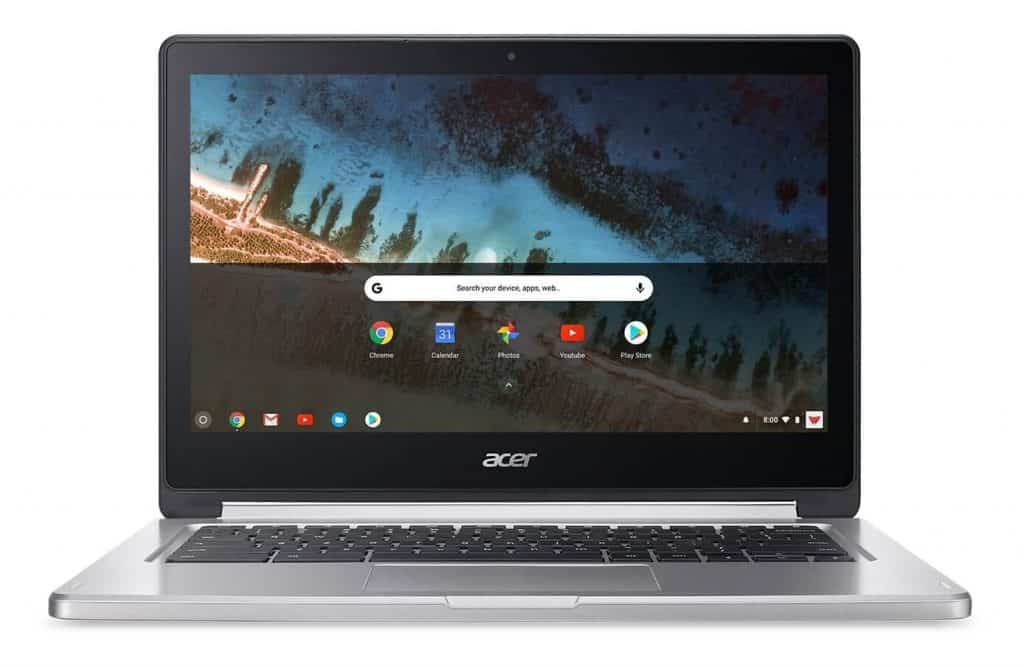 The most expensive Chromebook to feature on our best five Chromebooks for kids.
The Acer R13 convertible does exactly what it says, converts from a laptop to a tablet in seconds and offers a robust touch screen functionality too.
The Chromebook is powered by a MediaTek MT8173C core pilot quad core processor, for non techies it's a fast processor and you'll notice it.
The screen is a rather impressive 13.3″ Full HD Widescreen LED Backlit which will ensure crisp and clear vision regardless of your own working environments lightning conditions.
This model supports 4GB of RAM which is more than enough for browsing, video streaming and even playing some basic games.
A battery life of 12 hours ensures all day use.
On the side you've got two USB ports, a microSD slot to beef up that 32GB flash storage that comes as standard. You've also got an HDMI slot for directly connecting to another monitor.
Total weight is slightly heavier than the smaller ones we reviewed at 1.5kg but it's barely noticeable if I'm honest. 
If you can spend a bit more this is the perfect Chromebook for every student and allows for more options if you need. 
Now you know the best chromebooks for kids, checkout our other product reviews and guides. 
Last Updated: January 2, 2023 by Rhys