The Amazon Kindle Australia has changed the way Aussies read books on the go. Today we're looking at the three brand new models being launched for 2020 from Amazon.com.au
Why would you buy an Amazon Kindle?
The decision to purchase a Kindle can for many people still be very much one of personal reading preference. A choice between the feeling of paper versus a modern electronic device.
But it's difficult to see quite what other advantages most old-fashioned books have over a Kindle.
Amazon's Kindle has truly brought reading to new heights throughout the world. It makes reading a highly transportable pastime simply due to its size and weight.
But also because it is now developed to the point where the reader has access to their very own personally chosen library in their pocket or backpack.
A modern top-of-the-range Amazon Kindle has the capacity to hold literally millions of titles. Even a basic model can hold 1000's of books.
It's hard to carry even one small paperback book around with you let alone two!
And the features that make an Amazon Kindle even more attractive?
It keeps track of precisely where you are up to in every book you happen to be reading at any given time.
Even those titles you gave up on years ago!
So, if they're in your library, you can have access to whatever you feel like reading wherever and whenever you like.
It has its own adjustable built–in light source for wherever you are when you want to read. It has enhanced pixilation and other technology which ensures easy reading without eyestrain.
Newer models have an inbuilt dictionary, translation, and other functions. A Kindle is easily charged and the battery lasts for weeks (unlike that pesky phone).
And as time goes on the Amazon Kindle is being further and further developed for the ultimate comfort of the reader.
So if you're still wondering whether having the feel of paper between your fingers is better than holding a small electronic device think again about all the great advantages to reading with an Amazon Kindle – and there really are heaps more than are mentioned here!
Best Amazon Kindle Australia 2020
You can purchase all these new Kindles directly from Amazon.com.au with fast free shipping for prime members (free 30 day trial). You can also take advantage of their easy returns process and wide selection of additional accessories.
The All-New Kindle is a new generation Amazon Kindle with a host of desirable features for the reader who appreciates the comfort of a glare and distraction free reading experience.
This small and extremely lightweight kindle is purpose built for reading only so you won't be distracted by any other functions like emails or social media.
The All-New is ultra slim and light at 16cm x 11.4am x 0.9cm, and weighing 174gms. The display area measures 6".
Importantly it has a 167 pixel per inch screen (ppi) for greater screen definition, and a front light which you can adjust to suit your surroundings (particularly the lighting).
The combination of these two features is that the page no longer looks like a screen but like paper. And just like paper it doesn't reflect daylight back at you but instead it absorbs it.
That takes away the glare factor that has plagued kindle owners for a very long time.
This All-New Kindle is a touch screen device with functions such as dictionary, highlighting, font size and type, and margin placement.
And of course the kindle will remember where you're up to with all the books you are or have been reading – that's simply standard these days.
Those with moderate vision impairment, or who read with assistive technology, can also access Amazon's VoiceView screen reader on it.
The 4GB memory means that this Kindle can hold 1000's of titles. But Amazon has free cloud storage as well for all content purchased by its customers or subscribers.
The unit is WiFi enabled so you can purchase and download titles directly with it without the need for a different device.
And the charged battery will last up to 4 weeks at a time.
The All-New Kindle from Amazon also comes offered with a Charcoal Black protective cover (at an additional cost).
And all of the above translates into easy and comfortable reading for many hours at a stretch. The Kindle is easy to hold in one hand and all the touch screen functions can be managed single-handedly.
And whilst it is not Amazon's premium Kindle it is a very good buy for those who cannot afford the kindles at the higher end of the market, or those who simply don't want or need all the features which those kindles have.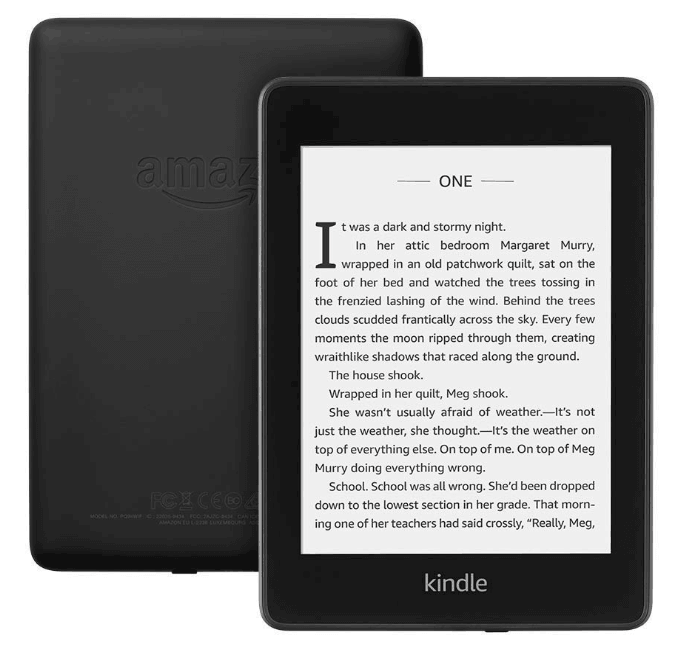 The All-New Paperwhite from Amazon is their mid-range latest release Kindle. At 205gms and 0.9cms thin, it is ultra slim and easy to hold for long periods of time.
The device itself measures 167 x 116 x 8.18mm so it fits easily into one hand, and all the touchscreen controls can be managed with one hand as well. Perfect for the train trip to work!
The Paperwhite has WiFi capability and a minimum memory of 8GB but you can choose to purchase a 32G upgrade. It Is fully waterproof for up to 60 minutes immersion in water.
You can also upgrade and get the 4G LTE mobile version for downloading on the go.
As with all of the newest Amazon Kindles the All-New Paperwhite has a front light which effectively absorbs light rather than reflecting it back towards your eyes.
When combined with a dense 300ppi for a superbly high–quality text, the result is a distraction-free screen which truly does look like real paper.
This translates into a reading experience which is very similar to reading an old fashioned hard copy book. And no more eye strain because of the low reflective screen quality.
The front light is also adjustable to let you read at any brightness and in any environment, even at night when you don't want to disturb your partner.
The Paperwhite has all the standard functions such as the ability to alter text size, and monitoring your place in every eBook you've started to read (across all your synced devices).
Some of the more advanced features this Kindle has are the ability to flip through the book without losing your place in the process – called Page Flip and an excellent idea for students or non-fiction titles.
You can write notes in the margins, which can then be treated to many word processing type actions like editing and even exporting to your PC.
Similarly, you can share highlighted sections, or your notes, with others on social media or email, etc.
Other features include Smart Look Up, a comprehensive information resource; Word Wise for expanding your vocabulary; Expanded X Ray, an exploratory book tour; and Time to Read, which tells you how long it will take you (individually) to read a nominated section of a book.
There are a few other features but these ones should give you an idea just how sophisticated this Amazon Paperwhite Kindle is.
It's not a cheap option but you are paying for quality and for a lot of features which might delight you. It's certainly a great idea for students, academics, writers, professionals of all descriptions and all book lovers.
The Amazon Oasis is a 7" screen ultra slim and lightweight Kindle ergonomically designed to fit comfortably into the hand and to stay there for long periods.
It measures 159 x 141 x 3.4-8.3mm (the depth tapers to a slim 8.3mm so it fits very snugly into the palm).
It weighs a mere 188gms. It has an 8GB memory, or you have the option to increase that to 32GB. Plenty of room for audio and eBooks but best to upgrade to the 32GB if you have a large library of audio books.
The Oasis is the current premium Kindle from Amazon and as such has some really advanced features to offer over and above all those it has in common with the other Amazon Kindle range.
But the overriding common denominator is that these Kindles are designed to be devices devoted solely to the pursuit of reading, to the beauty of getting lost in a book.
Hence the continuing focus on features which are all aimed at making Amazon kindles as comfortable as possible for the reader.
And not connecting them to other electronic devices or platforms which could distract the reader.
The current standard Amazon Kindle features are: single–purpose device; front–lit display to reduce glare and associated eye strain; higher PPI's (167 is standard) for crisper text and a better reading experience in all conditions; place retention in all Amazon eBooks you've started across all of your synced devices; text size adjustment function; translation; long battery life; touchscreen control; single-handed reading; 4GB memory; and WiFi capability for purchase and downloading of eBooks directly; and access to Kindle Unlimited or Amazon Prime.
Like the Amazon Paperwhite Kindle the Oasis has Page Flip (keeping your place while you look at other pages in the book); X-Ray (to see the 'bones' of the book without losing your place); Smart LookUp (for vocabulary and general knowledge improvement); and Time to Read (timing the read-time for the eg last chapter).
As well as all these attributes the Oasis also features 300ppi for a really clear laser–quality text that looks like paper in all situations, with absolutely no glare.
The Oasis Kindle is waterproof in up to two meters of water for up to 60 minutes
The 7" screen fits 30% more words so the reader has fewer page turns.
The reading comfort settings have been further developed around the adaptive lighting, font sizes, text alignment, and what Amazon calls 'warm lighting'.
'Warm lighting' allows the reader to change the screen light from bright white to a warm amber (even to time that happening) for when the conditions suit.
Whispersync allows you to switch between devices as you're reading and Kindle exclusive fonts have been designed to help you find the right one for you.
The Oasis Kindle is at the top end of the price market but the reviews are good and there are probably enough unique features for an avid reader to appreciate it as value for money.
Can you buy protective cases for the Kindle?
There is a reasonable choice of covers for Amazon Kindles which vary in price and design depending on where you look.
When buying a cover for your Kindle, the primary issue to be aware of is that Kindles are different in size depending on the model they are, and therefore the cover will be different.
So it's extremely important to make sure that you know what model your Kindle is when you set out to buy a cover for it.
The price difference really comes into play when you look at whether you want to buy a leather case. Obviously, these are the more expensive ones.
Leather cases may look lovely but they are not necessarily the best cases for protection of your Kindle, and the protective factor is extremely important. They may also not meet the other tests discussed below.
Although most the kindles at the high end of the market are waterproof now this is not the case with cheaper or older models so weather and impact proofing are issues to consider when buying a cover.
And waterproofing is not just important for protection of the Kindle itself, but also for the cover. You really don't want a case that looks worn out before it should!
Comfort is equally important, especially for extended reading sessions.
A cover which is unstable and moves around or closes while you are reading is going to be annoying, to say the least, so finding one which self- magnetises its front flap to its own back cover while you're reading is really very important as well.
The feel of the cover needs to be considered as well. You are going to be holding it in your hands for long periods so you need to like the fabric. This might be a personal issue for many people.
As to where to buy Kindle covers, the Amazon online store has its own-brand cases for sale, and eBay also has a range available. There are also specialist outlets online. 
We recommend checking out Amazon to buy your Kindle case.
How do you buy eBooks for Kindle?
Once you have bought your Kindle you'll need to sync it to your WiFi so that it can access and download eBooks.
You may not need to use any other devices to buy eBooks – the latest released Kindle can do that itself through its own WiFi capabilities.
However, if you don't have that capability then you will need to use a PC, tablet or other WiFi–enabled device to buy your eBooks for downloading on to your Kindle.
Once you've done that you'll need to set up an account with an eBook store to start buying books.
Amazon is not the only eBook site out there but it is the original and it is the largest and therefore we are going to use it as the example of how to set up an account to get started on the kindle reading adventure. To access other eBook sites simply google that term and follow their instructions.
If you don't already have an Amazon account, then that's your first step. Go to the App Store and find the Amazon store app and install it.
Once you're set up with the eBook store app you can simply browse for titles using the search engine or key in known authors/titles when you know them. You can also search within genres, just as though you were browsing in a real–world bookshop!
The Amazon store has a 'one-click' payment option which is very easy to use, especially when you're a frequent flyer! And the Kindle Unlimited or Amazon Prime options are worth considering if you are an avid reader.
Do you have to pay for books on Kindle?
Until relatively recently eBooks were purchased in the same way that you'd purchase hardcopy books at a store. And they'd be yours to keep forever.
The prices were competitive on Amazon compared to the in-store retail market but the concept was still essentially the same.
And those of us who are old enough to remember bookshelves full of books that were read once and are now simply dust collectors, understand that there's a lot of wasted money for an avid reader in books left lying on a shelf, either literally or figuratively.
Amazon changed all that by firstly creating their Kindle Unlimited eBook service and later by including eBooks in their Prime subscription service (which includes movies, music and other products).
Kindle Unlimited gives the member access to pretty well all titles in the Amazon eBook store but is limited to being a reading service.
Amazon Prime is the same but is extremely limited in the size of its library (only about 1000 books at any given time).
What that means is that by paying a subscription fee you can read as many eBooks as you like without actually buying them outright at full cost.
Exactly the same as a library service but with a fee attached and without the limited time frame for reading the books.
Kindle Unlimited is $9.99/month and Amazon Prime Reading is $12.99/month or $119/annum. So the cost is similar to the user.
It does not mean that you have a limited time to read the books, which is a benefit. Of course, you may not remember what you've read later on but that's not a major issue.
And if there are books which you'd like to own permanently you still have the option to buy them outright.
Now you know the best Kindles for 2019, checkout our other guides and product reviews.
Last Updated: April 25, 2020 by Rhys