Are you looking for the best soundbar in Australia? Well we've reviewed five of the best from brands such as Sony, Bose, Yamaha and Sonos to give you a good starting point in your buying experience.
You definitely don't need to spend a fortune when it comes to buying a soundbar. Gone are the days of needing a full surround system too.
If you're looking to increase your audio without going over the top with bass intensive speakers then a soundbar is the perfect option.
Best Soundbar Australia For Home TV Audio
You can buy soundbars from a wide variety of stores including Kogan, JB HiFi, Harvey Norman, BigW and Kmart. We found all these on Amazon.com.au which offers fast shipping nationwide.

Sometimes the sound quality of speakers that are built-in a television doesn't necessarily give you the ultimate viewing experience.
If you want to elevate your viewing experience to the next level then the Sony HT-S100F//C AU1 Slim Soundbar is the best choice.
This two speaker setup is bound to deliver crystal clear surround sound all from a compact, space-saving unit. It is so sleek and compact in design that it will easily blend into your entertainment set up at home.
An added feature of the Sony sound bar is that the speakers have a bass reflex so that the sound produced is clear and you can hear every detail, making it perfect to watch movies or listen to music.
To connect to your television, all you need to do is simply attach the soundbar via an HDMI ARC cord. You can control your television and your soundbar all with one remote.
You can connect your smart devices to the Sony SoundBar using BlueTooth technology. So, you can play your favourite music effortlessly on this soundbar with high-quality sound.
And if that doesn't do it for you, you can also connect to the soundbar via USB. The numerous connecting options with have you using this sound bar all the time.
#1 Best Soundbar Australia
Lots of features at an affordable price.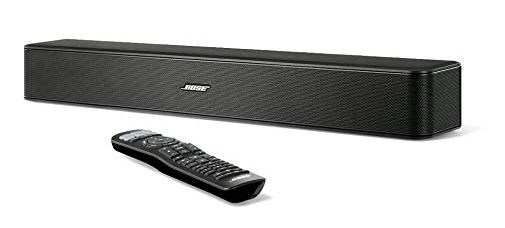 You'll never know what you've been missing out on until you try the Bose Solo 5 TV Sound System Soundbar. This soundbar produces impeccable sound quality, much better than the speakers that are built-in to your television.
You would not have realised you were missing out on such clarity. You can finally have high-quality sound to match the high definition images on your television.
A great feature of the Bose Solo is dialogue mode, which makes every word clear and easier to understand, without you having to change the volume each time between various scenes.
Depending on what you're listening to, sometimes a bit of extra bass just makes the listening experience all that bit better and you can do all from the touch of a button on your remote.
It is super easy to connect the Bose Solo to your television, either with a digital or analogue connection.  The soundbar will automatically detect which connection you use.
An added bonus is the built-in Bluetooth technology which allows you to wirelessly connect to your smart devices and play your favourite music.
To control the soundbar, you can use the remote that comes with the package. This remote is also universal so you can control all your entertainment units all from one remote, in the palm of your hands.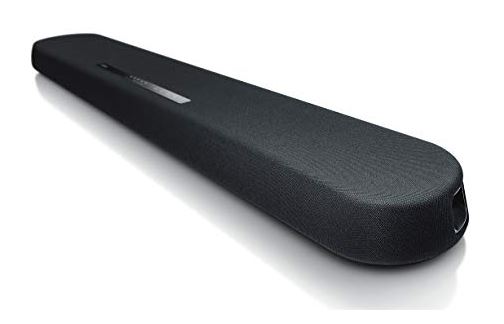 The first of its kind, the Yamaha Soundbar speaker produces an immersive listening experience with the built-in virtual 3D surround sound with DTS Virtual: X.
This feature makes the audio sound clear as though you are in the movie. Sound is further enhanced with the built-in subwoofers while provides you with deep and powerful bass. To take it the next level, you can also add an additional subwoofer through the output connection.
The Yamaha Soundbar comes with Clear Mode, which enhances narration and dialogue whilst ensuring that the overall sound quality is intact. Whether you're watching a movie, tv show or listening to music, the clear mode will work on any form of audio.
There no need to fiddle with cords as this soundbar can wirelessly connect to your devices using BlueTooth Technology and can connect 2 devices at the same time.
You can also wirelessly pair your Amazon Alexa with the YAS-108 so you can talk to your Alexa and request for your favourite music to be played on the soundbar.
The sleek design of this Yamaha soundbar makes it easily blend into your entertainment unit. You can also mount the device on your wall via the keyholes and the built-in gyroscope ensures you have optimal sound quality regardless of where and how you position your soundbar.
When you're watching ultra high-defined tTV, having the audio to match it is essential. With the Sonos Playbar Wireless Soundbar, you can now complement your television with a clear and crisp sound that is delivered by 9 amplified speaker drivers.
With 6 mid-woofers and 3 high range tweeters, no sound effect will be left dull and muted. You can also turn on Speech Enahacenet if you're in need of extra clarity of the Night Sound mode to amplify quiet sounds at lower volumes without disturbing the rest of the house.
The sleek and slim design of the Sonos Playbar makes it a perfect addition to your entertainment set and can be placed right under your TV or on a table.
Regardless of where you place the Playbar, you are guaranteed great sound with the Trueplay software, available on the Sonos app.
The software measures your room and fine-tunes the sound produced to fit the space you are watching TV, ensuring the optimal sound is produced based on your space.
The Playbar is just the beginning of creating a home theatre experience as you can ass additional Sonos subs for extra bass.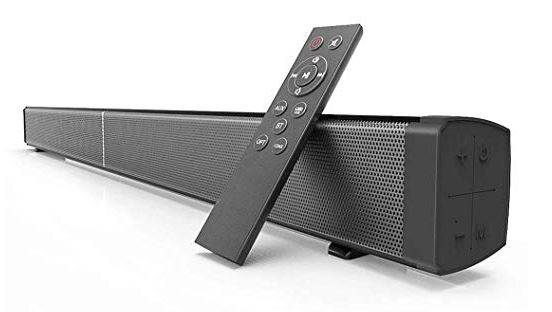 Why go to the cinemas when you can have the experience of a cinema right in the comfort of your own home. The Youtrico Soundbar produces 40 watts of powerful surround sound that is crystal-clear and has 2 passive radiators that amplify the bass.
You'll be able to enjoy all your favourite music and movies with high-quality sound as though you are listening to live sound!
The elegant design of the soundbar makes it a sleek addition in your lounge and won't stick out like a sore thumb. You can place it under your TV, on a table or even mount it on the wall for a great home theatre experience.
You can set up the Youtrico Soundbar to your TV using numerous ways, either by a 3.5mm AUX cable, RCA cable, Coaxial cable or optical cable.
You can even plug in your USB or TF card into the device to play sound. Wires and cords can be frustrating so you can opt out of using the corded methods and simply connect to the soundbar via BlueTooth Technology. Wirelessly stream your favourite music without having to get up from your seat.
Now be sure to checkout the best consumer guides on our website.