A few years ago I bought my first Dyson vacuum cleaner and that was ground breaking for me. It was so powerful and picked up dirt and hair I couldn't even see on the carpet. Fast forward a few years and now we have robot vacuum cleaners that anyone can buy for a few hundred dollars.
I have to pause there. I personally think this is revolutionary.
When these things first launched they cost thousands of dollars and skeptics said no one would ever buy one. Well how wrong were they! Robotic cleaners are the latest trend and they are flying off the shelves here in Australia too.
It seems every major tech company wants to get in on the action, driving the price down and the technology features up.
Most can now be controlled via smartphone apps and allow you to enter heat maps of your house which the robot will learn via AI.
Internationally brands such as lg robot, ilife a4s robot, samsung, coredy, pureclean, evovacs, shark robot, neatoxv and dyson are the most popular. Down here in Ausland, we have less brands but the world famous ones such as Xiaomi, Roborock and iRobot are all present.
How much is a robot vacuum cleaner?
When robot cleaners first launched you would have had to spend a small fortune to buy one. I remember seeing them on sale for thousands of dollars, and to be honest the reviews weren't great either.
Today we're looking at five of the best, with prices averaging around $200 – $800 depending on the functionality and features.
If you want a robot to clean your floors fast and easy then you can get away with the entry level models.
However if you want to control the device via your smartphone, configure cleaning patterns and interact with your robot then you can expect to pay more.
Best Robot Vacuum Cleaner
In this relatively new market trend, you don't need to spend a fortune but you do need to invest in the best. Here we have five of the best robot vacuum cleaners in this trending marketplace. All offer a wide variety of features such as mobile integration.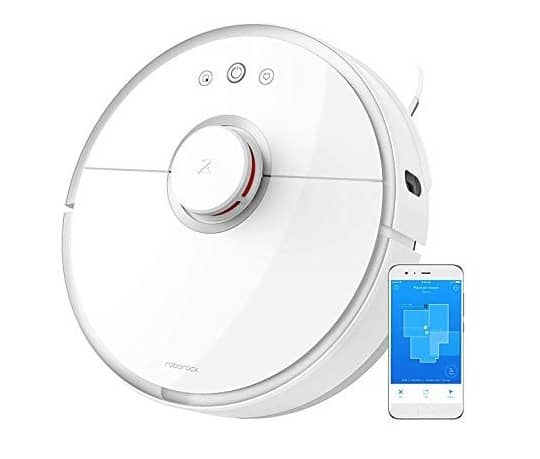 Relax, put your feet up and let the Roborock S50 robotic vacuum cleaner do all the hard work for you. This compact and quiet unit moves seamlessly through your home and navigates a perfect route to perform an efficient and complete clean of every square inch of your floor plan.
It does this by using a range sensor to scan the space then use a SLAM algorithm to generate a map which lays out the optimal cleaning route. Alternatively, you can draw a map for the vacuum yourself to clean a particular zone using the MiHome App.
The Roborock has a powerful cyclonic high suction fan to pick up all the dust dirt and debris in its path, using a floating main brush together with side and rolling brushes to clean horizontally and vertically. These brushes are self-adjusting and will vary their speed depending on where they are cleaning – faster along an edge than on a flat surface.
The vacuum automatically adjusts to carpeted surfaces and increases its suction to the maximum. The unit has the ability to climb up to 2cm heights.
The S50 washes the hard floors at the same time with a botanical mopping system which uses a plug-in water tank to avoid any risk of spillage when filling the tank. The mop cloth sticks closely to the robot and doesn't curl at the edges, ensuring long term viability.
The battery supports a run time of up to 150 minutes between charging.

The Xiaomi Mi robotic vacuum cleaner is a home appliance you will not regret owning. The time and effort it will save you is simply amazing.
Using a smartphone app it can be remotely controlled to sweep, dust and sterilise all your floors and then come to rest in an easily concealed charging dock. The Mi vacuum can be used on wood, tiled and carpeted floors.
The Mi Robot uses its intelligence to map out the most efficient path for covering the floor area using 12 sensors including LDS (Laser Distance Sensors) to scan, assess and then map the space before initiating the cleaning process.
This unit has a number of notable specifications including cliff sensor so it won't fall off a step, anti-collision detection protecting furniture and the robot itself, 10mm edge cleaning mode, small climb ability, zigzag cleaning mode, and auto return to the charging dock when the clean is complete or when the battery is in need of recharging.
In the latter case, the vacuum will resume cleaning when the battery has been recharged. The battery has a run time of 2.5 hours when fully charged.
The Xiaomi Mi robot is powerful, quiet and very efficient. It picks everything up including all that pet hair and you can so easily run it every day if you wish, over the whole house or just specified areas.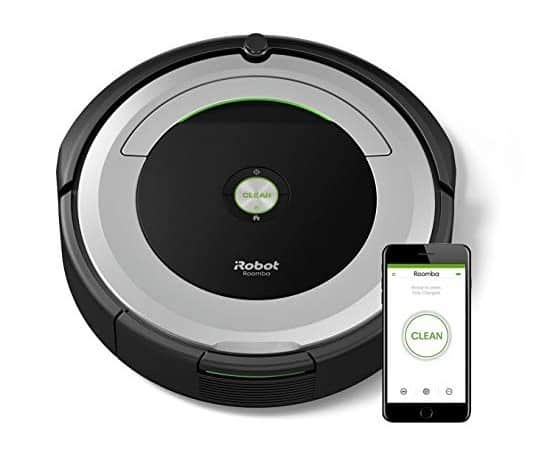 A robotic vacuum which is compatible with Amazon Alexa or with Google Home, and which was a pioneer in this area of home appliances, the iRobot Roomba is a patented 3-stage cleaning system for any type of floor surface. It is great for any kind of dust, dirt or debris including pet hair.
The Roomba cleaning system is engineered to loosen, lift and suction everything in its path small or large. The dirt detectors identify more concentrated areas of dirt and alert to Roomba to clean more thoroughly in those areas. It has an edge sweeping brush to bring all debris from the edges into the path of the vacuum.
In more detail, the system includes an edge-sweeping brush which can reach into corners and along edges and sweep dust and debris out into the path of the Roomba vacuum.
The dual multi-surface brushes work to lift dirt from carpet fibres and from hard surfaces for suctioning up by the powerful vacuum into its tray. The brushes are kept close to the floor surface by the auto-adjusting cleaning head which monitors the height of the floor surface and keeps the brush levels close to the floor.
The Roomba uses intelligent sensors to map its best and most efficient path for cleaning the space it's in, including cliff sensors which prevent it from falling off steps or other edges.
With a 90-minute run time on a full battery, the Roomba will automatically dock and recharge.

Founded in the US in 1909 and focusing on the vacuum industry, Eureka certainly has the advantage of experience.
Their i300 robotic vacuum has all the features you want in a robot vacuum cleaner. It has different cleaning modes for versatility of cleaning performance in your home environment.
With five intelligent modes, you can customise your cleaning and create an individualised road map for the i300 to clean your house, covering all the areas by choosing the most efficient methods whether they be Auto, Zigzag, Zone, Edge and/or Spot Cleaning modes.
The intelligent brush system avoids hair tangle problems. Its very powerful suction ensures that all the dust, dirt, debris and hair will be picked up from both hard floors and carpets. The low profile design of the i300 allows it to access narrow places under beds and seats. Anti-collision sensors protect your furniture and the robot. And anti-drop sensors protect the robot from falling off an edge.
The i300 will automatically return to its charging dock when the battery is low so it's always ready for the next clean. And a noise level of only 57db means that the vacuum is not going to interfere with your enjoyment of your day when it is doing its job.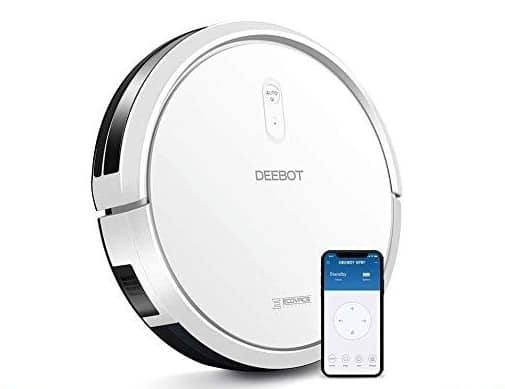 The Ecovacs Deebot N79T robotic vacuum may just be a tad smarter than the others because it will listen to voice commands!
It is also compatible with Alexa and a Smart App so you have a few options around how you want to operate this unit, and it's priced extremely well given all that.
The Deebot has four different cleaning modes: Auto for general cleaning, Edge for corners and edges, Single Room and Spot cleaning for specialised areas.
And there is a Max Power Mode for turbo cleaning of very difficult messes. Pet hair is not a problem for the Deebot.
The vacuum has anti-drop and anti-collision sensors, as well as protective bumpers and an anti-scratch finish, so you don't need to worry about your furniture or the robot itself. It has auto-return for charging or just when it has finished its programmed clean. Its dustbin is large and easy to empty, and the wheels are large and can climb quite high rises.
The battery has a 100-minute operating life, plenty to do a whole house in a single sweep. Set the auto timer while you're out to start a clean and the house is clean when you get home. Steer the vacuum using the phone app – watch your 6-year-old have a bit of fun with that feature!