Few people have one, but once you do, you'll keep it a secret too. Introducing the car vacuum cleaner which is perfect for cars, boats, caravans and even mobile homes.
I always ask myself why cars don't have these built in, especially brand new cars. It would make so much sense to be able to clean your own car while on the road without paying big money to gas stations for using their equipment.
Today we're showcasing five of the best portable vacuum cleaners that you can charge up and use on the go. When you're done, simply recharge it or keep it stored in the boot of your car.
Why buying a car vacuum is a good idea?
Think about how much time you spend in your car and how much food and dirt seems to somehow find its way onto the floors but also into all the nooks and crannies between and under the seats.  Have you tried to clean that dirt out with your household vacuum?
It's simply not possible to get the job done well even with the slimmest of attachments. That's because a domestic vacuum is not designed for cleaning your car.
Not to mention the hassle of dragging a large heavy machine out to your car, plugging it in somewhere (with an extension cord) and manoeuvring its hose around the interior of the car. And even then the hoovering end of the hose won't fit into the spaces you want to clean.
A dedicated car vacuum cleaner is specifically designed to do this job properly, easily and quickly. It runs on either battery or mains power.
It can be kept in your car. It is light and small with the right sized head to reach into the difficult to get to areas between and underneath seats. And they're not an expensive investment.
If you like to drive a clean car this is something you need.
Best Car Vacuum Cleaner
Over the last few weeks we've been on the hunt for the best car vacuum cleaner Australia has to offer and these are the best five we've come up with.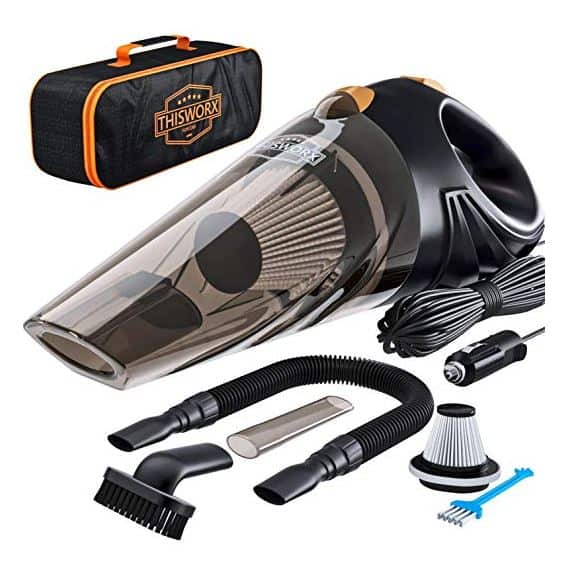 With a portable car vacuum cleaner from ThisWorx you'll enjoy a sharp clean car interior all the time. Never be annoyed by stray dirt and leaves or food crumbs ever again.
This is a must-have for parents of young children, taxi/Uber drivers and those who like to drive an immaculate car.
The ThisWorx car vacuum can be used to remove both wet and dry dirt and your ashtray. If you worry about germs and other allergens that may be lying around in your car a regular vacuum with this vacuum will keep your car fresh and hygienic.
This unit has a powerful 106W motor and a metal turbine for strong suction, with a long elastic hose for reaching all the corners of every car.
As well as the main large suction end it has a narrow plastic tube nozzle for crevices and a brush nozzle for the seats. There is a HEPA filtration system to keep the motor and other working parts clean, and a filter maintenance brush included.
The barrel which holds the dirt is transparent so you can easily tell when it's time to empty it, and has an auto shut-off lid anyway for prevention of accidental fallout.
The vacuum has a long 16ft power cord so you won't get caught short!
The price of the ThisWorx car vacuum is so good that you will buy one for each car you own! Customers love it!
#1 Car Vacuum Cleaner
Packs a lot of features, affordable price and highly rated online.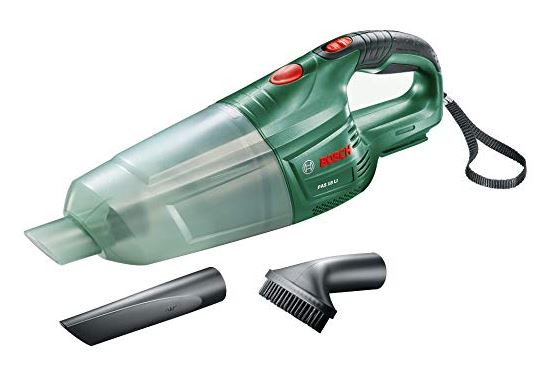 This cordless vacuum cleaner by Bosch, a leader in electrical appliances, is a must-have for car owners who like to have an interior which is free of food crumbs, dirt and other debris. It's portable and battery-powered so can be used anywhere, anytime.
At only 1.3kg the unit still packs a punch when it comes to suction.
With an ergonomically designed soft grip handle, it is very comfortable to use and manoeuvre around the interior of your car to get to all the hard to reach crevices where dust and dirt accumulates. A crevice nozzle helps with this as well, and there's a brush attachment for car seat upholstery.
The dust container and filter are easily and quickly removed and reattached for emptying and cleaning.
The running time of the battery is around 20 minutes, which is all you need to vacuum a car interior.
The lithium-ion battery (purchased separately) offers no memory effect and no self-discharge, and it has a Syneon chip to maximise both the runtime and lifetime of the battery. The battery can be used to power many other Bosch portable power tools in their 18V range. The charger unit is also a separate purchase.
The Bosch cordless vacuum cleaner comes with a 2-year manufacturer's warranty.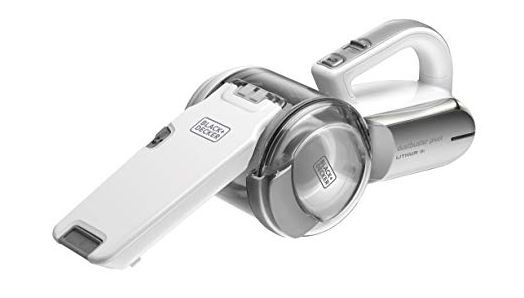 The Lithium Pivot Dustbuster from Black + Decker is a cordless handheld cyclonic vacuum cleaner ideal for the car.
At a light and manageable 1.38kgs and featuring a patented pull-out pivoting nozzle this portable vacuum cleaner will reach any space you want to get to with ease.
The head rotates up to 200 degrees making it ideal for the car where there are so many awkward and impossible to reach spots.
Another innovative feature of this vacuum is the flip out brush on the end of the nozzle for delicate surfaces. And the integrated long narrow nozzle itself reaches easily into the areas between and under car seats.
The dirt collecting bowl is translucent so you can tell just by looking when it needs to be emptied. And it's large so you can generally finish the job without needing to empty it until the end.
Cleaning is easy due to the detachable parts, and there's a triple filtration system for hygiene and longevity.
The battery is lithium and runs for approximately 10 minutes between charges. The charge indicator light will flash 30 seconds before the charge time runs out to warn you. Charge time is around 4 hours.
Easy storage, even whilst charging, due to the vacuum folding in half – another innovative idea from Black + Decker.
KUFUNG has brought out an amazingly low budget car vacuum cleaner which nonetheless ticks all the boxes!
Weighing in at only 653gms it has a 5M power cord so it can reach all the places you need to get to in your car.
The power cord plugs into the cigarette lighter so the vacuum is truly portable – use while the car is running though. The suction is a powerful 4000PA and does do the job.
And the noise level is a comfortable enough 75db, quite low compared to others on the market.
The vacuum is designed for use on both wet and dry surfaces as well as pet hair. It has a HEPA filtration system so the motor won't get clogged up. The filter does need to be cleaned after each use.
The vacuum comes with three accessories: a long tube for general use, a soft long tube for reaching into those hard to reach spaces, and a brush for upholstery. It has an LED light on the underside to illuminate the area you're working on.
The unit has a 12-month manufacturer's warranty.
This is a sturdy, well-constructed and efficient car vacuum which should last for a reasonably long period. And the price is certainly remarkable.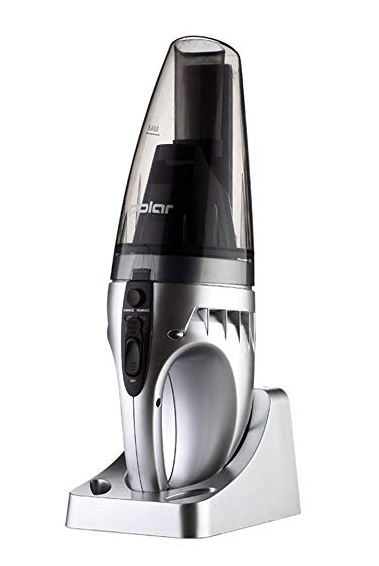 The YYGIFT portable car vacuum is a handheld battery-operated car vacuum with a powerful 3500PA suction to manage even the most stubborn of spots in your car.
It features a 45W motor with metal turbofan. At 75db it is a relatively low noise vacuum compared to some others.
There is a filtration system to prevent dust from escaping into the air or from clogging the motor, with a removable and washable filter. There are two modes of charging, and the charging stand is included in the package.
This unit can clean up both wet and dry dirt and debris. The vacuum comes with its own integrated nozzle head (with a larger aperture than most) for general vacuuming, and also attachable crevice tool for those narrow hard to get to places, and brush for car seat upholstery. The end result is a beautifully clean and fresh car interior.
So if you're tired of lugging your household vacuum out to do your car you really should treat yourself to a car vacuum specifically designed to manage all those nooks and crannies that are impossible to reach with any of the attachments that a domestic vacuum has!
What to look for when buying a car vacuum?
So, you've decided that buying a car vacuum is a good idea. What should be on your list of features when you're considering your options?
The inside of a car accumulates dust, dirt, food crumbs, human and pet hair, leaves, and other assorted debris. So a car vacuum needs to have a few important attributes to deal effectively with all of that.
Firstly, and just as you would want in a household vacuum, you want a good strong suction power. A suction strength of 3500PA or higher is good.
Next, you want something that's fairly lightweight – around 1-1.5kg or so. Car vacuums are ideally handheld to manoeuvre around the car so they need to be comfortable to hold for the ten minutes or so that it will take to do the job.
You will want an integrated (non-detachable) primary suction head that will fairly easily manage the main areas of the car like seats and floors. And an attachment which will reach into the hard to reach nooks and crevices between and under the seats. And a brush attachment to tackle the upholstery for human and pet hair etc.
Car vacuums can be mains power driven or battery operated. That is a choice for you to make. A mains power vacuum will not run out of juice halfway through the job. But they do need you to be near a power point. Cordless vacuums have a limited operating time (10 – 20 minutes) and need to be charged. But they can be carried around in the car for emergencies.
Ease of cleaning is another factor to consider.
And a good filtration system is important to stop dust from flying back into the air during operation, or from it clogging up the motor.
And finally, noise might be important to you. A noise level of around 75db is what you might look for.
Why don't cars have built-in vacuum cleaners?
When my kids were little, I used to think what a marvellous thing a built-in car vacuum cleaner would be, that maybe one day it would happen.
Maybe, I thought, the reason why they hadn't been invented was because the power they would need to operate would be a recipe for disaster in the form of a flat battery after the ten to twenty minutes of vacuuming the car had finished.
What I didn't know was that in 2013, Honda did do exactly that it in their then-new Odyssey minivan. They called it the HondaVac and it fitted into the side of the boot space. It ran for up to 8 minutes on the car battery alone, or continuously for as long as you like when the engine was running.
In 2018, Chrysler released its Pacifica minivan which also has an inbuilt vacuum called the Stow'n'Go.
My research hasn't come up with any other cars with inbuilt vacuums, and nor have I been able to discover the reasons why they haven't taken off as a feature of cars or minivans.
It seems so obvious, and the two models that have included inbuilt vacuums were critically acclaimed when they were released.
Perhaps it's simply still just a matter of time.
Where can you buy car vacuum cleaners?
Car vacuums (also look under 'dustbusters', 'cordless vacuums' or 'handheld vacuums') can be purchased either in-store or online at quite a large a number of sites, whether that be a general vacuum retailer, an electrical appliance store, or a generalist retailer.
So, you can go to online sites such as Amazon, Godfreys, Kogan, Appliances Online, The Good Guys, Catch.com and JBHiFi.
Specialist auto retailers also stock them, like Super Cheap Auto and Autobarn.
And finally there are also a lot of in-store outlets which sell car vacuums. Try Harvey Normans, Bunnings, Big W, Target, and even Myers.