Latest posts by Yves Matthews
(see all)
Welcome to my reviews on the best baby carrier Australia has to offer.
I'm a mum to three beautiful kids, two boys and a girl and I've used my fair share of baby carriers over the years.
Most recently I had to purchase a new one for my daughter, she's 6 months currently and I struggled to find many baby carrier reviews for Australia.
If you were living in the USA there seems to be many reviews on products such as the baby bjorn carrier or the tula baby carrier. All famous brands that are pretty pricey.
I also went searching around local shops such as those baby carriers kmart are offering or bigw. I also looked at target but they included few pictures of babies using the carriers. That's why I started looking online.
There is currently no legislation for an Australian standard for baby carriers, slings or backpacks but there is in the US and UK. Therefore I recommend buying a carrier that is EU or US approved.
Best Baby Carrier Australia
The beauty of online shopping is you can easily return products if you're not happy so here are the best five baby carriers in Australia.
We opted to buy ours from Amazon.com.au which offers fast free delivery for prime members and an extensive collection of products.
These products are delivered within 1-2 days and include European standard EN 13209-2:2005 or US standard ASTM F2236-08 legislation.
When it comes to choosing the best baby carrier, safety and comfort are a priority. The Bebamour Baby Carrier is the best quality baby carrier in the market that provides both safety and quality at the same time.
The Bebamour provides numerous functionalities all at once- whether you are wanting to use the kangaroo position or the baby backpack, you can use this premium quality carrier for babies and toddlers.
Not only does it provide comfort for your child but also for you as it is made with 100% breathable organic cotton, provides lumbar and neck support and has thick padded shoulder straps.
This unique baby carrier has 6 positions available based on your child's activity. You can choose from the baby backpack, kangaroo, front facing and various hip positions.
Each position maintains back and lumbar support to reduce pain and tension on your shoulders, hips and back and soft, padded waist support. So, you can ensure comfort for yourself and our child at the same time.
The Bebamour Baby Carrier has breathable 3D mesh air panels the zip down to cool you own, and zip up for extra warmth, so no matter the season, you can carry your child.
This is our best baby carrier Australia has to offer at a low entry level price suitable for all Australian's.
[wp-review id="504″]
Every time spent with your baby is important and precious, that's why baby wear is so great!
When I carry my child next to my body, I always feel as though it strengthens my bond with her, that is why I chose to test the DaisyGo baby carrier. I get to hold her close to my heart as I take a stroll down the street.
The DaisyGo wrap frees your hands so you can carry on with everyday activities like cleaning the house or walking to the supermarket.
You can even go on a walk outside with your baby strapped in to get your fitness levels up whilst having your baby close to you.
This baby carrier has 2 size options and is easy to use as there are no strap or buckles to cause any discomfort to you or your baby. It is also ideal for nursing your baby hands-free. You can strap up your baby comfortably, all safe and secure.
Made with the most durable quality fabrics, the DaisyGo is machine washable to ensure it is always clean and ready to go.
[su_note note_color="#b2f078″]Voted #2 Best Baby Carrier Australia.[/su_note]
It can be hard adjusting to a new life with a baby, so the Bulba Natural Baby Sling aims to make parenting easier for you.
This baby sling is soft, easy to use, breathable and versatile in taking your baby carrying to the next level.
By having your child up close with you when you are carrying out our daily activities, the infant is exposed to your environment and this encourages faster brain development in the child.
Not only is the Bulba wrap good for when you're out and about, but it also is versatile in assisting with nursing your baby.
It promotes skin to skin contact and snuggles your baby comfortably under your breast, even being discreet in public.
The baby wrap is proven to also provide colic relief to infants through the constant light rocking of your body and the baby's upright position which helps get rid of wind naturally without any discomfort to your baby.
This baby wrap is machine washable so even if there is a spill while breastfeeding your baby, you're always able to have a clean and fresh wrap ready to go.
This is our 3rd recommendation for best baby carrier Australia.
Finding the perfect baby carrier just got easier with the Baby Wrap Ergo Carrier Sling.
A good baby carrier mimics the way you would naturally hold your baby—either cradled in your arms, straddling your hip or piggy-backed and this is exactly what the Baby Wrap Ergo Carrier Sling does.
Studies show that mimicking natural holding patterns results in babies crying less and causing less fuss so the Ergo Carrier is guaranteed to make parenting an easy task.
Holding your baby with you while you carry out your day to day activities is much easier as the ergo carrier lets you be hands-free.
In this manner, your baby can also experience everyday environments, to promote faster brain development, keeping them stress-free in a contained environment where they feel safe and comfort with their parent.
Not only are you able to achieve comfort for your child, put also for yourself as the Ergo Carrier provides back support.
Not only can you use this carrier to hold your baby while you're on the go, but you can also use the Ergo wrap to breastfeed your baby at home or even discreetly in public, making it multipurpose
If you're after a baby carrier that gives the optimal comfort to not only you but also your baby, then grab the Littlies Baby Sling Wrap Carrier.
This baby carrier will be your next best friend, after your baby of course. It is made up of lightweight breathable soft cotton and spandex, giving enough stretch and snuggle room to custom fit your baby and you.
The Littles Baby Sling is ergonomically designed to distribute your baby's weight evenly to prevent any strain on your back.
Because your baby will be right beside you while you carry out your daily day-to-day activities, they will experience the same environment as you and this helps an infant's brain developer faster while keeping them in a stress-free and safe environment.
Not only is the sling wrap good for when you are up and out, but you can also use it while you are breastfeeding your baby as it holds your child in the perfect position.
You can even use it to discreetly cover you so you can nurse when you're on the go as well.
For the best hands-off experience from a baby carrier, pick the Littlies Baby Sling Wrap Carrier, you won't go wrong there.
Where To Buy Baby Carrier?
When you're looking for the best baby carrier Australia has to offer, there's quite a few places you can look for and buy one.
Most of the major retails that sell parenting products offer baby carriers including Kmart, Target, BigW.
Other specialised baby stores such as Baby Bunting or Kiddie Country will also sell baby carriers and wraps but these usually come at retail prices.
All these models featured in this article are available to purchase directly from Amazon.com.au which cuts out the middleman. This means your products are much cheaper and delivered in 1-2 days.
How To Choose A Baby Carrier?
There are a few different types of baby carriers and each offer different features and functionality, these include; pouch slings, ring slings, wrap slings and Mei Tai's, more commonly called Asian style carriers.
Depending on your babies age you may want to purchase a carrier suitable for them. For young babies without head control, cradle and hammock or front facing positions are the best.
Older babies and toddlers like to see where they are going so a baby carrier that is mounted on an adults back is probably a more preferable option.
The wraps, slings and carriers mentioned in this article would be designed for smaller babies 0-1 years.
For further knowledge reading, we recommend this article.
Are Baby Carriers Safe For Newborns?
There has been some news lately of an Australian baby suffocating from using a baby carrier. While cases like these are rare, it does unfortunately happen so ensure your baby is put correctly into a baby sling or carrier.
You should follow the T.I.C.K.S. rule when positioning your baby.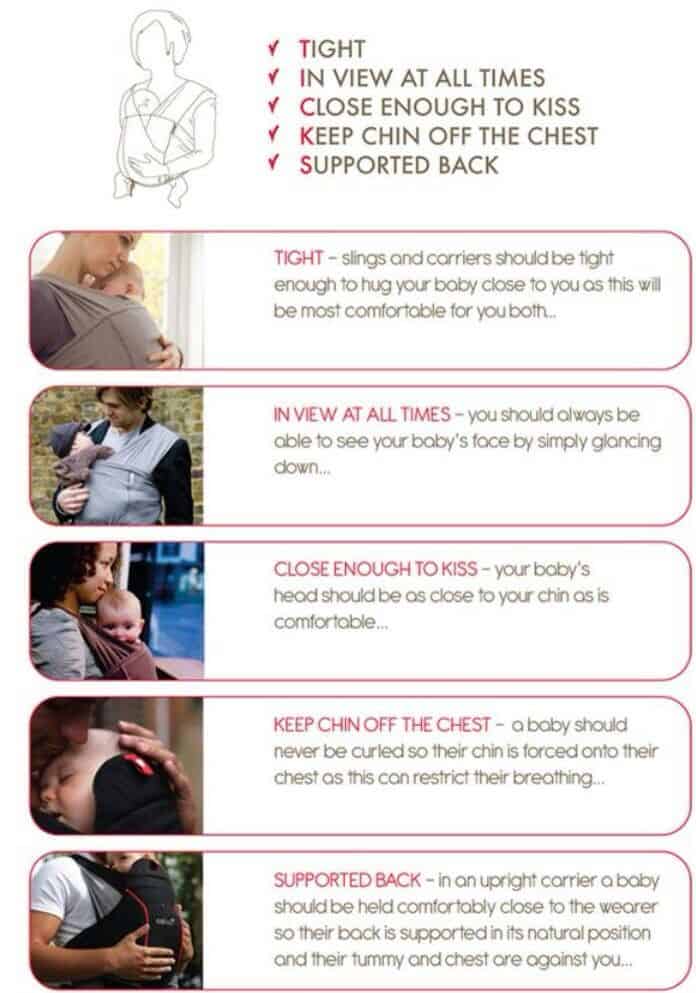 Now you know the best baby carrier Australia, you can checkout some of our other guides and product reviews.
Last Updated: January 2, 2023 by Rhys